The Romney camp seems to have found its Joe the Plumber, but instead of unclogging toilets, "Chris the Baker" makes cookies.
On Wednesday, the Romney campaign put Chris McMurray, the owner of Crumb and Get It Cookie Company in Radford, Va., front and center at a rally featuring Romney's running mate, Paul Ryan.
The Romney campaign discovered McMurray after he declined to host Vice President Joe Biden at his bakery last week. The small business owner "happened to disagree with the president and vice president on a few a things," he said Wednesday at the campaign event in Roanoke County -- where President Obama just one month earlier uttered the now infamous "you didn't build that" line, sparking Republican outrage.
Speaking to a crowd of roughly 1,300 people Wednesday from a podium emblazoned with a sign reading "We Did Build It!" McMurray said he and his wife "represent thousands of small business owners who did build their business."
Obama maintains that Republicans' new rallying cry takes phrases from his July 13th speech out of context. In those remarks, Obama says, he was referring to America's roads and bridges as the things most U.S. business owners haven't built, not the actual businesses. "Of course Americans build their own businesses," said Obama in an ad clarifying his comment.
McMurray's rapid rise resembles that of Joe the Plumber (né Wurzelbacher), who became the Republican Party's small business hero during the 2008 election after asking Obama, then the Democratic presidential candidate, about his small business tax policy at a campaign event in Ohio. Obama's response -- to "spread the wealth around" -- fueled accusations by his Republican opponent, John McCain, that Obama had a socialist view of the economy. Joe the Plumber became an instant hit with conservative commentators.
McMurray seemed to pick up Wurzelbacher's mantle Wednesday, as his introductory remarks received a raucous applause from attendees of the campaign event. "Success in business doesn't come from government," he told the audience. "It comes from hard work, innovation, and you and me. When government gets out of the way, we can provide services and grow our economy."
Ryan tied McMurray's remarks back to his opponent. "The president makes these comments that kind of reveals his mindset, his philosophy of government," he said. "It tells us that he believes in a government-centered society with a government-driven economy."
HuffPost readers: Are you a business owner? Tell us about who you plan to vote for and why -- email nhindman@huffingtonpost.com. Please include your phone number if you're willing to do an interview.
The Romney campaign's relentless attack on Obama's small business record appears to be working. Romney has widened his lead among business owners, according to a recent survey by Manta, an online small business community.
Sixty-one percent of small business owners plan to vote for Romney, more than double the 26 percent who say they'll vote for Obama, Manta's survey showed. Support for the president among business owners has fallen six points since May, while Romney has picked up four points.
While small business owners have historically leaned right, research shows they can be swayed. According to a 2012 study by the National Small Business Association, 80 percent of business owners said they do not vote a straight party ticket. Specifically, 60 percent of Republicans said they occasionally vote for a Democrat and 68 percent of Democrats said they occasionally vote for a Republican.
But if Manta's latest survey is any indication, Obama has a long way to go with Chris-the-Baker-types, and their customers.
McMurray's bakery has seen a surge in customers since his rise to stardom, not uncommon for a Main Street business that becomes ensnared in the presidential race. According to the Roanoke Times, the store quickly sold out of "freedom cookies" following the Biden incident.
Check out a snapshot of Manta's data on the small business vote: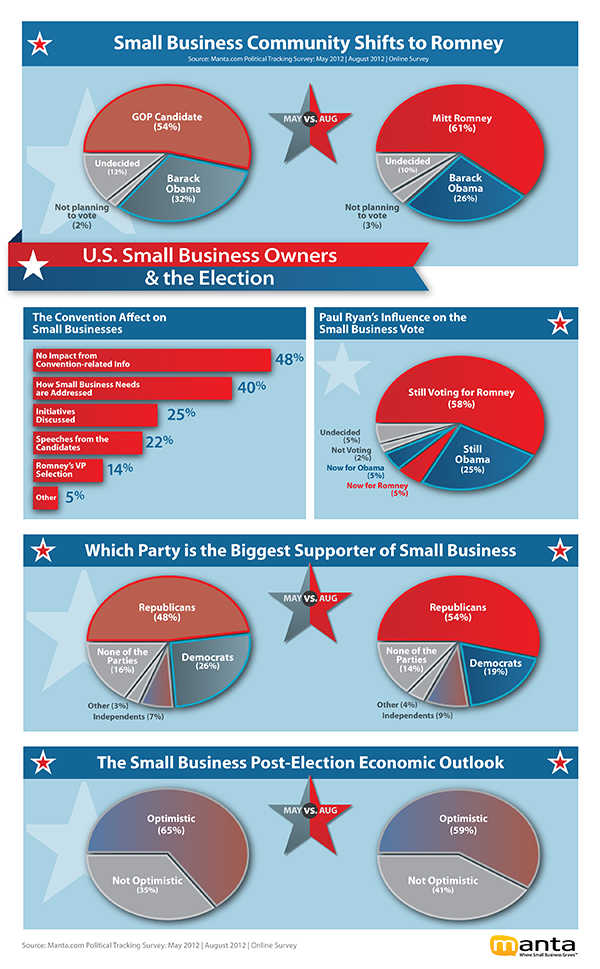 Also on HuffPost:
Loading Slideshow
Romney Staff at Iowa Cafe: "Stuff Got Broke"

A campaign stop by Mitt Romney and his staffers at an Iowa cafe left Dianne Bauer, owner of Main Street Cafe, fuming: She <a href="http://www.huffingtonpost.com/2012/06/14/romney-leaves-mess-at-local-cafe_n_1597257.html" target="_hplink">complained</a> about damaged property, Secret Service blocking bathroom access and Romney not introducing himself to the cafe's staff. "Stuff got broke," Bauer said.

Obama vs. Ohio Deli Owner

While most small businesses like free advertising, Debra Krause-McDonnell, the owner of Krause's grocery store in Cincinnati <a href="http://www.huffingtonpost.com/2012/08/13/debra-krause-mcdonnell_n_1773149.html?utm_hp_ref=small-business" target="_hplink">had a bone to pick with President Obama after his ad featured her storefront without her consent</a>.

Romney Can't Identify a Donut

In <a href="http://www.buzzfeed.com/mckaycoppins/mitt-romney-struggles-to-identify-a-donut" target="_hplink">video obtained by BuzzFeed</a>, Romney attempts to identify a donut but after a few stammers says "Can you see that one of those chocolate, um, uh, chocolate goodies finds its way to our ride?"

Hermain Cain and the Dead Small Business Rabbit

With several <a href="http://www.huffingtonpost.com/2011/10/30/herman-cain-smoking-ad-bob-schieffer_n_1066039.html" target="_hplink">strange advertisements</a> during his campaign, it seems fitting that former Republican presidential hopeful Herman Cain would continue the trend after his campaign's suspension. <a href="http://www.huffingtonpost.com/2012/03/26/herman-cain-new-ad_n_1379583.html" target="_hplink">The "Rabbit" ad</a> for Cain's <a href="http://SickOfStimulus.com" target="_hplink">SickOfStimulus.com</a> features a young girl placing a rabbit into a catapult while saying "This is small business under the current tax code." The rabbit is then launched from the catapult and "killed" in mid-air by a man holding a rifle. Another Cain ad used a <a href="http://www.youtube.com/watch?v=YYN-Awrq3og&context=C4830a86ADvjVQa1PpcFN1bXIVcqsE-PGGTXrjsiOg2M7br15eYTI=" target="_hplink">flopping, out-of-water goldfish</a> to represent the economy after the stimulus.

John Kerry's Cheesesteak Order

Pat's King Of Steaks in Philadelphia is famous along with rival Geno's Steaks for strict ordering rules, complete with commandments on their window that read "If you make a mistake, don't panic, just go to the back of the line and start over." John Kerry should have paid closer attention. During a July 2009 visit, <a href="http://www.philly.com/philly/restaurants/Photo_oop_Kerry_eats_a_cheesesteak_hoagie__with_Swiss.html" target="_hplink">Kerry ordered Swiss cheese on his cheesesteak</a> which isn't an option at Pat's, where cheez whiz, Provolone and American are offered. Pat's claimed that if Kerry were elected, Swiss would be added to the menu. We know how that worked out.

Newt Gingrich Stiffs Small Businesses

After a debt laden campaign, some <a href="http://www.huffingtonpost.com/2012/04/11/gingrich-campaign-vendors-paid_n_1416084.html" target="_hplink">small businesses are still waiting for payment</a> from former Republican candidate and Speaker of the House Newt Gingrich. These debts include $7,439.62 of printed campaign materials from Las Vegas Color Graphics, $5,000 for signs from Florida's Insite Political and $24,000 for ad productions from Florida's Noiseworks.

Gary Bauer's Botched Pancake Flip

During a campaign stop in New Hampshire in 2000, Republican presidential candidate Gary Bauer participated in the Bisquick Pancake-Flipping Contest. As Bauer tracked his high flying pancake after the flip, he managed to take a tumble off the stage, causing the crowd to gasp.

Palin and the Turkey

(Interview at 2:50) In November 2008 Sarah Palin visited Triple D farm near her hometown of Wasilla, Alaska to <a href="http://voices.washingtonpost.com/44/2008/11/sarah-palin-pardons-a-turkey.html" target="_hplink">grant the traditional Thanksgiving pardon to one turkey</a>. Shortly after the pardon however, Palin took questions from reporters with a farmer in the background clearly slaughtering other turkeys and birds. CORRECTION: An earlier version of this slideshow described the device being used behind Palin as a "grinder" for slaughtering poultry. That was incorrect.

Romney's Lemonade Gaffe

While celebrating July 4 in New Hampshire, Romney took a break to guzzle lemonade. When asked how it tasted <a href="http://www.huffingtonpost.com/2012/07/05/romneys-lemonade-gaffe-what-was-he-thinking_n_1652138.html" target="_hplink">Romney replied</a> "Lemon. Wet. Good."

Romney and "CookieGate"

Business surged for Pennsylvania's Bethel Bakery after Romney joked about its cookies: "I'm not sure about these cookies," Romney told a woman at the table. "They don't look like you made them. No, no. They came from the 7-11 bakery, or whatever." <a href="http://www.huffingtonpost.com/2012/04/24/cookiegate-romney-cookie_n_1449848.html" target="_hplink">"CookieGate"</a> was great publicity for Bethel, in business since 1955.