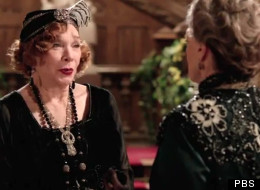 Just call the Dowager Countess and Martha Levinson the best frenemies of 1920.
In this new "Downton Abbey" Season 3 clip, Martha (Shirley MacLaine) and the Dowager Countess (Maggie Smith) meet in the halls of Downton. It's a matter of seconds before the sneering and barbs begin.
"Oh dear," Martha says, "I'm afraid the war has made old women of us both." The Countess' response? Classic. Watch the clip below, and for more "Downton Abbey" goodness, click over to watch the other new teaser clip.
Watch Downton Abbey, Season 3: A Scene from Episode 1 on PBS. See more from Masterpiece.