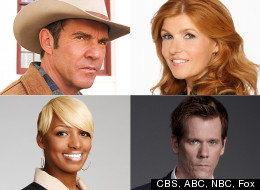 There are a lot of big stars coming to new shows in this 2012-2013 TV season, but who are the critics most excited to see? HuffPost TV rounded up 20 of the top TV critics in the country to share their picks, and while there was quite a lovefest for one actress in particular, there were plenty of names thrown out to get you excited for fall TV shows on all five broadcast networks.
We've already praised the best new comedies and the best new dramas (and sufficiently bashed the worst new shows as well), but this video is all about the stars who make those shows successful.
From Connie Britton -- who was saved from that haunted "American Horror Story" house by ABC's soapy country musical drama "Nashville" -- to Dennis Quaid taking on his first series regular role on CBS' "Vegas"; from a "Friends" alum to a former "Felicity" star; and from the star of Fox's "The Following" (Kevin Bacon) to a few comedic standouts from "The New Normal" on NBC, here are the 12 fall TV stars we just can't wait to see more of.
(Don't forget to check back tomorrow for the fifth and final video in our TV critics series: Most Anticipated Returning Shows.)

A special shout-out to all of the critics who shared their opinions, in order of appearance: Jace Lacob from The Daily Beast; Ellen Gray from the Philadelphia Daily News; Gail Pennington from the St. Louis Post-Dispatch; Jarett Wieselman from ETonline and TheInsider.com; Michael O'Connell from THR.com; Alyssa Rosenberg from ThinkProgress.org and Slate; Dan Fienberg from HitFix; Matt Roush from TV Guide Magazine; HuffPost TV's own Mo Ryan; yours truly; Eric Deggans from the Tampa Bay Times; Meg Masters from TVLine; Todd VanDerWerff from The A.V. Club; Sarah Rodman from The Boston Globe; Melanie McFarland from IMDb TV; Alan Sepinwall from HitFix; Ken Tucker from Entertainment Weekly; Carina MacKenzie from Zap2it; Denise Martin from Vulture; Damian Holbrook from TV Guide Magazine;
Check out the HuffPost TV snap judgments of all the new pilots here, by network:

NBC | Fox | ABC | The CW | CBS
Tune-in info:
*Connie Britton's "Nashville" premieres Wed., Oct. 10, 10 p.m. ET on ABC.
*Andre Braugher and Scott Speedman's "Last Resort" premieres Thurs., Sept. 27, 8 p.m. ET on ABC.
*Meagan Good's "Infamous" premieres midseason 2013 on NBC.
*Jonny Lee Miller's "Elementary" premieres Thurs., Sept. 27, 10 p.m. ET on CBS.
*Giancarlo Esposito's "Revolution" premieres Mon., Sept. 17, 10 p.m. ET on NBC.
*Kevin Bacon's "The Following" premieres midseason 2013 on Fox.
*Matthew Perry's "Go On" premieres new episodes starting Tues., Sept. 11, 9 p.m. ET on NBC.
*Lucy Punch's "Ben and Kate" premieres Tues., Sept. 25, 8:30 p.m. ET on Fox.
*Dennis Quaid's "Vegas" premieres Tues., Sept. 25, 10 p.m. ET on CBS.
*Stephen Amell's "Arrow" premieres Wed., Oct. 10, 8 p.m. ET on The CW.
*Andrew Rannells and NeNe Leakes' "The New Normal" premieres Tues., Sept. 11, 9:30 p.m. ET on NBC.
After a hilarious stint on HBO's "Girls" (which he'll also return to for Season 2), we're thrilled that Rannells ended his Tony-nominated run starring in "The Book of Mormon" on Broadway to play one-half of Ryan Murphy's new comedic leading gay couple on "The New Normal." His scene-stealing skills are still very much intact -- he goes head-to-head with co-stars NeNe Leakes and Ellen Barkin and still manages to get the last laugh.

Yes, "Nashville's" big draw is the rivalry between Connie Britton's one-time queen of country music and Hayden Panettiere's up-and-coming starlet; but the real gem here is Bowen's Scarlett O'Connor, a sweet girl with an even sweeter singing voice. This Australian native might not be a big name in the States just yet, but it's only a matter of time.

British actor Weeks plays Jeremy Reed, the devilish doctor who tempts Mindy Kaling's title character to the dark side on "The Mindy Project." This is his first US TV role, and we're already expecting great things.

We only caught a glimpse of katana-wielding Michonne in the "Walking Dead" Season 2 finale, but it was enough to get fans excited for more. As our survivors seek shelter in the prison and meet The Governor (David Morrissey), they're gonna need someone who knows how to wrangle up zombies right, and Michonne's their girl.

Now that Puck (Mark Salling) has graduated from McKinley, there's a new generation of Puckerman in town -- Artist is signed on to play Jake, Noah Puckerman's half-brother, in Season 4. If he's even half as talented, sweet and prone to causing trouble, we'll happily have a slushie or two waiting in the wings with his name on it.

Benanti was a bright spot in NBC's drama flop "The Playboy Club" last season, but while the Broadway vet got to sing and shake her tail feather (literally), we didn't get to see her show off her comedy chops there or on her "Law & Order: SVU" stint. Now playing opposite Matthew Perry, there's great comedic potential and some sexual tension to mine.

Evans, a male model (and current Mr. Tyra Banks), is stepping into some pretty big shoes to judge "ANTM" this season, and we have high hopes that he can pull it off. He's got the looks to keep us watching and the pedigree to critique this cycle's contestants ... we'll still miss Nigel Barker, Jay Manuel and J. Alexander, but this is a nice refresh.

Montgomery made the final season reboot of Fox's "Human Target" bearable, popped up on "Entourage" and even danced around the company in "Black Swan," but this starring role is her true US TV breakout, and her convincing Jersey accent and go-get-'em attitude will make you forget she's actually a Brit.

There aren't many Oscar winners that could come to TV without fanfare ... but that's the case with Faxon, who brings all his funny sidekick experience up a notch to take on one of the lead roles (he's Ben) in this quirky family comedy. He's been around for a while, is a Groundlings member and, yes, even took home an Academy Award for Best Adapted Screenplay for George Clooney's "The Descendants" last year, which he co-wrote with director Alexander Payne and his writing partner Jim Rash, a.k.a. "Community's" Dean Pelton. TV is lucky to have him.

Spiridakos has done TV guest spots here and there (including a stint on Syfy's "Being Human" last season), but this is the show that should make her a star. "Revolution" has its issues, for sure, but even surrounded by more established stars, Spiridakos shines playing an emotional and gun-toting badass.

Camilla Luddington is on call at Seattle Grace Mercy West hospital. The "Californication" and "True Blood" alum will don scrubs on "Grey's Anatomy" this fall to play a (sexy) new doc, with the option to sign on as a series regular next season. Start placing bets now about who she'll hook up with first!

Amell's most memorable TV role to date might be as Jason, the rival male prostitute on the last season of HBO's "Hung," but his new superpowers really suit him. As Oliver Queen, aka The Green Arrow, Amell has some big leather hoodies to slip into ... but we guarantee no one will complain about the way he fills them out.

Swedish-born Masöhn was a bright spot on Fox's ill-fated "Bones" spinoff "The Finder" -- and she's got quite the sense of humor -- but we're loving her in this darker role as one of the residents of a very haunted building. Cast alongside Terry O'Quinn, Vanessa Williams, Dave Annable and Rachael Taylor, she still manages to stand out as a Park Ave. resident to watch.