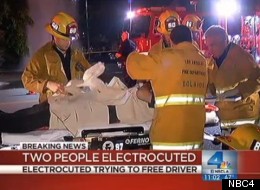 By Associated Press
LOS ANGELES -- Seven people suffered electric shocks including two women who were electrocuted Wednesday night as they rushed to help at a Los Angeles accident scene where an SUV knocked over a fire hydrant and a power pole, exposing live wires that electrified the gathering water, authorities said.
The two women were the first to reach the scene on a front lawn in the Valley Village area where the man driving the SUV was injured in the crash but was the only victim not shocked. They were taken in grave condition to a hospital where they were declared dead, said Los Angeles fire spokesman Erik Scott.
CLICK HERE OR SCROLL DOWN FOR UPDATES.
The driver of the SUV, a white Chevy Traverse, was attempting to round a corner as he drove on Magnolia Boulevard, lost control, and hit the hydrant and pole before coming to rest on the front lawn of a home.
As more people approached the scene to help, more were shocked.
Witness James Pike said he heard the long skid of brakes followed by a loud "boom," then saw the scene seconds after the accident.
"I run outside and across the street and I see two women laying on the sidewalk," he told NBC4. "And I see two or three young gentlemen who kept trying to rescue them and pull them to safety. And each time they would try to pull them they were getting shocked."
Firefighters, who had to approach the scene carefully to avoid being shocked themselves, worked to treat the injured and shut down the water and power with help from city utility workers.
The six survivors had minor injuries, Scott said. Five were taken to hospitals, and one declined an ambulance.
No names or other details about the victims were immediately released.
UPDATE: Irma Zamora, 40 years old, has been identified as one of the good samaritans who died trying to rescue a passenger from a car collision, reports the Los Angeles Times.
The second good samaritan, who has not yet been identified, died trying to rescue Zamora from the electrified pool of water. She apparently didn't hear others warning her to stay away, according to the Times.