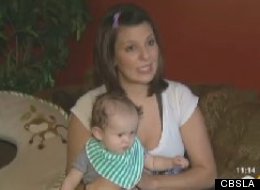 New moms who want to breastfeed face many challenges that force them fall short of their goals. Research has shown that it is especially difficult to keep nursing while you work out of the home. Kristen Joseph a waitress from Seal Beach, Calif. faced a particularly insurmountable barrier when her baby turned 6 months old.
CBSLA reports that Joseph had a conversation with one of her managers at Hennessey's Tavern in which she requested privacy to pump and he said no.
"He said it was disgusting. He said he didn't want me to spray all over his office. I was just appalled at what he had to say," Joseph told the news outlet.
Prior to the incident, Joseph says she never had a problem with pumping at work. She took ten-minute breaks throughout the day, KTLA reports.
Her manager's response crushed Joseph.
"I went outside and I was freaking out and crying ... my co-workers tried to calm me down," she told KTLA. And though she was told she could leave for the day, she decided to finish her shift -- with breast milk leaking through her shirt.
Now, the mom of 6-month-old Wrigley is speaking out to educate other mothers and employers. "They have to provide me a safe, sanitary private place. When I told (the manager) it was against the law for him to deny me of that, he kind of just went off," she told CBSLA.
And, she's right. In January, a law was passed as part of Obama's health care reform legislation which federally mandates employers to provide breastfeeding moms with breaks and a place to pump at work. According to the Wage and Hour Division fact-sheet:
"[Employers are required to provide] reasonable break time for an employee to express breast milk for her nursing child for 1 year after the child's birth ... [as well as] a place, other than a bathroom, that is shielded from view and free from intrusion from coworkers and the public."
So far, Hennessey's Tavern has not responded to requests for comments. According to KTLA, Joseph has been in touch with her corporate office and they are currently investigating the incident.