A group of women were slated to snooze in the central gallery of the National Art Museum of Ukraine this month, inviting worthy male suitors to try and wake the slumbering women with a single kiss. They're not under the spell of an evil witch or a poison apple however; instead, the ladies have been recruited to participate in an art exhibit appropriately titled "Sleeping Beauty."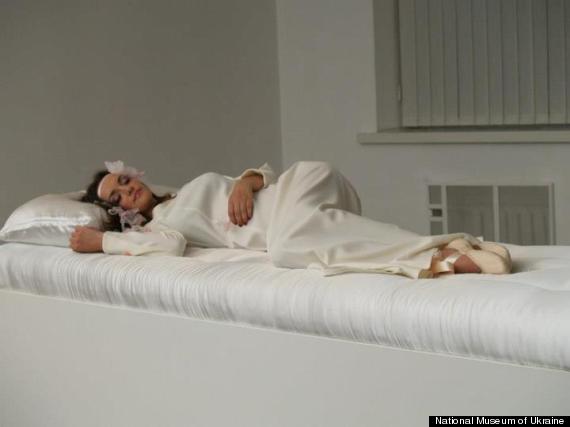 The fairy-tale inspired project was imagined by Ukrainian-Canadian artist Taras Polataiko. Influenced by an old story by Charles Perrault, where a young maiden is cursed to sleep for 100 years, only to be awakened by true love's kiss. In the spirit of this "once upon a time" literature, Polataiko cast several female volunteers as his performance beauties, tasked with "sleeping" in the Ukrainian museum for two hours at a time, every day from August 22nd until September 9th. Dressed in white and laid upon an elevated bed, the women lay motionless in the museum's space, awaiting a kiss from that one perfect museum patron.
But there's a serious legal catch to the piece. To participate in the exhibit, potential princes have to sign a contract that states, "If I kiss the Beauty and she opens her eyes, I agree to marry her." The female performers have also entered into an agreement that reads, "If I open my eyes while being kissed, I agree to marry the kisser." So unlike the chivalrous charmers of yore, these contemporary heroes are contractually bound to live happily ever after if their princess so chooses.
This modern interpretation of damsels in distress gives the woman a say in whether she will be rescued or not, though the performance still adheres to the archaic concept that only a male will awaken the sleeping princesses. "The tension of the performance is in the seductiveness and fear of the ultimate moment," describes the exhibit's press release. "The viewer will have to think twice before kissing the Beauty. The Beauty will have to decide if the ultimate moment has come or not. The show will end the moment the Beauty opens her eyes."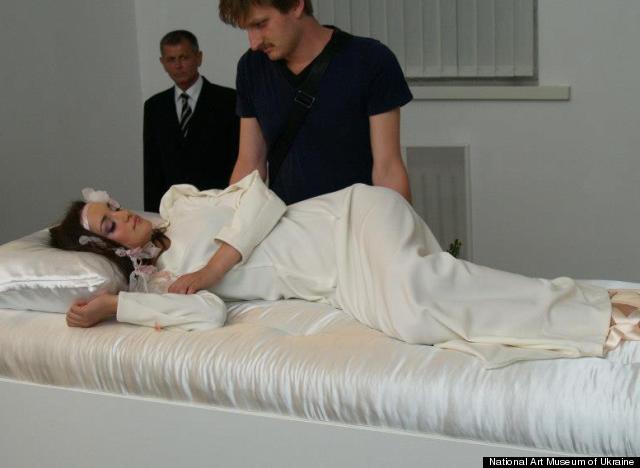 The "Sleeping Beauty" exhibit almost experienced its own unhappy ending in the run-up to its opening, when the artist Polataiko was called to the museum director's office and told by the Ukrainian Ministry of Culture that he would be forced to shut down his work. Polataiko recounted the attempted censorship on his Facebook page, stating that the ministry provided no reason behind their disapproval and later likened the situation to "a return to totalitarianism."
The disagreement was later worked out in meetings between the ministry and the museum. Nataliia Mykhailova, a public relations representative at the museum, confirmed the Ministry of Culture's intervention, stating in an email to the Huffington Post: "We really had some difficulties, but now it is all arranged and the exhibition is working as planned."
The museum has a history of experiencing resistance on the part of the Ukrainian government, as a serpentine installation erected on the exterior of the museum earlier this summer was almost halted after officials claimed the material was flammable.
Taras Polataiko's "Sleeping Beauty" will take place until September 9th at the National Museum of Ukraine's central gallery.
Let us know what you think of the "Sleeping Beauty" exhibit in the comments section. Would you volunteer to act out the fairy tale?
See the most iconic public kisses in the slideshow below:
The 1945 issue of Life that published this Alfred Eisenstaedt photo read: "In New York's Times Square a white-clad girl clutches her purse and skirt as an uninhibited sailor plants his lips squarely on hers." That white-clad girl was apparently Edith Shain, a nurse who went to Times Square to join in celebrating Japan's surrender and the eventual end of World War II.

Thanks to a repeal of the U.S. Navy's "don't ask, don't tell" rule in 2011, Petty Officer 2nd Class Marissa Gaeta and Petty Officer 3rd Class Citlalic Snell were the first same sex couple to be able to publicly reprise the famed V-J kiss, on December 21, 2011. (Courtesy of Associated Press)

Though certainly not the first woman-to-woman kiss on cable television, Madonna's and Britney Spears' kiss (not to mention her smooch with Christina Aguilera) at the 2003 MTV Video Music Awards pushed two teenyboppers stars firmly into adulthood, and gave performers a moment to emulate for years to come.Singers Britney Spears and Madonna (with Christina Aguilera, not shown) perform onstage on August 28, 2003 in New York City. (Frank Micelotta/Getty Images)

While their more famous kiss took place in the movie The Notebook, when they won an MTV Award for just that scene in 2005, the sweet Canadians didn't disappoint. McAdams raced onstage and jumped into Gosling's arms -- it wasn't to anyone's surprise when the couple announced they were dating shortly after. (Kevin Winter/Getty Images)

While royal couples have always appeared on the balcony of Buckingham Palace after their wedding ceremonies, Prince Charles and Lady Diana were the first to kiss on that grand stage in 1981. Prince Andrew and now ex-wife Sarah Ferguson followed suit in 1986, establishing a newfound royal tradition.

Like his parents before him, Prince William knew part of his royal duties would include a kiss on the balcony on his wedding day to Kate Middleton on April 29, 2011. The couple indulged the public's voracious appetite for a glimpse of their relationship with not one, but two kisses as planes roared overhead. (LEON NEAL/AFP/Getty Images)

Now admit it -- who among us wouldn't kiss Halle Berry given the chance? Adrien Brody's utter elation at winning the Oscar and holding one of the most beautiful women in the world in his arms was palpable through every television set watching the Academy Awards in 2003, and it also was one of the best kisses we've ever seen.

Was it the kiss that launched an icon? Andy Warhol's 1963 Kiss documentary, featuring segments of couples kissing for four minutes at a time (In defiance of Hollywood rules prohibiting more than three seconds), was shown at underground cinemas in the 1960s. Some art historians credit this film, along with his Eat and Sleep documentaries, as truly starting his career.

Never in the history of U.S. politics -- and possibly the world -- has there been a political couple so publicly enamoured of each other. The President isn't shy about showing his affection for his wife, and frankly, we think that's a pretty great example.U.S. President elect Barack Obama kisses his wife Michelle as Vice-President elect Joe Biden embraces his wife Jill after Obama gave his victory speech during an election night gathering in Grant Park on November 4, 2008 in Chicago, Illinois. (Scott Olson/Getty Images)

In the midst of chaos, there's always an opportunity for beauty. The kiss captured of Scott Jones and Alex Thomas in the middle of Vancouver's post-Stanley Cup riot took our breath away with its stark contrast to it surroundings, as well as its tenderness. It was an image of humanity amongst so much mob madness. (Richard Lam/Getty)

From the company that brought us interracial couples when such things were still controversial, Benetton launched its "Unhate" campaign in autumn of 2011, showcasing Photoshopped images of world leaders kissing. While they're currently facing a lawsuit for one of the shots, it was great fun -- and great publicity -- to imagine what really would happen is Angela Merkel and Nicholas Sarkozy just started making out at the next EU Council meeting.