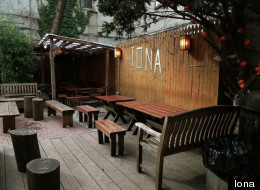 Having a yard, garden, patio or, heck, even two-foot balcony in New York is a rarity. And while day trips are awesome, sometimes you just want to have a lazy day lounging outside, sipping Bloody Marys and eating delicious food.
When the perfect, balmy day is upon us, we head to our favorite haunts with a back garden or patio.
Best New York Bars And Restaurants With A Garden
Housed in an old horse stable in Gowanus, new spot Lavender Lake is the brainchild of four design junkies, and the space is dreamy. (As is the food and the drinks). But the giant patio is the biggest treat of all and perfect for enjoying brunch, lunch, dinner or just drinks.

At its core, Back Forty is a delicious local, seasonal restaurant. But right now, you want to sign up for one of the upcoming crab boils in the restaurant's lovely garden (Aug. 28 - Sept. 1). It's the closest the East Village comes to feeling like summer vacation.

Okay so it's not an actual farm, but The Farm on Adderley does source its ingredients locally. And it's worth venturing to Ditmas Park for the rustic charm and delicious food, especially if it's a nice night to sit on the perfect patio.

Brookvin is a delightful Park Slope wine bar with an intimate back patio you want to linger in all night.

Paradou is located in the Meatpacking, but don't hold that against it. One step into the magical back garden and you'll forget you're even in NYC. After a few glasses of Sancerre, you may even think you're in Provence.

This tiny gem of a spot on Smith Street is easy to overlook, but you shouldn't skip The Grocery. Seasonal American fare enjoyed on the intimate patio makes for a perfect balmy evening.

One of the most spacious patios we've seen, Union Pool knows how to take advantage of outdoor space. Complete with a fire pit (in the winter), beauty pond (in the summer) and a taco truck, it's the hottest ticket in Williamsburg (if you're into that sorta thing).

Easily one of our favorite Brooklyn restaurants for the food (and charm) alone, Vinegar Hill House's back garden is your quintessential al fresco dining experience.

Oysters and Absinthe are the name of the game at Maison Premiere in Williamsburg. The jackpot is happy hour ($1 oysters) in the enchanting garden.

Loreley is more than just a biergarten. The LES spot serves up stellar German comfort food and, of course, plenty of German beers. Just don't expect any German kitsch, folks -- this place is cool and contemporary.

From the street, you'd never know that Kif boasts such a magical back garden. Add in amazing Moroccan fare and hookah, and you may never want to leave this Ft. Greene gem.

Satisfy your Southern hankerings for catfish, po' boys and ribs at Peaches in Bed-Stuy. Especially if you can score a seat on the patio, which you can rent out for a private party.

For a taste of New Orleans (in food, drinks and vibe), head to Ninth Ward in the East Village. The dimly-lit joint's slightly spooky patio makes it the perfect spot to throw back a few Hurricanes.

They have a flat screen. In the garden. Airing soccer (futbol). And a ping pong table. It feels like your own back yard, only they never run out of drinks. In other words, Iona is heaven.

Besides having the best paninis outside of Italy, Il Bambino has possibly the most charming back garden in Astoria. If you don't live in the neighborhood, this one is worth the trek.

If you're often looking for a drinks spot around the Union Square/Gramercy area, then you know Revival is like hitting the jackpot. If it's warm enough to imbibe outside, that is. The charming patio under a canopy of trees feels like a breath of fresh air.

Industrial meets rustic on Basik's 35-seat patio at this Williamsburg public house, which is just perfect for catching up with pals over a few drinks, or a giant punch bowl.