Emily Maynard seemed as if she was living out a fairytale after becoming engaged to Jef Holm, her final "Bachelorette" pick. But when rumors surfaced claiming that Maynard had cheated on her fiance, the fairytale began to crack. Now, the fantasy is about to shatter with Holm's own brother confirming the rumor is "100% true."
Us Weekly's cover story blazoned the allegations under the title "Emily Caught Cheating!" with a story detailing how Holm found texts and photos from another man on Maynard's phone.
Holm's brother, Mike, has confirmed to Us Weekly, which originally cited unnamed sources, that the story is accurate.
"I can tell you that it's all 100% true," he told the magazine. "I was there and I heard the fight and watched the whole thing go down, Emily leaving and everything. I love my brother very much and, like the rest of our family, I just want him to be happy."
Adding, "We all love Emily, too. Mistakes happen, we all get that. I hope they can work it all out, but as far as your story goes, it's all true."
Reality Steve, otherwise known as the infamous "Bachelor" and "Bachelorette" spoiler Steve Carbone, claims to know who Maynard's mystery man is:
The guy who Emily was texting and will be revealed next week Im hearing is Kristin Cavallari ex, former AZ/HOU & now OAK QB Matt Leinart

— RealitySteve (@RealitySteve) August 23, 2012
Leinart was linked to Cavallari back in Sept. 2010.
So what happened with Maynard and Holm?
Allegedly, when the 26-year-old and her daughter, Ricki, went to Pawleys Island, S.C., to join Holm's family for a beach vacation, things turned sour once Holm found some incriminating things on Maynard's phone.
"There were texts and pictures: 'Let's do this and that to each other,'" a source told Us Weekly, according to WetPaint. "Jef and Emily went into a bedroom and were yelling. He said 'you've been f*cking cheating on me for months!'"
Maynard reportedly tried desperately to apologize, but Holm told her to "pack her sh*t and get the f*ck out."
When the story first broke, without Holm's brother's commentary, the couple denied the cheating allegations.
"It's one hundred percent not true," Maynard told People magazine, with Holm adding, "It's funny to me. We were in a gated community in a private home with just my brothers and sisters. It's just bogus a 'source' would [say] we were fighting. None of that is true."
On Thursday, Holm sent a cryptic tweet referencing fame-seeking family members.
It's crazy what people will do, even family members, to see their name in a magazine.

— Jef Holm (@jefholm) August 23, 2012
Whether or not this is another denial from Holm is unclear.
The seemingly happy couple, who got engaged on the June finale of ABC's "The Bachelorette," just returned from a trip to Africa, where the two were visiting wells constructed by Holm's company, People Water.
LOOK: Us Weekly's cover alleging Maynard cheated on Holm.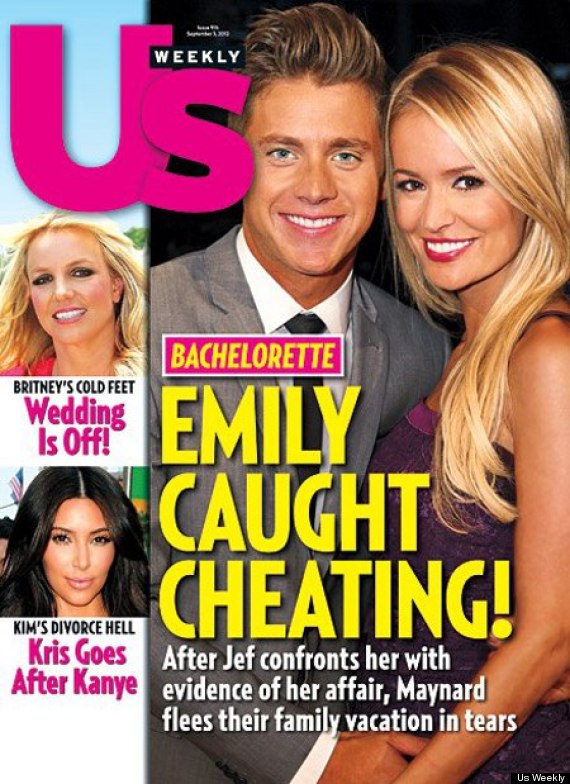 Related on HuffPost:
Loading Slideshow
The Cheater: Meg Ryan

Meg Ryan cheated on her husband of nine years, Dennis Quaid, with Russell Crowe. <a href="http://perezhilton.com/2008-09-23-meg-ryan#.UCPbn2Oe5Og" target="_hplink">Meg later claimed that Quaid had also cheated on her</a> with various women, so it's not surprising the couple divorced in 2001.

The Other Man: Russell Crowe

Meg and Russell met on the set of the 2000 movie "Proof of Life," and began their affair after Meg learned her husband Dennis Quaid had cheated on her. The two dated for close to a year before calling it quits.

The Cheater: Tori Spelling

Tori Spelling cheated on her husband of two years, Charlie Shanian, with Dean McDermott.

The Other Man: Dean McDermott

Tori Spelling and Dean McDermott met and fell in love on the set of the made-for-TV movie "Mind Over Murder," while they were both married to other people. Spelling and McDermott got engaged before their divorces were even final, and now they are married with three children and one on the way.

The Cheater: Anne Heche

Anne Heche cheated on her husband of five years, Coleman Laffoon, with James Tupper.

The Other Man: James Tupper

Anne Heche and James Tupper met on the set of their TV show "Men In Trees" and moved in together six months after Heche's husband filed for divorce. Heche and Tupper had a child together in 2009 and are still together.

The (Alleged) Cheater: Britney Spears

Britney Spears allegedly cheated on Justin Timberlake with choreographer Wade Robson.

The Other Man: Wade Robson

Britney Spears allegedly cheated on then-boyfriend Justin Timberlake with Wade Robson, the man behind both of their dance moves. Both parties denied that Spears cheated, but Timberlake's song "Cry Me A River" seems to confirm the rumor.

The Cheater: Elizabeth Taylor

Elizabeth Taylor cheated on her second husband Michael Wilding with Mike Todd.

The Other Man: Mike Todd

Elizabeth Taylor cheated with Mike Todd and married him only a week after the divorce from Michael Wilding was final.

The Cheater: Elizabeth Taylor

Elizabeth Taylor married Eddie Fisher after Mike Todd died in 1958. Fisher was Todd's close friend and consoled Taylor after his death. They married in 1959, but Taylor cheated on him with Richard Burton.

The Other Man: Richard Burton

Elizabeth Taylor and Richard Burton were both married to other people when their affair began. And Taylor married Burton only nine days after her divorce from Eddie Fisher was finalized.

The Cheater: Ingrid Bergman

Ingrid Bergman infamously cheated on husband Aron Petter Lindström with director Roberto Rosselini.

The Other Man: Roberto Rosselini

Ingrid met Roberto when filming the movie "Stromboli" in 1949. They began an affair and Bergman became pregnant with Rosselini's child. It was a huge scandal at the time and Bergman divorced her husband and married Rosselini in 1950. The couple divorced in 1957.

The Cheater: Kelly Brook

Kelly Brook cheated on her boyfriend of seven years Jason Statham with Billy Zane.

The Other Man: Billy Zane

Kelly and Billy met while filming thriller "Survival Island" in Greece in 2004, and and left her boyfriend of seven years for him. The two dated for four years and were even engaged to be married at one point, but split in August 2008.

The Cheater: Madonna

Madonna allegedly cheated on husband Guy Ritchie with Yankees team member Alex Rodriguez.

The Other Man: Alex Rodriguez

Madonna and Alex denied cheating on their spouses, but his wife <a href="http://www.huffingtonpost.com/2008/07/04/alex-rodriguezs-wife-mado_n_110854.html" target="_hplink">Cynthia didn't buy it.</a> "I believe he was having an affair with Madonna," she told a friend, who spoke anonymously for fear of angering the baseball player. "She said she found a letter where Alex told Madonna: 'You are my true soulmate.'"

The Cheater: Kristen Stewart

Kristen Stewart cheated on Robert Pattinson with married director Rupert Sanders.

The Other Man: Rupert Sanders

Kristen Stewart publicly admitted to cheating on her boyfriend of four years after incriminating photos of her and "Snow White and the Huntsman" director Rupert Sanders were published by <em>Us Weekly. </em> Stewart claims the affair was a "momentary indiscretion," while Sanders, who is married with two children, also issued a public apology.

The Cheater: Kris Jenner

Kris Jenner (then Kris Kardashian) cheated on her first husband, Robert Kardashian, with Todd Waterman.