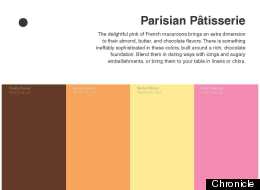 We don't know about you, but we love Pantone (maybe it's the inner hipsters in us). When we got in Chronicle's "Pantone: 35 Inspirational Color Palettes," we were extremely excited.
It got us thinking: Inspirational? What color palettes might have inspired some of our favorite authors, had they been able to paint their writing rooms, bedrooms, homes in these colors?
So, we asked Chronicle's Diane Levinson, as well as the rest of the team that worked on the book, which color palettes corresponded to 13 famous authors of our choosing.
Here's what Ms. Levinson told us:
Author's Pantone Color Palettes
Pink frosting surrounding rich chocolate and almond tones--French pastries are as complex in hue as they are in flavor. Of course, no writer is more closely associated with French pastry than Marcel Proust and his famous madeleine. With its hues of Costly Cacao, Apricot Spice, Melted Butter, and Pink Frosting, we think he'd find this palette particularly inspiring.

Remaining in France for a bit, the colors of Pantone's French Country palette brought to mind Gustave Flaubert. Would Madame Bovary's life have been easier if her home had been decorated in Cendre Blue, Super Lemon, Antique White, and Dress Blues? Probably not, but we still wish she'd had the chance to find out.

The opulence of these colors, their richness, depth, and complexity reminds us of Edith Wharton. Born into privilege, Wharton's observations of the peculiar tragedies of her social class are as powerful now as when she wrote them a century ago. She deserves to be surrounded in jewels as complex as she was. Mrs. Wharton would have loved this palette of African Sapphire. Serpentine, Apple Jade, and Black Onyx.

The calm comfort of these nautical colors would have appealed to Herman Melville, the customs inspector turned novelist. Unappreciated in his lifetime, Melville would have been cheered by this welcoming palette of Safe Harbor, Farmyard Red, Homeward Horizon, and Friendly Seas.

The master of American hardboiled detective fiction, Raymond Chandler would have felt right at home surrounded by the colors of the Silent Screen palette. His compromised heroes, sharp dialogue and lyrical descriptions fit perfectly in this noir-inflected, grey-to-silver-to-charcoal palette of Star White, Bone White, Gray Violet, and Moonless Night.

The richness of old master paintings emanates from these deep, luxurious colors, which feels right for Henry James, who migrated from America to Europe and back again throughout his life. The New World-meets-Old World colors of this palette -- Antique Citron, Ancient Sun, Green Nymph, and Old Chestnut--could easily be the backdrop for his novels about collisions of Americans with Europe and Europeans.

We love the idea of Scottish novelist Robert Louis Stevenson in a room decorated with the St. Barts palette. Would these tropical colors have inspired the writer of "Treasure Island" and "Kidnapped"? Or is it more about how the contrast of gentle sea greens with fiery oranges reminds us of "Jekyll and Hyde"? Either way, this palette of Cherry Tomato, Carrot, Bright White, and Smoke is definitely Stevenson's.

It's not 50 shades of gray, it's 4 shades of purple, but we think it fits. The power, the passion, the bruises--it's all reflected in this smoldering, heart-quickening palette, as purple as her prose. Even the colors' names are cheerfully pervy-- Lilac Negligee, Ripened Plum, Nightbloom, and Temptress.

WWI ambulance driver, war correspondent, explorer on treacherous African safaris, no writer is more closely associated with danger and heroism than Ernest Hemingway. He would prefer a color range to remind him of adventure and risk-taking, like Pup Tent with its palette of Rosin, Oxford Tan, Bracken, and Laurel Wreath.

One of the Caribbean's most lauded writers, Danticat lives in Miami and grew up in New York City, but we think she'd enjoy a palette to remind her of her birthplace, Haiti. Island Cruise recalls the beauty of tropical waters with its range of Scuba Blue, Baja Blue, Bone White, and Macaw Green.

No one has written about American life in the late 20th and early 21st century better than David Foster Wallace. (That sentence is an argument starter if ever we've heard one, but this is our article, and we're entitled to our opinions.) So for Wallace, we're choosing Firecracker. There's something about this palette that reminds us of his prose--explosive, meticulous, startling, generous, delightful. His range includes French Blue (oh irony!), Bright White, Atmosphere, and Grenadine.

We think the great 20th century English novelist of class and the search for connection would enjoy these colors meant to evoke the fresh, misty air of a spring morning. For the author of "Howards End" and "A Room with a View," we offer First Lilac, Meadow Breeze, Open Sky, and Early Sunshine.

Cottage Garden's grassy green and lush florals evoke the fashions and décor of Austen's "three or four families in a country village." The relaxed beauty of these colors would provide a deceptively sweet backdrop for Austen's irony and sharp social commentary. We imagine her delighting in this palette of Young Wheat, Garden Green, Nimbus Cloud, and Skyway.