During her well-run campaign, Radtke took shot after shot at Allen, proclaiming him to be just another budget-buster who voted relentlessly for spending for entitlements and special interests that has led to unsupportable deficits. "Both political parties have created this mess that we have to get out of," Radtke told me at a Election Day stop at a nearly empty polling place in a Chesterfield church.

But Radtke's criticism didn't stick. Allen let her accusations roll off his back and quietly watched as Radtke was cut out of debates. His overriding goal clearly was to avoid giving the campaign of his Democratic opponent, former governor Timothy Kaine, a target as the real contest heats up.
It is critical for politicians to recognize that public appearances, interviews touting yourself, rallies stoking your fires and the like will only engender resentments and create rallying points to gather your haters; that whatever enthusiasm your presence can drum up will only provoke the greater Backlash.
Obama's campaign is running [a Medicare-themed] ad in eight states: New Hampshire, Virginia, North Carolina, Florida, Ohio, Iowa, Colorado and Nevada.

This comes while Romney is campaigning in Alabama, South Carolina, Massachusetts and New York. He plans visits next week to Texas, Louisiana and New Mexico.

To be sure, Obama attends numerous fundraisers of his own. And Romney has spent significant time at public campaign events in swing states, and he will do so many times again before Nov. 6.

But the amount of time Romney is devoting to private fundraisers in noncompetitive states is notable. Even when he is in swing states, he sometimes attends only a fundraiser, without mingling with non-donors or appearing before local TV cameras, as he did Wednesday in Charlotte, N.C.
Today's big New York Times/CBS/Quinnipiac poll found some good news for Barack Obama: In Ohio, Wisconsin, and Florida, voters think Obama would do a better job than Mitt Romney handling Medicare by margins of eight to 10 points. Blowback against Paul Ryan?

Well, I've got the breakdown of these numbers among seniors, and they are far less encouraging for Obama: In two out of the three states, voters over 65 prefer Romney on Medicare, and in the third, Obama leads, but by a smaller margin. The breakdown sent over by CBS:

*In Florida, 48 percent of seniors say Romney would do a better job on Medicare, versus 44 percent who say that about Obama (the Ryan pick was supposed to be particularly problematic in this state).
The Romney/Ryan plan would drive costs up for seniors; repealing Obamacare would take expanded benefits away from some of them; and Ryan's changes would, over time, transform the core mission of the program that seniors say in overwhelming numbers they want left untouched. If that message isn't getting through, that should concern the Obama campaign.
Real median annual household income fell to $53,508 from $54,916 during the 18-month recession from December 2007 to June 2009, according to the firm's study of income data for the 36-month period ended in June 2012. Incomes kept falling during the 36-month period since then, dropping to $50,964 in June 2012.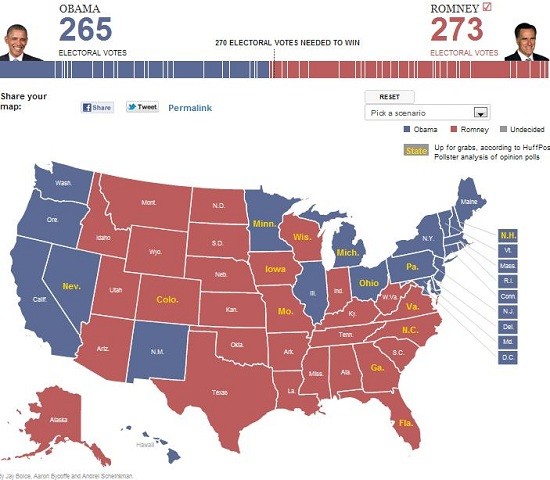 ALSO ON HUFFPOST:
Mitt Romney's Greatest Hits
SUBSCRIBE TO & FOLLOW TRUMP'S FIRST 100 DAYS
How will Donald Trump's first 100 days impact YOU? Subscribe, choose the community that you most identify with or want to learn more about and we'll send you the news that matters most once a week throughout Trump's first 100 days in office. Learn more