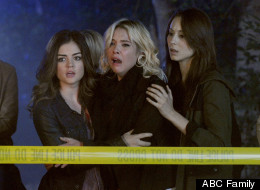 The mid-season finale of ABC Family's "Pretty Little Liars" is just a day away and fans are eager to find out what's up with Paige, who killed Maya and who's on the other end of the long-teased "betrayal."
In the finale, entitled "The Lady Killer" (Tuesday, August 28 at 8 p.m. ET), Garrett's trial for Maya's murder is starting and Emily is getting a lot of media attention. With her friends at odds with Paige, she's caught in the middle and "A" takes advantage of the situation by sending Aria, Emily, Hanna and Spencer on a path to a possible truce.
Meanwhile, the "Little Liars" find out that someone very close to them is part of the "A" team and Maya's murderer is revealed.
Below, check out four clips and the trailer from the upcoming mid-Season 3 finale (including Mona in a hoodie and seemingly out of Radley, a Paige and Spencer showdown and plenty of tears and sirens).
If you want more inside scoop, tune in for a live chat with Shay Mitchell (Emily) and Ian Harding (Ezra) on Mon, Aug 27 at 3 p.m. ET below the videos.
'Pretty Little Liars' Season 3 Mid-Season Finale Sneak Peeks
We thought Mona was still locked up in Radley, but in this sneak peek, it looks like the former leader of the "A" team is back to her blackmailing ways in the black hoodie uniform. Who do you think is on the other end of that phone call?

At Rosewood, Paige and Spencer are at their lockers and the two go head-to-head. "What the hell is wrong with you guys?" Paige asks, saying the girls made Emily cry. "I want you to leave Emily alone," she adds. But Spencer is convinced it's Paige who's the villain here. "If you think I'm going to let you hurt her, you're underestimating me," she retorts.

Though it's unclear what exactly Spencer, Aria and Hanna did to make Emily upset, they convince her to come over to Spencer's. They're going to "hit her with the truth." What that is, we don't entirely know, but because of the earring Paige had, they're pretty sure she has Ali's body. "Alison's remains -- believe it or not -- they're going to come back into plain view," producer Oliver Goldstick told Wet Paint. "In the imminent future the remains will be discovered."

Much like the Season 2 finale of "Pretty Little Liars," the upcoming mid-Season 3 finale has one of the girls sobbing while a body is carried into an ambulance. But this time, instead of Emily in tears, she's being questioned by the police and Hanna's the one who's inconsolable.

In the "Pretty Little Liars" trailer for "The Lady Killer," you'll see a very scared Emily, Spencer, Aria and Hanna at Ali's gravesite, Maya leaving Radley in a nurse's uniform and many more split-second shots at what's to come in the mid-Season 3 finale.