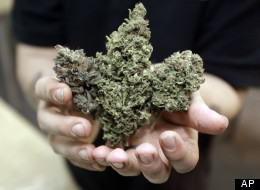 Regulate Marijuana Like Alcohol has released a letter today signed by more than 100 college professors -- from Colorado and around the nation -- that support the group's November marijuana legalization initiative, Amendment 64, which seeks to legalize, tax and regulate marijuana for adults similar to the way alcohol is regulated (Scroll down for the letter).
The marijuana advocacy group is releasing the letter on the day that President Barack Obama makes a campaign stop at Colorado State University in what is expected to be a campaign speech about the issues that affect young college-age voters.
The more than 100 professors represent many different fields of study from law, health, economics and criminal justice from various universities around the nation including some professors from CSU as well as former colleagues of President Obama's during his time as a professor at University of Chicago Law School.
"The time has come to take a more rational approach to marijuana policy," Thomas Ginsburg, University of Chicago Law School professor, said in a statement. "By criminalizing marijuana, we are wasting scarce law enforcement resources, foregoing needed revenue, and channeling people toward the far more dangerous drug that kills tens of thousands each year – alcohol."
Dr. Stephen Mumme, a CSU political science professor who specializes in comparative government with an emphasis on U.S.-Mexican relations, said in a statement that, "Contrary to its purpose, marijuana prohibition has helped create the conditions in which cartels flourish. It distorts development in Mexico, weakens local government, wreaks violence and insecurity along the border, and undercuts hard-won efforts to strengthen binational cooperation between our two countries. It's time we try another approach."
This is the second significant showing of support for Amendment 64 in less than a week. Last Thursday, the NAACP officially endorsed Colorado's marijuana legalization initiative not because the group necessarily favors marijuana use, but because members say current marijuana laws lead to a disproportionately high number of people of color being incarcerated or otherwise negatively affected.
The NAACP provided this data in a press statement about marijuana arrests in Colorado:
African-Americans made up roughly 4% of the population in Colorado in 2010, but they accounted for about 9% of marijuana possession arrests and 22% of arrests for marijuana sales and cultivation. The numbers in Denver are particularly staggering. According to a report prepared by the Denver Police Department for the the city's Marijuana Policy Review Panel, African-Americans accounted for more than 31.5% percent of arrests for private adult marijuana possession, despite making up less than 11% of the city's population.
"Marijuana prohibition policy does more harm to our communities than good," said Rosemary Harris Lytle in a statement, president of the NAACP-Colorado-Montana-Wyoming State Conference. "That is why we have endorsed Amendment 64 which presents a more effective and socially responsible approach to how Colorado addresses the adult use of marijuana."
Colorado, Washington and Oregon all have marijuana legalization initiatives on the ballot this November and earlier this month, a local NAACP group already endorsed the Oregon measure, according to Oregon Live.
According to a new report by the Colorado Center on Law & Policy, the passage of Amendment 64 could be a boon for the state economy. Marijuana legalization would produce hundreds of new jobs, raise millions for the construction of Colorado public schools and raise around $60 million annually in combined savings and revenue for Colorado's budget, the report says.
The full letter, all the signatories, their respective titles and colleges, appear below, courtesy of RegulateMarijuana.org:
A Letter of Support From Members of the Academic Community

To the Voters of Colorado:

As professors in the fields of law, health, economics, and criminal justice, among others, we write this open letter to encourage a sensible, evidence-based approach to marijuana policy, and to endorse Amendment 64, the initiative on this year's ballot to regulate marijuana like alcohol in Colorado.

For decades, our country has pursued a policy of marijuana prohibition that has been just as ineffective and wasteful as alcohol prohibition. We have reviewed Amendment 64 and concluded that it presents an effective, responsible, and much-needed new approach for Colorado and the nation.

Marijuana prohibition has proven to be the worst possible system when it comes to protecting teens, driving marijuana into the underground market where proof of age is not required and where other illegal products might be available. In a regulated system, marijuana sales will be taken off the streets and put behind a counter where age restrictions are strictly enforced. There is evidence that regulating marijuana works. According to the U.S. Centers for Disease Control and Prevention, marijuana use among Colorado high school students declined from 2009 to 2011, the time during which the state began regulating medical marijuana sale. Meanwhile, it increased nationwide, where no such regulations were implemented.

Given our current economic climate, we must evaluate the efficacy of expensive government programs and make responsible decisions about the use of state resources. Enforcing marijuana prohibition is wasting our state's limited criminal justice resources and eroding respect for the law. Our communities would be better served if the resources we currently spend to investigate, arrest, and prosecute people for marijuana offenses each year were redirected to focus on violent and otherwise harmful crimes. According to the Colorado Center on Law and Policy, passage of Amendment 64 would immediately save local and state law enforcement officials more than $12 million per year, and it could save more than $36 million per year within the first five years. Paired with new state and local revenues, the initiative has the potential to generate more than $120 million per year for Colorado and its localities.

It is also important to note that Amendment 64 does not change existing laws regarding driving under the influence of marijuana, and it allows employers to maintain all of their current employment and drug-testing policies.

The State of Colorado, as well as our nation, have successfully walked the path from prohibition to regulation in the past. Eighty years ago, Colorado voters approved a ballot initiative to repeal alcohol prohibition at the state level, which was followed by repeal at the federal level. This year, we have the opportunity to do the same thing with marijuana and once again lead the nation toward more sensible, evidence-based laws and policies.

Please join us in supporting Amendment 64, the initiative to regulate marijuana like alcohol.

Sincerely,

Burton Abrams
Professor of Economics
University of Delaware

Daron Acemoglu
Professor of Economics
Massachusetts Institute of Technology

Patricia A. Adler
Professor of Sociology
University of Colorado Boulder

Peter Adler
Professor of Sociology and Criminology
University of Denver

Sunil Aggarwal
Researcher, Physical Medicine and Rehabilitation
New York University School of Medicine

Ty Alper
Clinical Professor of Law
U.C. Berkeley School of Law

Howard Baetjer, Jr.
Lecturer, Department of Economics
Towson University

Jennifer Ball
Associate Professor of Economics
Washburn University

W. David Ball
Assistant Professor
Santa Clara School of Law

Randy Barnett
Carmack Waterhouse Professor of Legal Theory
Georgetown Law

Humberto Barreto
Elizabeth P. Allen Distinguished University Professor, Economics and Management
DePauw University

Art Benavie
Emeritus Professor of Economics
University of North Carolina

Douglas A. Berman
Professor of Law
Moritz College of Law, Ohio State University

Marc Bilodeau
Associate Professor of Economics
Indiana University

Cyrus Bina
Distinguished Research Professor of Economics
University of Minnesota

Miriam W. Boeri
Associate Professor of Sociology
Kennesaw State University

Bruce Caldwell
Professor of Economics
Duke University

David Campbell
Lecturer in Economics
Pepperdine University Graziadio School of Business

Tapoja Chaudhuri
Visiting Assistant Professor of Anthropology
Haverford College

Lawrence R. Cima
Associate Professor of Economics
John Carroll University

Richard D. Coe
Professor of Economics and Chair of the Faculty
New College of Florida

Robert A. Collinge
Professor of Economics, Retired
University of Texas at San Antonio

Mike Cummings
Professor of Political Science and President's Teaching Scholar
University of Colorado Denver

William L. Davis
Professor of Economics
University of Tennessee at Martin

Dale DeBoer
Professor of Economics
University of Colorado Colorado Springs

Ranjit S. Dighe
Chair and Professor, Department of Economics
SUNY College at Oswego

K.K. DuVivier
Professor of Law
University of Denver Sturm College of Law

Mitch Earleywine
Professor of Psychology
University at Albany

Fred Foldvary
Lecturer in Economics, San Jose State University
Director, Civil Society Institute, Santa Clara University

Sean Fox
Professor, Department of Agricultural Economics
Kansas State University

Arthur Gilbert
Associate Professor, Josef Korbel School of International Studies
University of Denver

Thomas Ginsburg
Leo Spitz Professor of International Law, Ludwig and Hilde Wolf Research Scholar
University of Chicago Law School

Michael D. Goldberg
Roland H. O'Neal Professor and Professor of Economics
University of New Hampshire

Philip E. Graves
Professor of Economics
University of Colorado

Colleen E. Haight
Assistant Professor of Economics
San Jose State University

Robert M. Hardaway
Professor of Law
University of Denver Sturm College of Law

Mark J. Heyrman
Clinical Professor of Law
University of Chicago Law School

Stephen Mumme
Professor of Political Science
Colorado State University

Leslie Irvine
Associate Professor of Sociology
University of Colorado Boulder

Habib Jam
Professor of Economics
Rowan University

Erika Joye
Instructor of Psychology
Metropolitan State College of Denver

Daniel Klein
Professor of Economics
George Mason University

Alex Kreit
Associate Professor of Law
Thomas Jefferson School of Law

William D. Lastrapes
Professor of Economics
University of Georgia

David Levine
John H. Biggs Distinguished Professor of Economics
Washington University

Terry Liska
Professor Emeritus of Economics
University of Wisconsin

Mark J. Loewenstein
Monfort Professor of Commercial Law
University of Colorado Law School

David M. Long
Assistant Professor, Criminal Justice and Legal Studies
Brandman University

Leigh Maddox
Adjunct Professor of Law
University of Maryland Francis King Carey School of Law

Ann Magennis
Professor of Anthropology
Colorado State University

Paul M. Mason
Professor of Economics
University of North Florida

Robert Melamede
Associate Professor of Biology
University of Colorado at Colorado Springs

Mark Montgomery
Donald L. Wilson Professor of Enterprise & Leadership, Economics
Grinnell College

Suzanna K. Moran
Lawyering Process Professor
University of Denver Sturm College of Law

Leon N. Moses
Emeritus Professor of Economics
Northwestern University

Peter Moskos
Professor, Department of Law, Police Science, and Criminal Justice Administration
John Jay College of Criminal Justice

Tracy Mott
Chair and Associate Professor, Department of Economics
University of Denver

Stephen Mumme
Professor of Political Science
Colorado State University

Richard F. Muth
Calloway Professor of Economics Emeritus
Emory University

Joanne Naughton
Assistant Professor of Criminal Justice, Retired
Mercy College

Thomas Nail
Postdoctoral Lecturer in Philosophy
University of Denver

Inder P. Nijhawan
Professor Emeritus, School of Business and Economics
Fayetteville State University

Kevin O'Brien
Chair and Associate Professor, Department of Business Ethics and Legal Studies
University of Denver

Patrick O'Brien
Professor of Sociology
University of Colorado Boulder

Brendan O'Flaherty
Professor of Economics
Columbia University

Randall O'Reilly
Professor of Psychology and Neuroscience
University of Colorado Boulder

Michelle Oberman
Professor of Law
Santa Clara University School of Law

Alexandre Padilla
Associate Professor of Economics
Metropolitan State University of Denver

Pete Padilla
Instructor of Sociology
University of Colorado Denver

Michael Perelman
Professor of Economics
California State University

Dina Perrone
Assistant Professor of Criminal Justice
California State University - Long Beach

Mark J. Perry
Professor of Economics
University of Michigan

Chiara Piovani
Assistant Professor of Economics
University of Denver

Mark Pogrebin
Professor of Criminology
University of Colorado Denver

Raja Raghunath
Assistant Professor of Law
University of Denver Sturm College of Law

Valerie Ramey
Professor of Economics
University of California, San Diego

Amanda Reiman
Lecturer, Social Welfare
University of California Berkeley

Leonard Riley
Instructor of Political Science
University of Colorado Colorado Springs

Gregory Robbins
Professor of Religious Studies
University of Denver

Cesare Romano
Professor of Law
Loyola Law School Los Angeles

Paul Rubin
Samuel Candler Dobbs Professor of Economics
Emory University

John Ruggiero
Edmund B. O'Leary Professor of Economics
University of Dayton

David Sandoval
Professor of History (Ret.)
Colorado State University Pueblo

Raphael Sassower
Professor of Philosophy
University of of Colorado Colorado Springs

Scott Savage
Associate Professor of Economics
University of Colorado Boulder

Bill Schoen
Adjunct Instructor of Sociology
University of Colorado Denver

Andrew Abraham Schwartz
Associate Professor of Law
University of Colorado Law School

Hamid Shomali
Professor of Finance and Economics
Golden Gate University

Steven M. Shugan
McKethan-Matherly Eminent Scholar and Professor
University of Florida

Jonathan Simon
Adrian A. Kragen Professor of Law
U.C. Berkeley School of Law

Randy Simmons
Professor of Economics
Director of the Institute of Political Economy
Utah State University

Kenneth Small
Professor Emeritus of Economics
University of California at Irvine

Ilya Somin
Professor of Law
George Mason University School of Law

Courtenay C. Stone
Professor of Economics
Ball State University

Robert N. Strassfeld
Professor of Law
Case Western Reserve University School of Law

Nadine Strossen
Professor of Law
New York Law School

Scott Sumner
Professor of Economics
Bentley University

Shyam Gouri Suresh
Assistant Professor of Economics
Davidson College

Alex Tabarrok
Bartley J. Madden Professor of Economics
George Mason University

Alex Thompson
Graduate Instructor of Sociology
University of Colorado Boulder

Richard H. Timberlake
Professor of Economics, Retired
University of Georgia

Alex Tokarev
Professor of Economics
Northwood University

John Tommasi
Senior Lecturer of Economics
Bentley University

Edward Tower
Professor of Economics
Duke University

Susan Tyburski
Lecturer on Law and Society
The Women's College of the University of Denver

Mary Van Buren
Associate Professor of Anthropology
Colorado State University

Daniel A. Vigil
Assistant Dean and Adjunct Professor of Law
University of Denver Sturm College of Law

Alexander "Sasha" Volokh
Associate Professor
Emory Law School

Mike Whitty
Adjunct Professor, School of Management
University of San Francisco

Madelyn V. Young
Associate Professor of Economics
Converse College

Edward H. Ziegler
Professor of Law and Robert B. Yegge Memorial Research Chair
University of Denver

Joseph Zoric
Associate Professor of Economics, MBA Director
Franciscan University of Steubenville