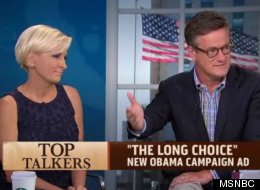 Mika Brzezinski and Joe Scarborough addressed the epic shouting match between Chris Matthews and Republican National Committee chairman Reince Priebus that recently took place on their show.
Matthews exploded at Priebus on Monday's "Morning Joe," accusing the Republican party of playing the race card against President Obama. He was furious over Mitt Romney's recent birth certificate joke, and false claims that Obama ended work requirements for welfare.
Brzezinski spoke out about the confrontation at a luncheon hosted by the Poynter Institute in Tampa on Tuesday. "I think things went off the rails a little bit and it wasn't our best show," she said.
Scarborough added, "We love Chris, Chris loves us. Chris comes on the show all the time, and we hope he will again."