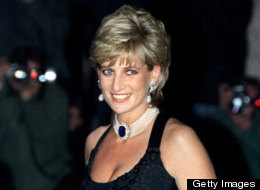 This past month, the hottest star on the planet wasn't Angelina Jolie or Kim Kardashian -- it was Marilyn Monroe. Marilyn's image has been everywhere this August -- on magazine covers, international web sites, anniversary tributes, even in art galleries -- and you'd never know from all those timeless, luscious, teasing photos of her, so vibrant and alive, that she'd have been 86 this year. But her age doesn't matter, because we simply can't forget her.
This week, another stunning leading lady is giving her a run for her money in the international press: Princess Diana. Since she passed away fifteen years ago, Diana has remained our eternal "People's Princess" -- and she continues to be an object of fascination. Ever glamorous, ever vulnerable, still beloved -- even as the world has changed around us -- she remains forever alive in our collective memory.
What is it about these icons that make them so unforgettable? And why do some stars fade away, while others continue to burn brightly long after they leave us? Is it only when they die young? Is it more about their accomplishments? Is it simply photography? Or is there some inherent quality that makes them eminently watchable -- a vulnerability of some kind that allows us to feel close to them, even from a distance?
I think icons are unforgettable because they -- in some way -- remain unmatched by their predecessors and those who follow. For some, it really is about extraordinary talent, accomplishment and vision. Others break down walls and change perceptions through their art or their actions. And some -- through their achievements or their personal stories -- come to symbolize a period in time or a cultural movement that had an impact.
But whatever their singular story, we collectively recognize them in an instant. We feel like we know them; and regardless of whether they died young or lived long, they left something special behind -- something that still fascinates and holds our attention long after they have gone.
As her brother noted at her funeral, Diana Spencer "was the very essence of compassion, of duty, of style, of beauty...she needed no royal title to continue to generate her particular brand of magic." Fifteen years later, she remains that way in our memory -- as the people's princess, a loving mother, a sensitive soul, forever young and vital.
An icon.
...because her onscreen radiance, vulnerability and electrifying charisma remain unmatched, and her image is arguably the most recognizable around the world. Marilyn outshone everyone in Hollywood with her dazzling screen presence, and though her talents were often dismissed due to her portrayals of "dumb blondes," Marilyn took her art very seriously. She read, she studied, and she worked, but she could never quite overcome her past as the insecure young orphan who desperately yearned to be loved and accepted. And it iss that contrast between the powerful femme fatale, and the frightened little girl that continues to transfix us all.

...because he redefined the role of the American male movie star after World War II. He brought vulnerability, emotional rawness and youthful rebellion to the screen and he came to represent the rise of teen culture in the 1950s. After his tragic death in a car crash at the age of 27, his image was frozen in time and a legend was born.

...because she was a two-time, Oscar-winning actress whose iconic roles in cinema were matched only by her glamorous, fabulous and tumultuous personal life. She married eight times, battled several life-threatening illnesses, scandalized the Vatican with her romances, and heightened global awareness of the AIDS crisis by raising millions and co-founding AMFAR. She made a difference, and to many, she was the last of the great American screen legends.

...because they breathed new life into Washington and spread hope across America when they became the country's most glamorous first couple ever to reside in the White House. With their two young children they represented a new generation of hope and renewal, and they redefined the perception of America around the globe. The tragic brevity of their time in the sun only added to their legend, and to comparisons to a time called "Camelot."

...because in the 1950s and '60s, she redefined our view of elegance, style and sophistication. In contrast to the voluptuous and sexually aggressive film stars of her day, Audrey was a former ballet dancer with a gamine figure and boyish haircut. She represented a new and modern style, and she relied on her charm and wit to beguile her co-stars and audiences. As the ultra-stylish Holly Golightly in the classic film, "Breakfast at Tiffany's," Audrey secured her status as an international style icon. But she also spent decades working with Unicef in aid of children around the world. And in doing so, she set new standards of elegance, dignity and selflessness.

...because he helped launched a global sensation and a music revolution as one of the original "Fab Four." He then went on to build upon his global fame as one of the former Beatles, and forged his own path as an artist, a humanitarian and an advocate of peace. His beautifully constructed songs - like "Imagine" - challenged us to look within, and question the beliefs that had been handed down to us. He inspired millions across multiple generations, and his tragic assassination in 1980 rocked the world.

...because he led India to independence from British rule, by employing the then-unheard-of concept of non-violent civil disobedience. In doing so, he became a global symbol of truth, non-violent resistance and peaceful revolution. Though he studied law in London, Gandhi lived modestly and dressed in simple traditional robes. And it was that image of a slight, humble man, clad in very little, that became a global symbol to millions of peace and justice.

...because long before his gradual descent into scandal, drug dependency and an early demise, Michael Jackson really did revolutionize the modern landscape of pop music. He bridged genres, brought audiences together, broke multiple records and danced like no one we had seen since Fred Astaire. Like his dear friend, Elizabeth Taylor, Michael had been a star since childhood, and his star never faded. It only continued to grow brighter, and in the end, he seemed to be overwhelmed by it. But by that time, he was already a legend.

...because she lived out the dream for us. The shy young Di, was chosen by the prince to be his royal bride. But in living out the fairy tale, she revealed to us all that the truth behind the façade is often not what it is cracked up to be. But despite her personal disappointments, she brought both a human touch and a sense of style to the Royal family. She pulled the royals into the modern era, she raised her boys to be modern and aware, and she was able to connect with the masses. She also became a master of media manipulation in the modern era, and she remains an international icon and a subject of fascination even today.

...because, like James Dean, Brando helped redefine masculinity, sexuality and inner turmoil and youthful rebellion in the 1950s. His startling performances in classics like "A Streetcar Named Desire," and "On the Waterfront" revolutionized screen acting with their emotional intensity. Though his career was long and largely successful, his personal life was very complicated. But all of that only added to the mystery, and Brando is still remembered today as a he was back then, dark and brooding, in a leather jacket and exuding raw energy.

...because his name is synonymous with genius and his image is entirely unmistakable. With his crazy, unkempt, white hair and his shaggy moustache, Albert Einstein came to personify the absent-minded professor for the generations that came after him. But he is also recognized as the father of modern physics and he was unquestionably one of the most influential physicists of the 20th century. In a field where people are not often known for their charisma or their unique style, Einstein managed to create an indelible image and become an intellectual icon of his time.

...because the mysterious Swedish film actress became one of the first international stars of cinema. She was mysterious, exotic, aloof and intense. She gained fame as "The Face" of the silent film era, and when she finally released her first "talkie" in 1930, the studio promoted the film by breathlessly declaring, "Garbo Speaks!" But by 1941, Garbo had had enough, and she withdrew from the screen and retired to a life of secrecy and seclusion. For decades, living in New York City, she shunned publicity and hid from the prying paparazzi. Until the very end, she maintained her privacy and eluded all but the most skilled "Garbo watchers."

...because he had a dream, and he had the courage to see his dream realized. Martin Luther King, Jr. energized a nation and helped change history as he advocated for non-violent protests in the name of civil rights. He was a clergyman and a brilliant orator who could galvanize and inspire crowds with electrifying speeches, but he was also a force for stability and calm during tumultuous times. And when he was assassinated in 1968, his image and his voice became frozen in time,but his message continued to reverberate. He lead the way for the rest of us, and he remains today a symbol of peace, justice and equality.

...because he was "The King of Rock and Roll," and one of the most identifiable singers of the entire 20th century. He challenged the rigid mindsets of his day by bringing African-American Rhythm and Blues music to white audiences and by infusing his performances with what was then considered to be reckless sexual abandon. He constructed a persona all his own with a sneer, a twitchy leg, big hair, long sideburns and a white jumpsuit. And today, the image of "Elvis' is still a global phenomenon.

...because he is considered by many to be the greatest electric guitarist in the history of music, and a true original. Though his career was cut short by his premature death in 1970, he had already achieved international recognition, multiple rock music awards and the respect of his musical peers. His death at age 27 earned him a place in the infamous "27 Club" of rock stars who all died at 27 including Janis Joplin, Jim Morrison, Brian Jones, Curt Cobain and Amy Winehouse.

...because she was a pioneer of television, an iconic star and one of the first female heads of a TV studio in history. "I Love Lucy" is arguably the most successful and recognizable television sitcom of all time, and the woman at the center of it all was a master of comedic timing who created some of the most memorable comic moments in the history of television. With her trademark red hair and wide-eyed ambition, Lucy made us love her, now and forever.

...because he was one of the first non-white actors to ever star as the central character in an action film and his movies inspired a global fascination with martial arts. Bruce Lee crossed racial and cultural barriers when he shot to fame in the 1970s in films like "The Big Boss," "Way of the Dragon" and "Enter the Dragon." Considered to be one of the greatest martial artists of all time and a true cultural icon of the 20th century, Lee redefined perceptions of Asian characters in films and his Hong Kong and Hollywood-produced films earned millions. His unexpected death at 32 of a cerebral edema only elevated his legend.

...because the man himself was as instantly recognizable as his unique, dramatic and surreal landscapes. Of course, there are plenty of artists such as Pablo Picasso, Frida Kahlo and Georgia O'Keefe who all had very distinctive images, but Dali took it all a step further with his curled, wax moustache, dandy style and hyperbolic facial expressions. He and his art were one and the same, and it was as if every dripping clock he created surprised him even more than it did us.

...because she spent a lifetime tending to the poor, the sick, the orphaned and the dying, and in doing so became a global symbol of selfless commitment and generosity of the soul. Throughout her life, she never wavered from her mission and even a Nobel Peace prize in 1979 didn't deter her from her vows of chastity, poverty, obedience and service to others. She steadfastly continued her work until her dying day, and today she is an icon of saintliness to millions around the globe.

...because he is truly unique in the annals of iconography, in that Ernesto "Che" Guevara's pop-culture image is arguably more famous than his actual story. He was an Argentine Marxist, a major figure in the Cuban revolution, and his character was even woven into the musical "Evita" as a symbol of the people's revolution. Today, his image is emblazoned on T-shirts and paraphernalia around the world, but for most people, the details of his life story are vague at best. Even so, his face has become an internationally recognized symbol of counterculturalism and an icon of revolution and rebellion around the world.

...because he sang - and was - "Unforgettable." The beloved jazz pianist and baritone vocalist was a natural talent who had numerous radio hits and his music remains popular, even today. He was also the first African-American to host his own variety TV program which - in 1956 - was considered controversial. Despite support from his many show business friends, the show eventually folded due to a lack of national sponsorship, which led Cole to quip, "Madison Avenue is afraid of the dark." As with all icons, wit, grace and talent win out in the end.