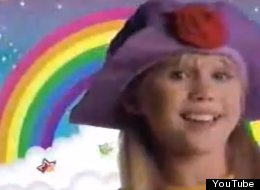 As September creeps closer and kids start heading back to school, we can't help but find ourselves a little nostalgic for our neon-colored 90s education. And while we certainly remember what school was like at that time, it's the 90s commercials that really paint a picture of how funny things were back then.
From Yikes pencils and Trapper Keepers to pizza-obsessed kids and totally lame parents, going back to school in the 90s looks even more ridiculous than we remember. Commercials for just about everything school-related pushed forth some baffling stereotypes, including that all lunch ladies and gym teachers were nightmarish gum-Nazis. And don't even get us started on the talking robot.
Click through our slideshow below for a refresher on what going to school was like when "Are You Afraid Of The Dark?" was the scariest thing on TV and Sunny Delight was considered a healthy beverage. For more "educational" humor be sure to check out 45 back-to-school FAILS after that.
What School Was Like In The 90s (According To Commercials)
Ironing underwear or wearing a health department-mandated hair net were obviously big indicators that a person was not cool with you chewing gum.

And teachers were powerless to stop them.

We wish we had come up with that sick horse joke!

If his book is talking to him, he's probably already on dope.

The "Oooh" at the end was usually reserved for whenever Monica or Rachel walked on set in a sexy dress.

Back then, you didn't want to be that loser caught using a yellow pencil. You might as well have been taking the SAT!

You'd think that owning a "cool binder" would actually be a deterrent to meeting boys, but this commercial shows us that Trapper Keepers were a strong aphrodisiac.

In the 90s, all school girls had an impressive knowledge of Lisa Frank's merchandising schedule and wore big, expressive hats with flowers on them.

Public display of euphoria like in this overplayed commercial was just one of many ways that parents made their kids feel bad about going back to school.

We sort of feel like this commercial implies that he never uses the notebook.

That, plus a petty cash box filled with 1,000 wrinkled ones and a visit with the cast of "Are You Afraid Of The Dark?".

Now this is just fun!

"Why is mom crying over my finger paintings?"

Apparently, teachers hugging their students for answering 1 + 2 correctly was also totally common.

Also Dave called.