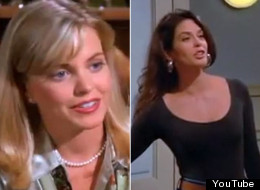 Did you know before she was kicking butt and being oh-so fashionable on "True Blood," Kristin Bauer was on "Seinfeld"? Not only was she one of Jerry's girlfriends on the series, but Bauer played perhaps the most infamous one: Gillian, better known as "man hands."
Many of today's leading ladies cut their teeth playing Jerry's girlfriends on "Seinfeld." Long before she was Mrs. Walter White, George thought he saw Anna Gunn's character kissing Jerry's cousin. Before she went toe-to-toe with Superman and moved to Wisteria Lane, Teri Hatcher was one of Jerry's many ladies.
Below, see some of Jerry Seinfeld's fictional girlfriends before they hit it big.
Jerry's Famous Girlfriends
"True Blood's" Pam had "man hands."

Everybody remembers her as "the virgin." Jane Leeves' character, Marla, stuck around for two episodes, before leaving Jerry after finding out about the no masturbating contest.

Were they real? Fake? They were certainly spectacular.

The waitress with a "dude" roommate, Lanette broke up with Jerry after he tasked George with sending out the invites to her birthday party, something George failed to do.

Paula Marshall of "Cupid" and "Gary Unmarried" fame played Sharon, who interviewed Jerry and fell under the impression he was in a relationship with George -- not that there was anything wrong with that!

Long before she was dealing with her meth-selling husband on "Breaking Bad," Anna Gunn was one of Jerry's flavor of the week girlfriends. In "The Glasses," George thinks he sees Amy (Gunn) kissing Jerry's cousin.

Before she was Charlotte on "Sex and the City," Kristin Davis was romancing Jerry. Their relationship fell apart after Jerry knocks Jenna's (Davis) toothbrush into the toilet and she uses it before he can tell her.