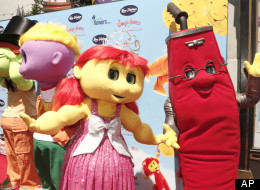 "The Oogieloves In The Big Balloon Adventure" is not like ordinary movies. Aimed strictly at children ages 3-5, the newly released kids' film from Kenn Viselman, the man who brought "The Teletubbies" and "Thomas the Tank Engine & Friends" to American audiences, is an interactive experience.
"Oogieloves" -- which includes cameos from stars like Chazz Palmentieri, Christopher Lloyd and Cloris Leachman -- "features visual and auditory cues which invite the audience to 'move' the action along, allowing parents and kids to interact not only with the characters, but also with one another," reported the Sacramento Bee. The problem? So few people attended "Oogieloves" on opening day that audience members were likely talking to themselves.
According to ERC Box Office, "Oogieloves" grossed $102,564 on Wednesday from 2,160 theaters. That gives the film a per-theater average of $47. Dollars. Should that number hold, "Oogieloves" could earn the distinction of having the worst wide-release opening weekend ever, topping such flops as "Creature," "The Virginity Hit," "Delgo" and "Proud American."
Of course, no matter how bad "Oogieloves" does this weekend -- where it will unspool on 2,200 screens, a Labor Day record for G-rated films -- it won't be as much of a washout as "The Worst Movie Ever!" As Movieline's S.T. VanAirsdale reported last August, that film earned $11 during its opening weekend -- which meant one person paid to see "Worst Movie Ever!" when it debuted at one theater in Los Angeles.
"I had a number of reactions at first," "Worst Movie Ever" filmmaker Greg Berggoetz told VanAirsdale. "I was flabbergasted at the number and wondered if it was possible that it was correct. [...] Then after the initial shock wore off a short while later, I thought, 'Wouldn't it be ironic if 'The Worst Movie EVER!' did the all-time worst opening weekend box office ever?' While I was certainly hoping for hundreds of people to turn out for the film, the irony is a bit too delicious."
Fortunately for Viselman, "Oogieloves" is already ahead of that pace. Whether it can top "Creature," 2011's biggest wide-release flop, is another story altogether.
For more on "Oogieloves," head over to Movieline.
The Biggest Box-Office Bombs in August
A movie about a former smuggler who starts a night club (in space!), "Pluto Nash" is not only one of August's worst flops ever, but one of the biggest box-office busts of all time: It had production costs of about $120 million and only $7 million in worldwide profits. You do the math.

Johnny Depp! Charlize Theron! "The Astronaut's Wife" had to be a success, right? Wrong. Unfortunately, this stale 1999 thriller, about an astronaut (Depp) who starts acting strange after returning from space (Spoiler alert: He's possessed by an alien!), ended up grossing just under $20 million on a $75 million budget.

Audiences had no interest in seeing Robert De Niro as an obsessed baseball fan in this far-fetched 1996 flick. Not even Wesley Snipes' star power (at the time, anyway) could save the film's box office return: $18 million on a $55 million budget.

It should be no surprise that one of the worst movies ever was also one of history's biggest flops. In the end, this 2003 flick, starring Ben Affleck as a mobster who's forced to kidnap the mentally challenged younger brother of a federal prosecutor (yeeesh), grossed only $7.3 million to its $70 million budget.

Only a handful of filmmakers have been able to successfully write, direct, produce and star in their own movies. Robert Townsend found this out the hard way with "The Meteor Man," a film about a superhero who develops powers after being struck by a meteor. With an estimated $30 million budget, the flick brought in only $8 million in ticket sales.

A movie based on a series of trading cards? That sounds like an idea Hollywood would have today. Alas, this film hit theaters in 1987 and grossed an abysmal $1.8 million on a $30 million budget. (Also, what the hell did they spend $30 million on?!)

Sure, a spinoff for a "Rocky and Bullwinkle" character -- particularly one about a doltish Canadian Mountie -- seems like a decent idea. Unfortunately, this 1999 comedy starring Brendan Fraser fell completely flat, bringing in almost $10 million on a $70 million budget.

A cast that included Bill Murray, Chris Rock, William Shatner and Laurence Fishburne didn't stop this part-animated, part-life action flick from ending up on the list. Despite a $70 million budget, "Osmosis" brought in a measly $14 million in ticket sales.

Originally released in Japan, "Nemo" bombed at the U.S. box office, bringing in $11.4 million in ticket sales (this despite generally positive reviews from critics).

Coming off the success of "Mortal Kombat," director Paul W.S. Anderson turned to the future, with the film "Event Horizon." Unfortunately, the movie didn't pan out nearly as well as "Kombat," making back less than half of its $60 million budget.

Good news: This movie was nominated for a ton of awards. Bad news: Those awards were Razzies. Yes, this 1986 film starring Sean Penn and Madonna as two newlyweds living in China is as bad as it sounds (Madge was awarded the Worst Actress of the year.) "Shanghai" went on to gross $2.3 million from its $17 million budget.

The poster for this film boasts "The most daring rescue mission of our time." Too bad no one came out to witness it. Starring Joseph Fiennes and James Franco, "The Great Raid" grossed $10.8 million on a huge $80 million budget.

Movies based on Michael Crichton novels are usually hit or miss at the theater. In the case of "The 13th Warrior," it was the latter: This 1999 historical fiction flick, starring Antonio Banderas as an emissary who joins a band of Norse warriors, made $61.7 million in ticket sales, well below its eye-popping $160 million budget.

What was originally intended to be a third "Conan" movie (that is until Arnold Schwarzenegger refused to reprise his role) turned into a spinoff featuring lesser known barbarian Kull. Sorry, Kevin Sorbo, but your action skills are no good here: The film's $30 million budget netted a paltry $6.1 million at the box office.

As the folks behind 1981's "Honky Tonk Freeway" found out, not all British comedy translates overseas. This costly flop is consider one of the worst in movie history, making $2 million on a $24 million budget.

Marlon Brando had a string of flops at the end of his career, including this underwhelming 1992 film about the events leading up to Columbus's trip to the New World. Despite Brando being cast as the Grand Inquisitor Tomás de Torquemada -- and Tom Selleck as King Ferdinand V (um, what?) -- "The Discovery" made $8.3 million off its $45 million budget.

John Landis may be one of the best comedy directors ever, but even he couldn't prevent this 1996 film from posting a terrible return. Based on the famous "Stupids" books by Harry Allard, the Tom Arnold-starring movie made $2.4 million in ticket sales on a $25 million budget.