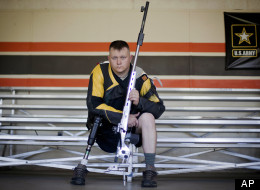 For veterans severely injured in combat, partaking in the Paralympics isn't about achieving personal glory. Getting to the point where they can swim, shoot and score a goal after losing limbs, sight and brain function proves to all returning wounded warriors that they have a real chance at reclaiming their brave, indefatigable fighting spirits.
This year marks the biggest and most well-attended Games in Paralympic history, with 4,280 athletes competing from 165 different countries, according to NBC. For the United States, the world's second largest sporting event is about empowering the disabled, while also giving its injured servicemen and servicewomen a chance to continue proudly representing their country. Of the 227 members of the USA team, 20 are veterans and six were hurt while serving.
"The Paralympic movement is all about getting the word out and letting people recognize that just because someone lost a limb in Iraq seven years ago, that we're not sitting around feeling sorry for ourselves," Melissa Stockwell, who lost her leg to a bomb in Iraq in 2004, told NPR. "We're out there competing at this huge level."
Stockwell swam in the Beijing Paralympics in 2008 and started making a name for herself in para-triathlons in 2010.
While the U.S. Paralympic program is now seeing a swelling of interest from warriors who were injured in Iraq and Afghanistan, the Games were actually founded on the very principle of uplifting vets who were hurt while serving.
After escaping from Nazi Germany in 1930s, Sir Ludwig Guttmann became a neurosurgeon in London and a pioneer for adaptive athletics for injured soldiers, according to the Associated Press.
Guttmann aimed to prove to servicemen who came home with spinal cord injuries that their disability wasn't a death sentence.
And he proved just that when during the 1948 Olympics in London, the determined physician arranged for 16 patients to partake in the archery competition –- the event from which the Paralympic Games were born, the AP reports.
Sixty-four years later, wounded warriors are continuing to fulfill Guttmann's dream.
Blinded by an IED blast while serving in Afghanistan, Brad Snyder didn't spend time wallowing in his hospital bed, the Baltimore Sun reports. The former Navy swim team captain, who also swam in college, quickly returned to the pool to train and will compete in the Paralympics on the one-year anniversary of the explosion that stole his eyesight.
"I've been able to find an avenue to say, 'I'm OK with blindness,'" Snyder told the Baltimore Sun. "And I can still go out and represent the country and I can still serve, just in a different aspect. I think it demonstrates that I am back to my community."
Former Army Specialist Scott Winkler also found relief in sports after falling off of an ammunition truck in Iraq left him paralyzed from the chest down.
Just five years after his accident, Winkler set an American record for the shot put in the Beijing Paralympics and hopes to defend his title this year in London, the Signal reports. The fierce competitor has found so much satisfaction in sports since getting injured that he founded an organization, Champions Made of Adversity, to help other people with disabilities get involved in athletics.
"My motto is, if you believe you can achieve," he told the news outlet.
Recognizing just how effective sports are in rehabilitating wounded warriors and building up their confidence, the government is continuing to pour money into adaptive athletics program all across the country. According to Team USA, the Paralympic Sport Club network is being developed in more than 130 communities and a number of the clubs will be built in areas with strong military presences to provide training, equipment, technical assistance and ongoing physical activity.
"Dr. Guttmann's mantra was: They were going to be productive citizens and they were going to use sport to accomplish that," John Register, associate director of community and military programs for the U.S. Olympic Committee's Paralympics division and former Paralympian, told NBC. "Warrior athletes were at a high-functioning level before they were injured. The fighting soldier is just a person who is extremely professional in what they do."
Click through the slideshow below to read the stories of five inspiring Paralympians who were injured in combat.
SLIDESHOW:
5 Inspiring Paralympic Warriors
Though he was blinded by an IED blast in Afghanistan in September 2011, Brad Snyder never lost sight of his love for swimming, NBC reports. The former Navy swim team captain quickly got back in the pool and will compete in the Paralympics on the one-year anniversary of the explosion that stole his eyesight.

The first active-duty service member ever to compete in the Paralympics, Sgt. 1st Class Josh Olson lost his right leg from the hip down during a rocket-propelled grenade attack while deployed in Iraq in 2004, WTVM reports. A member of the Army's Marksmanship Unit, Olson will compete in two rifle competition events.

While recovering in the hospital after having lost both legs above the knee after an IED blast two years ago in Afghanistan, Rob Jones was already thinking about how he would return to sports, he told NPR. The former Marine found his way back to athletics, and to representing his country, as a rower for the U.S.'s mixed-doubles competition.

Former Army Sergeant Gavin Sibayan survived several roadside bombs and soon after suffered a stroke, according to the Army Times. The wounded warrior serves as defender on Team USA's seven-man soccer squad, which is played on a smaller field and with smaller goals than non-disabled soccer.

Former Army Specialist Scott Winkler was paralyzed from the chest down after falling from an ammunition truck while serving in Iraq in 2003, the Signal reports. But just five years later, the shot-put competitor set an American record in Beijing and is back in London, hoping to do the same. The determined warrior also inspires people with disabilities to find healing through sports through his charity, "Champions Made of Adversity."