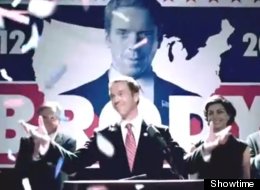 Politicians can get bad raps ... but in the case of these TV politicians, sometimes they deserve it.
With the lead-up to the 2012 election in full swing, we couldn't help trying to find the good in our own political system by highlighting the most evil, inept and corrupt politicians in TV history. From "24's" villainous Charles Logan to POW-turned-congressman-with-a-cause Nicholas Brody on "Homeland," the slideshow below is full of very bad guys in very high places.
But they're not all as overtly evil as "Once Upon a Time's" poison apple-shilling evil queen herself, Mayor Regina Mills -- some TV politicians rose to power on pure luck (ahem, Quahog's Mayor Adam West!) and have managed to muck it up with their incompetence ever since.
Click through the gallery to see the 16 politicians who got our vote for most corrupt, whether they were campaigning for it or not.
TV's Most Corrupt Politicians
Played by: Steve Buscemi Based on the real-life Prohibition era Atlantic City treasurer Nucky Johnson, Thompson dominates the Atlantic region's vast bootlegging trade by blurring the line between the political and criminal underworlds, using murder, bribery, mafia connections and political horsetrading to get rich and stay powerful.

Played by: Isiah Whitlock Jr. A character who became synonymous with Baltimore's political corruption, Davis was a Maryland State Senator who took bribes from drug dealers, paid off the cops and smooth-talked his way out of a conviction on money laundering charges.

Played by: Gregory Itzin Was Charles Logan inspired by Richard Nixon? We may never know for sure, but that comparison gives you an idea of what this Emmy-nominated portrayal entailed: terrorist plots, murders, major cover-ups and a seasons-long rivalry with our hero Jack Bauer.

Voiced by: Adam West More insane than corrupt, Mayor West isn't really the mayor of Quahog as much as he's a crazy guy in a chair at City Hall. Whether he's shooting cats on a catapult or trying to discover if his real name is Adam West or Adam We, Mayor West is absolutely useless in politics.

Played by: David Cross Duane used more than a few shady tactics to take Claire Dunphy (Julie Bowen) down while she was running for town council, and this was after he'd held the title of town councilman for six years. Looks like someone never learned to share!

Played by: Harry Groener Hellbent on power, Mayor Wilkins not only did unthinkably evil things and paid tribute to demons to stay in power for a century, but he also manipulated Faith. In his final confrontation with Buffy, the Slayer took down the Mayor (in big snake form) and the high school in the process.

Played by: Chris Noth From golden boy to disgraced politician and back again, Peter Florrick has had a wild ride on "The Good Wife." Peter came under fire on corruption charges after news of his affair with a prostitute came to light. He was sent to prison, but eventually released and had his case dismissed, later becoming the Cook County State's Attorney once more.

Played by: Lana Parrilla When a politician's alias is "The Evil Queen," you can probably assume that she's a little shady. Among Regina's many talents: Trying to rig elections; murdering people with poisoned apples; being an overbearing adoptive mother; hiding evidence; and creating curses that transport fairytale characters to other dimensions with no memory of their past lives, all the better to subjugate them with. We're guessing her reelection campaign will be a bit of an uphill battle next season.

Played by: Paul Rudd Politics are a dirty business, and Bobby Newport proves it. While Leslie Knope (Amy Poehler) is passionate about the well-being of the citizens of Pawnee, her opponent is only running for city council to please his dad and continue the Newport legacy. Nepotism alert!

Voiced by: Dan Castellaneta Modeled after the Kennedy family and all its tabloid-y glory, Mayor Quimby is a noted philanderer, cheater, bribe accepter and scammer. He is completely willing to abandon the citizens he pledged to lead. With Quimby as mayor, Springfield's town insignia might as well be a suitcase filled with money.

Played by: Dylan Baker As vice president, Fred Collier was guilty of scheming, blackmail and all-around smarminess, but when "Political Animals" ended its first season, Collier looked set to assume the mantle of president. We can only imagine what kind of douchebaggery he'll try and pull if the series returns and he's allowed to stay in the Oval Office. Elaine Barrish 2012!

Played by: Kelsey Grammer The king of the back-room deal, Kane is a believably pragmatic big-city mayor who sets rivals against each other and would make a deal with the Devil himself if it got him re-elected. The skeletons in his closet are numerous, but the biggest secret Kane is withholding from voters is the fact that he's suffering from an irreversible brain disorder that makes him even more volatile than normal.

Played by: James Callis This wily "BSG" character drank and groped his way through office, and acted as a patsy for the Cylons when they turned up to brutally occupy and oppress New Caprica. How's that for corrupt? It's a testament to Callis' tremendous portrayal of the conflicted scientist-turned-politician that we didn't actually want the Cylons to toast Baltar (who later became a religious leader of sorts). His political rival, Laura Roslin (Mary McDonnell), committed her fair share of sins in pursuit of what she perceived as the greater good, too.

Played by: Damian Lewis "Homeland" Season 1 tracked the wartime torture and homecoming of Sgt. Nicholas Brody, who viewers know has some ulterior motives for moving up in the world, politically. Season 2 (premieres Sun., Sept. 30, 10 p.m. ET on Showtime) will open up with him as a sitting congressman in the U.S. House of Representatives, and the promos alone send shivers down our spines. Brody 2012!

Played by: Robert Pralgo From the start of The CW's "Vampire Diaries," Mayor Lockwood wasn't the greatest dad or husband -- he had a strained relationship with his son Tyler and was attracted to someone else besides his wife. But politically, he was even worse. Mayor Lockwood was behind a play to knock out the sheriff and stage a coup against her. Eventually, he met his end at the hands of a vampire and later, viewers learned he had a werewolf gene, which was passed on to poor, tortured Tyler in the wake of his dad's death. Thanks, dad.

Played by: Tom Everett Scott With stories inspired by the Eliot Spitzer prostitution ring scandal and the Rod Blagojevich corruption scandal, it's safe to say "Law and Order's" recurring character Governor Shalvoy may be one of the most corrupt in TV history. Throughout his appearances in the 18th and 19th seasons of the long-running series, he also helped cover up a murder and attempted to bribe Jack McCoy before stepping down in the Season 19 finale.
HuffPost Live will be taking a comprehensive look at the corrupting influence of money on our politics August 30th and September 6th from 12-4 pm ET and 6-10 pm ET. Click here to check it out -- and join the conversation.