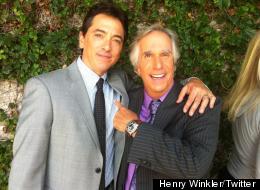 Scott Baio is returning to "Arrested Development." Yep, Bob Loblaw is back in action.
Henry Winkler, who co-starred with Baio on "Happy Days," tweeted a photo of him and Baio on the set. Winkler will also reprise his "Arrested Development" role of lawyer Barry Zuckerkorn. Viewers can also expect to see Kitty Sanchez back in action. Judy Greer tweeted a photo of her dressing room door confirming the news that she was reprising the Kitty role.
Oh my goodness ... What a Development !!!!!!! twitter.com/hwinkler4real/…

— Henry Winkler (@hwinkler4real) August 31, 2012
The entire regular "Arrested Development" cast will be back for the new season set to stream on Netflix in the spring of 2013. The Bluth family be joined by some new characters as well. Details on them are scarce, but John Slattery will play one of the mysterious new additions.
Click through the slideshow below to see some of the Bluth family in action.
Arrested Development Photos
"Arrested Development" Season 4

"Arrested Development" Season 4

"Arrested Development" Season 4

"Arrested Development" Season 4

"Arrested Development" Season 4

"Arrested Development" Season 4

"Arrested Development" Season 4

"Arrested Development" Season 4

"Arrested Development" Season 4

"Arrested Development" Season 4

"Arrested Development" Season 4

"Arrested Development" Season 4

"Arrested Development" Season 4

"Arrested Development" Season 4

"Arrested Development" Season 4

"Arrested Development" Season 4

"Arrested Development" Season 4

"Arrested Development" Season 4

"Arrested Development" Season 4

"Arrested Development" Season 4

"Arrested Development" Season 4

"Arrested Development" Season 4

"Arrested Development" Season 4

"Arrested Development" Season 4

"Arrested Development" Season 4

"Arrested Development" Season 4

"Arrested Development" Season 4

"Arrested Development" Season 4

"Arrested Development" Season 4

The cast of "Arrested Development

Tony Hale as Buster Bluth

Will Arnett as GOB Bluth

Portia de Rossi as Lindsay Bluth-Funke

Michael Cera as George-Michael Bluth

Jessica Walter as Lucille Bluth

Jeffrey Tambor as George Bluth Sr.

Jason Bateman as Michael Bluth

David Cross as Tobias Funke

Alia Shawkat as Maeby Funke

Portia de Rossi as Lindsay Funke

Will Arnett as GOB Bluth

Jeffrey Tambor as George Bluth Sr.

Michael Cera as George-Michael Bluth

Tony Hale as Buster Bluth

David Cross as Tobias Funke

Jason Bateman as Michael Bluth

Alia Shawkat as Maeby Funke

Jessica Walter as Lucille Bluth

New "Arrested Development" poster.

New "Arrested Development" poster.

New "Arrested Development" poster.

New "Arrested Development" poster.

New "Arrested Development" poster.

New "Arrested Development" poster.

New "Arrested Development" poster.

New "Arrested Development" poster.

Will Arnett and Jason Bateman in a scene from Netflix's "Arrested Development."

Will Arnett, David Cross and Portia de Rossi in a scene from Netflix's "Arrested Development."

Jason Bateman in a scene from Netflix's "Arrested Development."

Michael Cera in a scene from Netflix's "Arrested Development."

David Cross & Portia de Rossi film a scene for the cult hit television show, "Arrested Development" which last aired in 2006. The first scene to be filmed took place at the Burbank Airport with original cast members David Cross & Portia de Rossi. The Burbank Airport doubled for an airport in India with actor David Cross wearing a Humorous version of the Sari.

David Cross & Portia de Rossi film a scene for the cult hit Television show, "Arrested Development" which last aired in 2006.

Jason Bateman works on his lines on the first day of filming for the long awaited fourth season of "Arrested Development." "Arrested Development" will return with a 10 episode arc on Netflix reuniting the fans with the cast and catching them up on the absent past 6 years, airing early 2013.

Jason Bateman works on his lines on the first day of filming for the long awaited fourth season of 'Arrested Development'