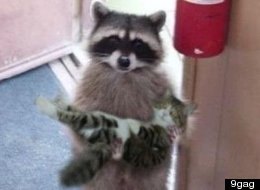 There are a few places where you can always count on finding a cat, like inside a kitty condo or on that sunny spot on the carpet. But cats also do whatever they want. Because they're cats.
For instance, they might decide to loiter in some pretty unexpected places, like inside a jar of cheese balls or in the arms of a raccoon. One day you might be trying to play pool or use your dryer and boom! There's a cat.
And there's nothing you can do about it.
Cats In Unexpected Places
Don't scratch.

Excuse me, is this yours?

Keeping your clothes cute.

No cheezburgers in here.

She has a little self-esteem problem.

Um, a little privacy please?

He's really good a calculus.

Notice: "We are aware that the cat is frequently in the health centre and we do all we can to remove it but it comes back every time there is an opportunity to do so."

"I told you to be careful."

Working for the weekend.

She's majoring in cat-thropology.

"OK, joke's over... Right?"

Put it in "D" for "D'aww."

There's no way this is comfortable.

This spot's taken.

Tea time is going to have to wait.

Snuggle has nothing on this little guy.

Unfortunately, kittens aren't legal tender (yet).

Still looking for the Johnson file.

Sometimes there's nothing like a good book and a nap.

You're running low on brewskies, bro.

Watching your every move.

Another reason you should always look before you sit.

Getting out is the tricky part.

Cousin of monorail cat.

So that's who's been rearranging all the Christmas decorations.

He's there to make sure you don't watch "The Notebook" alone again.