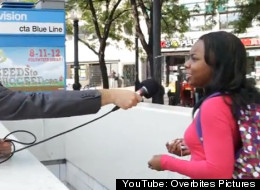 Though prominent Republican John Sununu on Thursday expressed optimism that President Obama will be "coming back" to his hometown of Chicago from the White House this fall, that GOP pipedream does not mesh with recent polling on the presidential race.
And nor does it jibe with a man-on-the-street video released Thursday that aimed at capturing Chicagoans' true feelings about Obama's challenger, Republican presidential nominee Mitt Romney.
Referencing Romney's previous statement that Obama should "take his campaign of division, anger and hate back to Chicago," Overbites Pictures took to Division Street to get to the bottom of the Windy City's apparent rage issue.
The response? Mostly polite confusion. (Watch the video above.)
A poll released this week by Crain's/Ipsos showed Obama holds a tremendous lead over Romney in his home state: 55 percent to 29 percent. The poll had a 4.7 percent margin of error.
Still, despite that gap, some Chicagoans have boosted Romney's campaign coffers significantly.