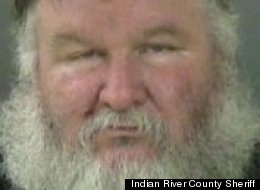 Garlic knots -- those cheap, chewy meal extenders that always need more garlic -- exacted a heavy price on a Vero Beach, Fla., pizza deliveryman.
A tatted-up, 346-pound customer allegedly punched the pizza man "because he forgot the garlic knots," says a police report now making the media rounds (h/t MSN).
Robert Wheeler, 48, is out on $500 bond and awaiting a Sept. 18 court date to address the misdemeanor battery charge, according to the Indian River County Sheriff's website.
The deliveryman, identified by police as Johnathon Feigen, 19, said in the writeup that when he rolled down the window on Aug. 19 in front of Wheeler's house, Wheeler asked him who he was talking to on the phone. Wheeler then punched him below the left eye. Feigen said Wheeler struck him because he forgot the garlic knots. Feigen added that Wheeler told him to give "that" (the punch??) to whoever was on the phone back at the restaurant.
The officer observed slight swelling below the delivery man's eye, but Feigen turned down medical help, the report said. However, according to The Smoking Gun, his mother later took him to the hospital emergency room because of "headache and nausea."
Wheeler admitted to throwing the punch but said he did it because the restaurant owed him money.
The 5-foot-10, 346-pound Wheeler has a tattoo of the word FAT on his left arm and BOY on his right, police wrote. He also has tattoos of a "reptile," "Chinese lettering" and a "skeleton." Oh, and one other one on his left arm: a "bunny."
How sweet.
Also On HuffPost:
The Strangest Things You Can Buy Online
Lori N., of Albuquerque, N.M. tried to sell her soul on eBay, with a starting price of $2,000.

An eBay seller posted a "stone rock" shaped like a human foot. According to eBay, the item was sold for $1 million.

Gerber Gear has got you outfitted for your worst nightmare, the zombie apocalypse. Currently, the $349 kit is out of stock.

First came the blanket with sleeves, now the inflatable neck tie. The Pillow Tie is made of a microfiber/silk blend and is guaranteed to inflate with less than a breath.

The NoPoPo Battery is powered by, you guessed it: urine. The non-toxic batteries can run on virtually any liquid and have a 10-year shelf life.

A Saudi man allegedly put is young son up for sale on Facebook for $20 million after his business was closed down by the government. The father said he wanted to avoid "living in poverty."

A Utah mother was arrested for offering up her 13-year-old daughter's virginity for $10,000. According to reports, there were at least two offers made.