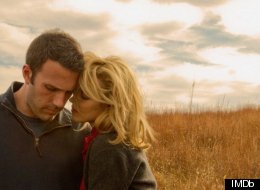 No wonder? At the Venice Film Festival premiere of "To the Wonder" -- Terrence's Malick's second film to debut in the last 16 months, but only sixth since 1973 -- audience members reportedly booed the romantic drama, much to the consternation of some critics in attendance.
"Booing a Terrence Malick film! Wow, almost as courageous and commendable as kicking Gandhi in the face," wrote Variety critic Justin Chang on Twitter. "Good job, guys."
Film critic Guy Lodge was equally appalled.
"Enough with the booing, people," Lodge tweeted. "You're professionals. Supposedly. Shut the f--k up."
The polarized response to Malick's latest shouldn't be too much of a surprise. Last week, "To the Wonder" star Ben Affleck told press at the Telluride Film Festival that Malick's film "makes 'Tree of Life' look like 'Transformers.'"
"To the Wonder" focuses on the strained relationship between Neil (Affleck) and Martina (Olga Kurylenko), who live together with her daughter in rural Oklahoma. Rachel McAdams co-stars as Neil's former love, with Javier Bardem playing a priest. Intrepid blogger Jeffrey Wells reported that Affleck was barely in "To the Wonder," despite playing the ostensible lead, and that seems confirmed by the screening. Wrote THR critic Todd McCarthy in a somewhat scathing review:
With the barest shards of dialogue to speak, Neil holds his women tight when love is strong, approaches them with concerned sympathy when they turn unhappy and broods in corners or while driving a car once a rupture looks inevitable. Regardless of whether there was once more for the character to do on the scripted page, the film as edited concentrates almost entirely on the women and makes Neil look like an ineffectual bystander. Of course, Malick has a history of drastically cutting down male roles; he essentially eliminated Adrien Brody's leading role from The Thin Red Line, and Sean Penn didn't fare too well in The Tree of Life. Here, it could have been a stand-in for all it matters, as Affleck isn't given a chance.
As Deadline.com's Nancy Tartaglione wrote, Affleck "probably has less than 10 lines," mostly due to the fact that "To the Wonder" contains almost nothing but voiceover.
Despite detractors, some critics adored "To the Wonder," even more than "Tree of Life."
"It felt like a more coherent, deeply felt and satisfying film than its predecessor," wrote Oliver Lyttleton in his review for Indiewire's blog The Playlist.
Echoed Lodge, writing for HitFix:
"To the Wonder" is structurally a more modest, more linear film than "Tree" -- no dinosaurs here, folks, though fans of sea turtles should prick up their ears -- but it's no less vulnerable to charges of excessive preciosity, particularly from those whose secularity applies to churches beyond the House of Malick.
Of course, this isn't the first time Malick's work has been given the Bronx cheer. At the Cannes Film Festival last year, "The Tree of Life" was also booed by restless audience members. Not that it mattered: "Tree of Life" won the Palme d'Or award at Cannes, and later picked up a Best Picture nomination at the 84th annual Academy Awards.
"To the Wonder" does not yet have U.S. distribution. It will screen again at the Toronto International Film Festival.
RELATED
Kevin Costner was set to have his big break in "The Big Chill," but his role was done away with in post-production. In the end, he only appeared as a corpse at the beginning of the film.

Michelle Monaghan starred in "Kiss Kiss Bang Bang" with Robert Downey Jr. and "Mission: Impossible III" with Tom Cruise, but her role in "Constantine" opposite Keanu Reeves wasn't meant to be. "Michelle was fantastic and one of her scenes -- one of the scenes we had to cut -- was one of my favorite scenes we shot in this movie," director Francis Lawrence said. If only that was enough.

James Gandolfini was cast as a potential love interest for Sandra Bullock's 9/11 widow in "Extremely Loud and Incredibly Close." After test audiences didn't like those scenes, his part was removed. However, Gandolfini was still mentioned in an early trailer for the eventual Best Picture nominee.

"Twilight" star Robert Pattinson played Reese Witherspoon's son in the period drama "Vanity Fair," but his part in the 2004 drama was dropped. In twist of events that only Hollywood could love, Pattinson would later star as Witherspoon's lover in "Water For Elephants."

Ryan Gosling didn't face the indignity of being cut out of "The Lovely Bones"; he was actually fired just days before production started after a massive weight gain. "We had a different idea of how the character should look," Gosling told THR. "I really believed he should be 210 pounds."

What do Mickey Rourke, Billy Bob Thornton, Gary Oldman, Viggo Mortensen and Martin Sheen have in common? They were all cut out of the final print of Terrence Malick's "The Thin Red Line." Rourke's role wound up on the deleted scenes of the Blu-ray. Check out his excised appearance here.

Adam McKay had so much funny footage from "Anchorman" that he created an entirely new film, "Wake Up, Ron Burgundy," with the scraps. "Saturday Night Live" funnywomen and BFFs Maya Rudolph and Amy Poehler both appear in the extra film, but not in "Anchorman" proper.

Liv Tyler filmed scenes for Woody Allen's underrated musical romance "Everyone Says I Love You," but they were cut out of the finished product to reduce running time.

Before he became your friendly neighborhood Spider-Man, Tobey Maguire has his scenes in teen comedy "Empire Records" deleted.

"Mr. & Mrs. Smith" isn't just known as the film that brought Brad and Angelina together; it was also a hilarious Hollywood mess. Director Doug Liman hired two sets of actors to play the spy's warring bosses -- Terrence Stamp and Jacqueline Bisset and Keith David and Angela Bassett -- before cutting out their scenes altogether. In the finished film, you can hear the voices of Bassett and David, but that's all.

Thurman was set to appear as Blake Lively's mother in the Oliver Stone film, but her scenes were cut. "It was so intense, in fact, that we ended up cutting characters from the book, like the mother," Stone told HuffPost Entertainment. "She was a good character -- Uma Thurman played her beautifully -- and the scenes were good, but you don't have time, you know? We have one goal in the movie, and you go out that gate and it's like a horse race."

Terrence Malick strikes again. For his latest film, "To the Wonder," Malick left contributions from Weisz, Barry Pepper, Michael Sheen, Amanda Peet and even Jessica Chastain on the cutting room floor. "I had the experience of working with [Malick], but I will not have the pleasure of seeing my work," Weisz said.

The second time isn't the charm for Tobey Maguire, who in addition to "Empire Records" also saw his scenes cut from Ang Lee's "Life of Pi." Maguire was too famous for the small role and Lee re-cast the part with a lesser-known actor.