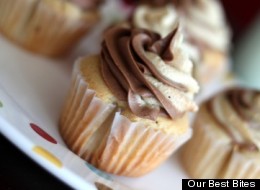 The greatest thing about frozen yogurt is definitely the way two flavors can be swirled together. While it doesn't really make a difference in taste, that perfectly integrated look makes it just better somehow. Well, hold on to your hats, because now you can bring that swirled magic to your homemade cupcakes.
Sure, there are many different options for frosting the tops of these little cakes. A quick look at Martha Stewart can leave your head spinning with ideas. But if you don't have a ton of time, or a lot of confidence in your ability with frosting, this decorating hack will not only give your cupcakes a professional look, but is also incredibly simple -- anyone can do it.
Our Best Bites, a food blog, introduced us to this idea. With just a couple of extra piping bags, they make swirled frosting a breeze.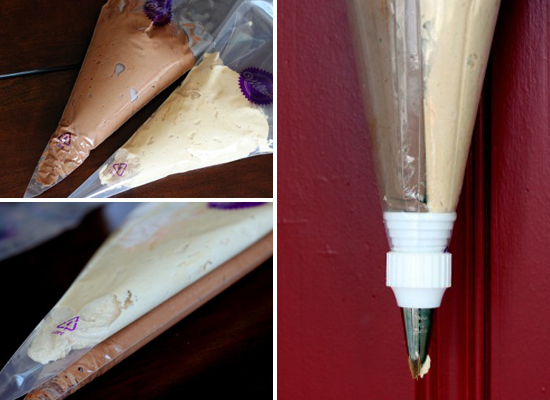 To make these beautiful swirls you'll need two different colored icings (or more, as many as you can handle really), separate disposable piping bags for each frosting (plus one extra), and a large decorating tip. Fill up the bags no more than half way if using two frostings and a little less if using more.
Flatten the bags as pictured above and stack one on top of the other. Place the individual frosting bags in one piping bag fitted with the decorating tip. Squeeze the bag until you have equal parts of all the frostings and then swirl magic is your to make. For more detailed instructions, visit Our Best Bites tutorial. Now, get frosting!
Want to try the hack? Use it on these recipes.
Get the Blackberry Cupcakes recipe by Call me Cupcake While these cupcakes look awfully fancy, they're made with a simple blackberry batter, vanilla buttercream and a drizzle of freshly made blackberry syrup. They're simple and delicious.

Get the Nutella Cupcakes recipe by My Baking Addiction Not only are these cupcakes made with Nutella, but they're also topped with a piece of hazelnut chocolate.

Get the Blood Orange Cupcakes recipe by Cafe Johnsonia Blood oranges have a unique flavor that comes across beautifully in cupcake form. The zest is used to flavor both the batter and the frosting.

Get the S'mores Cupcakes recipe by Pastry Affair If you're a fan of s'mores, you're going to love this cupcake. Not only is it gorgeous, but it captures the flavors just right.

Get the Buttered Rum Cupcakes recipe by Adventures in Cooking The whimsical decoration of this cupcake is like nothing we've seen before; and the batter is buttered rum flavor. It doesn't get much better than this.

Get the Chocolate Cupcakes with Cherry Mascarpone Frosting recipe by The Little Red House We wish we would see mascarpone used as frosting on cupcakes more often -- it just makes sense.

Get the Salted Caramel Cupcakes recipe by Pass The Sushi We love salted caramel everything -- and we definitely love it when that flavor translates into a cupcake.

Get the Chocolate Ganache Cupcakes recipe by Faux Martha A chocolate cupcake filled with ganache and topped with Italian meringue buttercream, these cupcakes are hard to beat.

Get the Banana Cupcakes with Cinnamon Cream Cheese Buttercream recipe by Your Cup of Cake Banana bread is delicious, but these cupcakes boast the same flavors with the addition of buttercream frosting.

Get the Vanilla Cupcakes with Vanilla Buttercream recipe by Jenny Steffens Hobick No matter how many flavors of cupcakes we try, there will never be anything that can quite top a classic vanilla buttercream cupcake.

Get the Brownie Batter Chocolate Fudge Cupcakes recipe by Kevin and Amanda If you're a chocolate lover, look no further for a rich chocolatey cupcake recipe.