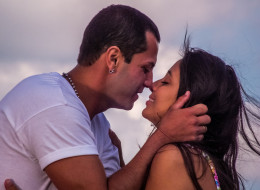 You've heard the myth of the Latin lover. A man so suave, so romantic, who with just one captivating look or piercing word can sweep you off your feet. While we don't mean to completely destroy the myth (granted, some Latino men do have their game going on) it's come to our attention that the choice of phrases Latino men often use to woo women are a bit, err, inappropriate?
If you've walked down the street in a Latino neighborhood, you've probably heard them. The kitschy rhymes, the vulgar metaphors to describe the women's bodies, the comparison of your legs to a lollipop and other NSFW descriptions, piropos are truly one of a kind. Why men think this is a good way to attract women has yet to be explained. But as offensive as they can seem, they do make us laugh!
CHECK OUT SOME OF THE BEST PIROPOS WE'VE HEARD, AND FEEL FREE TO SHARE YOURS IN THE COMMENTS BELOW:
Piropos: Latin Lover Pick-Up Lines
¡Con esa pierna...para que la otra?! "With that leg, why do you need the other?" A bit difficult to translate, but the point is you have nice legs--or leg. Yea, who needs two legs? Walking is clearly overrated when you look that good.

Tanta carne y yo sin dientes. "All that meat and me with no teeth" Oh yes, they went there. And hey, what could be more attractive than a toothless latin lover treating women like a piece of meat?

¡Tú de rojo y yo con este antojo! "You in red and me with this craving!" Oh this one's a rhymer! And no he's not craving red, he's craving you--in red. That's right ladies, you might want to think twice before wearing that tight fitting red dress out on the town.

No vale la pena regalarte una rosa, porque entre las flores tú eres la más hermosa. "There's no point in giving you a rose, because out of all the flowers, you are the most beautiful" Sweet? Overdramatic? We'll let you decide, just remember you're probably not the first woman he's told that to today--or within the last hour.

¡Quién fuera bizco para verte dos veces! "I wish I was cross-eyed so I could see you twice!" We're not sure how this is an effective way to pick up a woman. Yes, if only you were cross-eyed then she'd go out with you...

Permiso, ¿me puedes decir dónde queda la Tierra? Es que desde que te vi ando en las nubes. "Excuse me, can you tell me which way Earth is? Because ever since I saw you my head's been in the clouds." Well perhaps that was what clouded your judgement when you chose that cheesy pick up line?

Tu papá debe ser pirata, porque tú eres un tesoro. "Your dad must be a pirate, because you're a treasure" Arrr, yes matey he be a pirate. Women love it when you call their parents criminals.

¿De qué juguetería te sacaron, muñeca? "What toy store did they get you from, doll face?" Because nothing says love at first sight like being called a hollow plastic figurine...

¿Ya empezó la primavera? porque veo flores en todos lados! "Did Spring arrive? Because I see flowers everywhere!" This one the latin lovers would say to a group of ladies, if you tell them they're all beautiful, one of them is bound to fall for you. Right?

Se te cayo un papel... ¡El que te envuelve bombón! "You dropped a wrapper...the one you were in, sweet thing!" First meat now candy? Treating women like food doesn't always go over very well--if ever.

Si la belleza pagara impuestos, tú estarías llena de estampillas. "If beauty were taxed, you'd be full of stamps" But is he willing to pay the price for that line? Adios, latin lover.

¡Flaca! Tirame un hueso! "Skinny girl! Throw me a bone!" That first part seems confusing, but in Latin America "gorda" (fat girl) and "flaca" (skinny girl) can be used interchangeably as terms of endearment. With that said, we're not sure if he's asking for a chance with the woman or asking for her as if he was begging for food. We're leaning towards food...