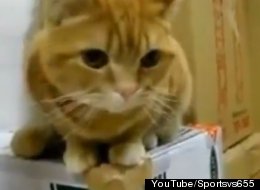 This hungry cat sure knows what it wants.
The furry feline not-so-patiently waits for food to come out of a dispenser, before pouncing ravenously on its emerging meal.
"This automatic food dispenser was supposed to help alleviate some of the cat's anxiety about meal time, but as you can see, it hasn't exactly helped the cat relax much yet," wrote user "Sportsvs655," who uploaded the hilarious video on YouTube last week.
After the video went viral, some commenters accused the cat's owner of aggravating the cat's anxiety by regulating its meals so rigidly.
"That cat is obviously VERY hungry. How would you feel if your food was regulated! Shame on you. Just let your cat EAT when and how much he wants," said one user.
In response, Sportsvs655 said that the insatiable cat is a bit of glutton that loves to eat much more than it needs.
Based on the video, that's not too hard to believe.
Nom nom nom.
For more cuteness, click through this slideshow of kittens playing with big dogs:
Kittens Playing With Big Dogs
Abby doesn't mind the energetic young kitten jumping around.

C'mon let's play! Let's play!

Woah, sweet fur!

Some friendly outdoor roughhousing.

Better not let mom and dad catch us playing on the new couch like this.

The dog's tail is not a toy!

Give it back!

She humors the little kitten though.

Fun new toy for this kitten.