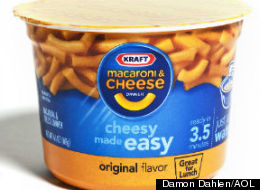 High-fructose corn syrup, the cheap, prevalent and much maligned sweetener, is famously in foods like soda, candy and cake. If you look out for it, you may know that it's also in many sauces and dressings. But what about macaroni and cheese? Or frozen pizza?
After the Healthy Living team found corn syrup solids printed high on the ingredients list of some nuts we were snacking on here at the office, we decided to investigate. Just how often did we find corn-based sweeteners in surprising places?
The jury is still out on whether or not high-fructose corn syrup (a subtype of corn syrup) is more, or differently, damaging than any other amount of sugar. One Princeton rat study found that HFCS, as it is known, causes more weight gain than sucrose in the same amount. But criticism of the study design left the finding in doubt.
What we do know is that, given its cheap price it is easy for companies to pack more sugar into a food using HFCS and other corn-based sugars. And thanks to myriad names and formulations, those looking for sugar may gloss right over many of the sweeteners on ingredient lists. Overall, we eat too much sugar -- much of it hidden by different names. Part of that overconsumption has to do with disregard of the recommendations, but some of it can be attributed to the prevalence of sugar in unlikely foods. Here are some surprising, insidious sources of corn-based sugars that we found at our local grocery store. What unlikely place have you found sweeteners?
Surprising Sources Of Corn Syrup
LaYogurt's Rich and Creamy Lowfat Blended Vanilla contains fructose as its fifth ingredient. Danon's Fruit on the Bottom blueberry flavor has as its third, fourth and fifth ingredients: sugar, fructose, high fructose corn syrup. Yoplait WHIPS Strawberry Mist lists high fructose corn syrup as its fourth ingredient.

Both Wonder Bread Stoneground 100% Whole Wheat and Pepperidge Farm 100% Whole Wheat Cinnamon Raisin Swirl Bread count high fructose corn syrup as their fourth ingredients.

Fiber One Oats & Chocolate bars contain corn syrup, sugar, high maltose corn syrup, sugar cane fiber and fructose among their ingredients. For Kellog's Special K Vanilla Crisp Cereal Bars, sugar is a component of the first ingredient and then emerges again, but not before corn syrup is listed. Honey Nut Cheerios Milk 'n' Cereal Bars have sugar, brown sugar syrup, corn syrup, high fructose corn syrup, fructose, and sugar once more listed as ingredients.

Stouffer's French Bread Pizza Sausage & Pepperoni has both high-fructose corn syrup and sugar, although those are part of an ingredient list that comprise less than 2 percent of the total ingredients.

Corn syrup solids are the second ingredient in the cheese sauce in Kraft Macaroni & Cheese Easy Mac.

Sugar, corn syrup and honey are the third, fourth and fifth ingredients in Planters Honey Roasted Peanuts' seven-ingredient list.

Just because it's clear and has a bitter flavor, doesn't mean tonic water is any different from other sodas. This Seagram's Tonic Water counts high-fructose corn syrup as its second ingredient.

Ken's Chef's Reserve French Dressing with Applewood Smoked Bacon gets its sweet kick thanks to high-fructose corn syrup, which is the first ingredient.

Del Monte Peach Halves have four ingredients: peaches, water, corn syrup and sugar.

Mott's Original Cinnamon Applesauce has high-fructose corn syrup as the second ingredient -- two above the product's namesake flavor, cinnamon.

Heinz Tomato Ketchup has both high-fructose corn syrup and corn syrup.

Smuckers Strawberry Preserves includes high-fructose corn syrup, corn syrup and sugar as ingredients two, three and four.