As First Lady Michelle Obama delivered a powerful speech at the Democratic National Convention in Charlotte, N.C., White House photographer Pete Souza released a photo showing her husband, President Barack Obama, with his arms around their daughters while they excitedly watched her from the White House: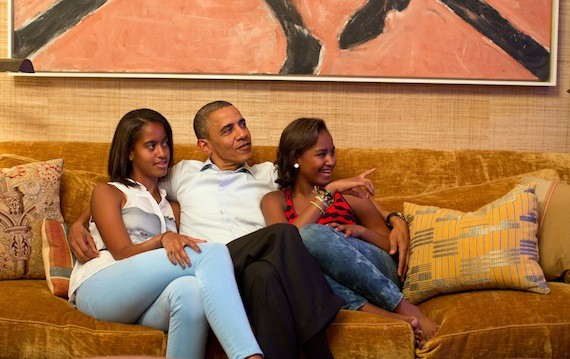 President Barack Obama and his daughters, Malia, left, and Sasha, watch on television as First Lady Michelle Obama takes the stage to deliver her speech at the Democratic National Convention, in the Treaty Room of the White House, Tuesday night, Sept. 4, 2012. (Official White House Photo by Pete Souza)
For more of Souza's most iconic pictures throughout his career as White House photographer, click here.
More photos of Michelle Obama at the DNC below:
Michelle Obama At The Democratic Convention
SUBSCRIBE AND FOLLOW
Get top stories and blog posts emailed to me each day. Newsletters may offer personalized content or advertisements.
Learn more