Kim Kardashian Tells CNBC She Loves Makeup (VIDEO)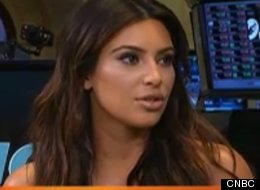 In case you missed it, Kim Kardashian is all about business. At least according to Kim Kardashian.
The sex tape star-turned-reality show phenom-turned-business owner is partnering with makeup line Boldface, and she went on CNBC to talk about it with Maria Bartiromo.
Some insightful revelations from the "burgeoning businesswoman," as Bartiromo referred to her:
"I love makeup"
And who could forget:
"The party girl image has never really been who I truly am … my focus has always been business."
Though the image of Kardashian on CNBC may seem funny, the amount of popular interest her name can bring a company is no laughing matter. As Bartiromo noted to Boldface CEO Nicole Ostoya, her company only really made it onto the illustrious network thanks to Kim. Bartiromo asked: "What has Kim meant to your company aside from enabling it to be mentioned here on the show and on CNBC?"