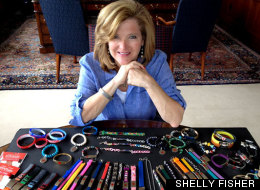 One of the reasons I started my website was so that women could have a place to come together and dream. We women need to know that we don't have to hang on to an old dream that has stopped nurturing us -- that there is always time to start a new dream. This week's story is about one woman whose hobby turned into a life-saving operation that has made millions. -– Marlo, MarloThomas.com
By Lori Weiss
For Shelly Fisher, it was one of those sweet moments that every mother remembers -- the first time their child brings something home that they painted, pasted or crafted together, just for Mom. Her seven-year-old daughter, Julia, had picked out piles of colorful beads and with the help of a camp counselor, created the perfect pair of dangly earrings. And Shelly wore them proudly, until one day on vacation at the Jersey Shore, she realized one was missing.
"Instantly, I knew I was in trouble," Shelly laughed. "I tore everything apart looking for that earring! I had to replace it before she noticed I wasn't wearing them and it's not as if I could just go to the store and buy another pair."
The good news was that there was a little bead store on the boardwalk, that Shelly had passed by several times. So she slipped in, hoping that the owner could quickly make her something similar. What she didn't know was that she was about to get a lesson in jewelry making that would change her life and potentially save millions of others.
"I just thought she'd make me something," Shelly explained, "but instead, she said 'I'll show you how, but you have to make it yourself.' At first I thought, You've got to be kidding. But actually, it was a great marketing technique. Once you try it and see the results of your work, you're hooked and you buy more beads!"
And that's exactly what happened with Shelly. That first earring led to many more, plus classes at a local art school in her hometown of Philadelphia. It wasn't long before her house was filled with fishing tackle cases -- each loaded to the brim with beads and crystals of every possible color. And now Shelly was the one making jewelry for her daughter and pretty much everyone else she knew.
"My friend Lisa showed me a pink crystal bracelet she was going to buy for her mother, who is a breast cancer survivor. It cost $120 and 10 percent of the proceeds would go to breast cancer research. But I knew it really only cost $25 to make. So I convinced her to let me show her how to create one. I knew her mother would love the fact that she made it herself and that way she could take that extra $100 and donate it directly to the charity."
That's when it occurred to the pair that they could do more than craft pretty pieces. Both of the women had been active in their community, volunteering at their children's schools and devoting their time to local charities -- so they thought, why not use their new skill to help the groups raise money? So the two friends began designing awareness bracelets -- jewelry that the charities could sell as fundraisers.
"I was at a meeting with the local chapter of the Juvenile Diabetes Research Foundation," Shelly remembered, "and one of the other moms stopped me and said. 'I think what you're doing is really nice, but it would be great if you could create a medical bracelet that younger people would want to wear.' Her daughter Kristen was 16 and she was diabetic. She was about to start driving and her mother was concerned that she could be pulled over and end up at a police station, rather than a hospital, because an officer would mistake a drop in blood sugar for drunk driving. But her daughter wasn't willing to wear the traditional silver medical alert bracelet. She thought it would make her stand out -- to be defined as the girl with diabetes.
"As a mom, I instantly said yes, as long as her daughter would help us design it, so we knew she would wear it. But I walked away thinking, 'What do I know about medical bracelets?'"
Story continues below slideshow
It Ain't Over: Shelly Fisher
Here, Shelly's kids Sam, Joey and Julia romp in the water with their grandfather the summer that she lost the earring that inspired her to begin making jewelry. The earrings here are replicas of the original version.

Shelly wore the earrings that her seven-year-old daughter had made her everywhere, as any proud mother would, until one went missing while the family was on vacation at the Jersey Shore. Shelly snuck off to a nearby bead shop, desperately trying to replace the earring before her daughter noticed that it was missing, but the shop owner insisted that she learn how to remake the earring herself. Though she was unsure at first, Shelly was soon hooked on jewelry making.

As Shelly began making jewelry for everyone around her, her friend Lisa mentioned that she was going to spend $120 on a pink crystal bracelet for her mother, a breast cancer survivor, and 10% of the proceeds would go to charity. Shelly convinced Lisa to learn how to make the bracelet herself for only $25, so she could donate the remaining $100 to charity. This inspired the two friends to craft awareness bracelets to raise money for other causes.

At a meeting of the Juvenile Diabetes Research Foundation, Shelly was approached by a mother who suggested that they create a medical alert bracelet that her teenage daughter would actually wear. Shelly agreed, as long as the woman's daughter, Kristen, would help design it. Here, Kristen models one of the bracelets that she helped design.

Shelly began making medical alert bracelets for diabetes, but soon she was receiving requests for all types of bracelets -- everything from penicillin to peanut allergy bracelets. Here, the bracelets are set up for display at an industry trade show.

In order to diversify her product offerings, Shelly purchased an engraving machine -- but it wasn't as easy to use as she thought it would be. It took her almost nine hours to figure out how to use the machine. Today, the company uses laser engraving, which an employee is pictured doing here.

Although a sales rep was convinced he could get the medical alert bracelets onto pharmacy shelves, Shelly just looked at her business as a hobby. But two years later, she finally decided to take the leap. With the support of the sales rep, the product took off quickly, piquing the interest of buyers at pharmacy trade shows who wanted to buy the bracelets for their stores -- and for themselves!

Before she knew it, Shelly's medical alert bracelets were featured in "The Wall Street Journal." A reporter had discovered the bracelets online and bought four of them to include in an article called "The Jewelry Prescription." When Shelly saw the article, she knew that her product was changing the way that people viewed medical alert bracelets.

Today, Medical ID Marketplace offers more than 150 styles of medical alert bracelets that can be customized for any medical condition. The first year the bracelets were sold in pharmacies, they sold more than $1 million worth of product. Here, Shelly models her bracelets in a photo that appeared beside an article on her business in "The Philadelphia Inquirer."

Brooke Long, who works as a model on popular TV show "Deal or No Deal," holds up the "Diabetes Sucks" bracelet at a Celebrity Gifting Suite.

"American Idol" runner-up Crystal Bowersox wears the medical alert bracelet and the blue "Diabetes Sucks" bracelet on the show.

Singer/songwriter Debra Bromer appeared on "America's Got Talent," and proudly displays a number of Shelly's bracelets here.

Some of Shelly's smallest fans are Hope and Paige, whose mother loved the name of the website for the medical alert bracelets -- HopePaige.com. The twins were born prematurely, weighing one pound each. Today, they're healthy little girls who wear matching medical alert bracelets.

Here, Shelly poses with her friend Lisa in one of the first newspaper articles that highlighted the growing medical alert bracelet business, which at the time was really just a hobby.

In the beginning, with the help of her friend Lisa, Shelly would make bracelets in her basement, and was thrilled if she sold more than one bracelet per day. They were satisfied to make back the money that they initially invested and help people on a small scale. Today, the bracelets are flying off shelves -- some weeks 11,000 or more are sold.

The Medical ID Marketplace corporate office scrambles to help with a large last minute order that needs to be shipped out.

Amanda, a Medical ID Marketplace employee, puts together bracelets in the office.

Here is the Medibands booth at the Cardinal Health Expo. Shelly has come a long way from the beaded bracelets she once crafted in her basement. She is now saving lives with her products, that are now offered in numerous styles, colors and materials.

Shelly's family was at the root of her invention -- if it hadn't been for her daughter's earrings and their family vacation, she never would have become involved in jewelry making! Here is Shelly's whole family (from left to right): Sam, Joey, Scot, Shelly, Julia and Jared.
Shelly quickly started making calls to people in the health and safety community, to find out what she needed to include so that first responders would recognize the bracelet as a medical alert, and then with that information in hand, she and Kristen began emailing ideas designs back and forth.
It wasn't long before they had come up with a leather watchband bracelet, replacing the actual watch with a medical insignia that matched the band. Kristen chose two colors -- neon green and pink. And it was at that point that Shelly thought, if Kristen was willing to wear a bracelet like this, maybe other kids would too. So once the mold was made, she ordered 400 more and posted them on a website a friend's son created for her.
"We thought if we could just make back the money we invested and make a difference in even one person's life, we were doing a good thing. Lisa and I were doing it from our basements and maybe selling ten a week. If we sold more than one in a day, we were doing a happy dance around the table!"
But soon they started getting more than just orders. They were getting requests for bracelets that would alert others to penicillin and peanut allergies. And the crafty pair quickly realized that they could help even more people, if they could figure out a way to customize the bracelets.
"And then I walked by a kiosk at the mall," Shelly recalled, "where a young person was using an engraving machine and I thought, 'How hard could it be?' So we ordered one. Let's just say the lesson that was supposed to take five hours, took nine hours with us. We weren't as bright as we thought!"
But they were bright enough to get the attention of a sales rep that thought he could help even more. He felt certain that he could get their unique medical alert bracelets on pharmacy shelves. So he wrote his name and number on the corner of a piece of yellow paper, ripped from a legal pad. And Shelly tacked it up on a bulletin board -- and left it there for two years.
"This was just a hobby for us," Shelly said. "Lisa really didn't want anything more from it and I was raising three children. I knew it was a big leap and the time just wasn't right -- so with the engraving, maybe we were selling 30 bracelets a week and we thought that was great!
"But then one day it occurred to me that I no longer had to feel guilty about working between three and six o'clock, since the kids were all involved in after school sports -- and that's when I took the piece of paper off the board and called him."
Shelly and the insightful sales rep took the concept of a fashionable medical alert bracelet that both teenagers and adults could wear to a pharmacy trade show. And when buyers began asking for samples with very specific custom engraving -- clearly for themselves or someone close to them -- they knew they were on to something.
And apparently so did the media. "Just as things were taking off, I got a call early one morning from someone in our office. He said, 'Did you know we're in the Wall Street Journal?' And I laughed. I thought he was kidding. But we were on the front page! A reporter had discovered our bracelets on the internet, ordered four styles and featured them in an article called The Jewelry Prescription. That was my real 'aha' moment, when I realized we could change the way people looked at medical alert bracelets."
Today Shelly sells more than 150 styles that can be customized for any medical condition or simply with emergency contact information. The little bracelet that once brought on a celebration, when more than one was sold in a day, is now flying off the shelves -- with as many as 11,000 going out in any given week. The first year it hit pharmacies, Shelly's hobby became a million-dollar business.
"This all began with the hope that I could help one teenage girl fit in with her friends -- so that she wouldn't be branded by her illness," Shelly said, as she glanced around her busy office. "And while I feel really fortunate, it's important for people to know that success doesn't have to be on a grand scale, it just needs to be something that fulfills you.
"Find something that makes you feel like you're contributing and take the first step. You never know where it will take you."
Medical ID Marketplace bracelets are now available in 13,000 stores including pharmacies at Kroger Supermarkets and Rite-Aid Drug Stores, as well as online. For more information, visit HopePaige.com.
Add Marlo On Facebook:
Follow Marlo on Twitter:

Weekly Newsletter

Sign up to receive my email newsletter each week - It will keep you up-to-date on upcoming articles, Mondays with Marlo guests, videos, and more!

Sign up here