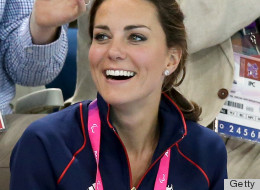 Did you guys hear? Kate Middleton is preggo! Yup!
At least that's what Star Magazine reports in its September 17th issue, proclaiming that "palace sources" have revealed that Catherine is with child.
Of course, this isn't the first time a tabloid has breathlessly declared that the duchess is duchess-ing for two. Back in November, In Touch pronounced the same, saying that Kate was six weeks along. (Which means Kate would have given birth in June 2012, and we're prettttttty sure we would have heard something if, you know, the Duchess of Cambridge had HAD A CHILD.) Then again that month, gossip flew again when Catherine declined to taste a peanut butter paste on an official visit, which is apparently a food expectant mums often avoid. Again, no bump (or infant) materialized.
So, with a huge grain of salt, ready for Star's new airtight evidence? In June, the duchess alighted the stairs of Buckingham Palace wearing a lacy dress, and when she turned around, you could see that the sash on her dress might have been let out about an inch. In tabloid logic, this obviously means she's accommodating a baby bump. They also creepily claim to know when the baby was conceived: during a "passionate night together" in Wales just after the end of the Olympics.
You heard it here first: Kate's sash definitely didn't just look that way or get let out for other reasons, or tear and get mended, and the fact that it's three months later and the duchess has no visible bump doesn't mean anything. Nope. Pregnant.
See the (non)-evidence from Star below: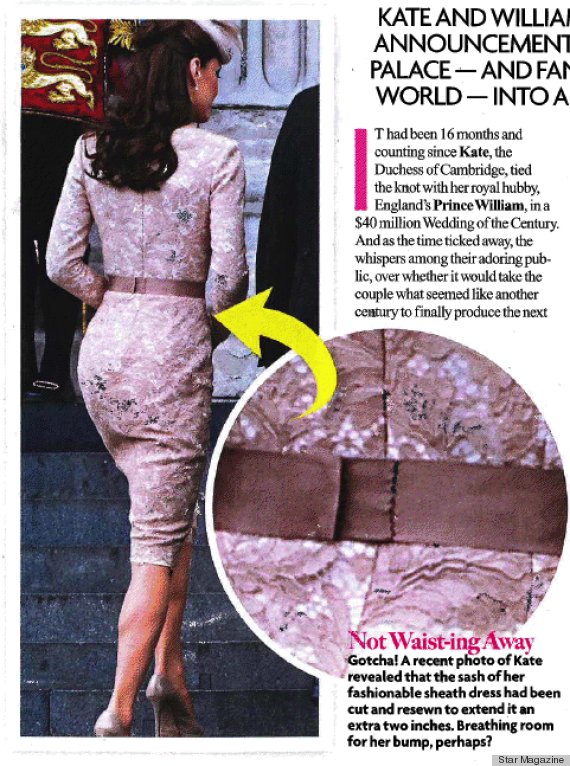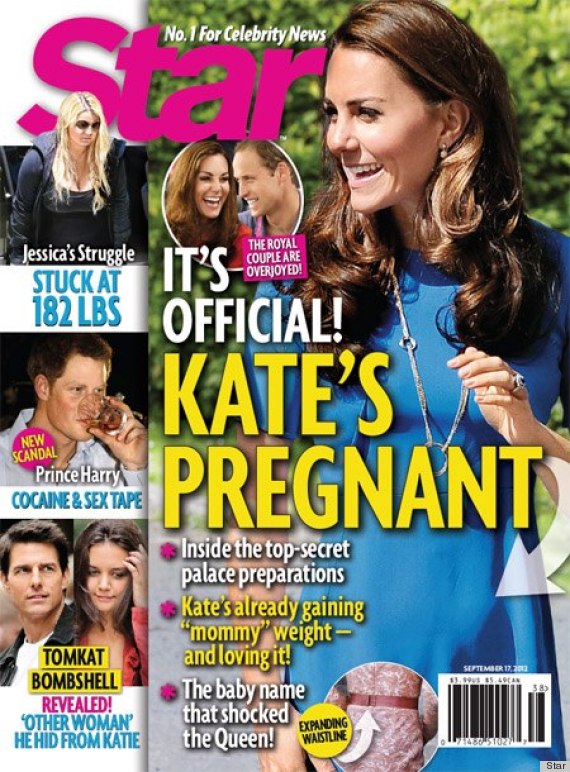 See the full shebang of Kate Middleton baby rumors:
Kate Middleton Pregnancy Rumors
Star breathlessly claimed a photo from Kate and Will's recent royal tour showed a baby bump (and that twins were on the way!), but alas, many people -- including us -- cried Photoshop.

A week earlier, Star had claimed that Kate was pregnant as evidenced by a belt on a dress she wore, which appeared to have been let out a few inches.

According to the new US Weekly, the Duke and Duchess of Cambridge are ready to have a baby, and are planning to conceive their first little royal between September 2012 and summer 2013. (US Magazine)

According to In Touch, a witness walking around London's chic neighborhood, Chelsea, saw the Duchess of Cambridge with a noticeable baby bumps, a "glow in her cheeks," and a more rounded bottom. (In Touch)

Kate's refusal to eat peanut paste at a United Nations aid depot in Copenhagen sparked a storm of rumors that she may be pregnant. Apparently doctors recommend future-moms not to eat peanuts to avoid allergies. Kate wasn't pregnant (duh!) but the reaction from the press was huge, all because the girl didn't want peanut paste! (Indigo/Getty Images)

US Weekly claims that the Duchess of Cambridge is preparing for a baby while the Duke is oversees. (Earsucker Photo)

The tabloid magazine quoted a supposed source saying, "William almost collapsed with joy-and relief-when Kate called to tell him she was pregnant." Soon after a royal representative debunked the rumor. (Metro.co.uk photo)
Want more? Be sure to check out HuffPost Style on Twitter, Facebook, Tumblr and Pinterest.