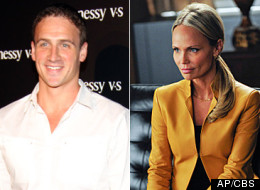 The TV world was full of surprises this week.
After spending an entire season exploring sex and relationships on "Girls," it was revealed that Lena Dunham was dating Fun. guitarist Jack Antonoff, while Olympic swimmer Ryan Lochte announced his cameo on "30 Rock."
Meanwhile, Simon Cowell used Britney Spears as his secret weapon while calling out NBC and "The Voice," and we learned that Tina Fey was headed to the world of animation to voice Lisa's substitute teacher on "The Simpsons."
Click through our slideshow for a roundup of what happened in the world of TV this week and what we learned from it.
What TV Taught Us This Week
The Event: Even though Ryan Lochte had a hard time "memorizing lines" for "90210," the TV world isn't quite done with the Olympic swimmer. On Thursday, he snapped a picture with Tina Fey and word got out that he would be appearing on "30 Rock." The Lesson: When you have trouble with something, don't give up: try, try again.

The Event: After announcing that she was abandoning her "Good Wife" role after a run-in with falling scaffolding, Kristin Chenoweth sent a surprising tweet out into the twitterverse: "I was able to go back a shoot a short scene with Alan Cumming on The Good Wife. #blessing!" The Lesson: It ain't over 'til it's over.

The Event: After NBC decided to extend the "Voice" premiere to three nights, meaning it would directly conflict with Fox's "X Factor" premiere, Simon Cowell called NBC "unprofessional" before pulling out his secret weapon: Britney Spears. "[Britney]'s going to be devastated because she's put her heart and soul into this ... Britney's not going to appreciate the fact that Christina -- who has been a bit of a rival -- isn't allowing Britney to have a night of her own," Cowell told TMZ. The Lesson: If you want to win an argument, bring the emotionally fragile Britney Spears into it.

The Event: Lenda Dunham has a successful HBO series and reportedly, a new boyfriend in Fun. guitarist Jack Antonoff. He's even helping out with the soundtrack for "Girls"! What a catch. The Lesson: Most successful 26-year-old around + Hot member of a popular new band = Power couple

The Event: After nine years of marriage and two adorable little kids, everyone's favorite comic TV couple Will Arnett and Amy Poehler have split. Say it ain't so! The Lesson: Sometimes, two rights equal a wrong.

The Event: This week it was announced that Tina Fey would be voicing Lisa's substitute teacher on 'The Simpsons" in the animated show's upcoming season. She was also famously seduced by Justin Bieber on "Saturday Night Live," and played Cady's (Lindsay Lohan) teacher in 2004's "Mean Girls." Are we seeing a trend here? The Lesson: If she didn't have such excellent comic timing, Tina Fey would make a wonderful teacher.

The Event: After expressing his interest in participating in "The Bachelor," E! reported that Lochte is no longer in the running, but he was "briefly considered." The Lesson: Good looks can only get you so far.

The Event: After announcing that the upcoming season of "Jersey Shore" would be its last, MTV got to work on making sure the reality series would leave its mark on the TV world by releasing two sappy (and funny) promos at the MTV Video Music Awards on Thursday night. The Lesson: It may be ending, but it will never be over, according to the promos -- though we hope it done, in a non-Sammi-and-Ronnie way.