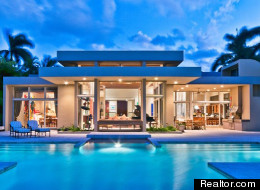 The four small, gated Sunset Islands of Miami Beach are sure hot for real estate, with plenty of character-filled mansions on the market: almost all the 10 most expensive Sunset estates for sale were built before 1960.
Though most of these properties have undergone renovations, they nearly all give a nod to old Miami Beach architecture, even while serving as vessels for modern needs and wants: home theaters, massive kitchens, heated pools, and the latest appliances.
A numbers of the properties features exquisite Mediterranean detailing, with fountains, archways, columns and courtyards giving way to spectacular waterfront views.
One thing they hall have in common? A very exclusive address. What do you think of the most expensive homes on the Sunset Islands?
Most Expensive Homes On Sunset Islands
Built in 2009, this 10,000 square foot, three-story home has seven bedrooms and eight bathrooms. Homeowners can a kitchen fit for a chef, a den, great room, living quarters for guests or house staff, formal dining room, vaulted ceilings, and a two-car garage. Outside, the property has 154 feet of waterfront space with a large dock.

A Mediterranean house built in 1940, inside there are six bedrooms and seven bathrooms. The elegant home has a courtyard entry, French doors, large windows, a large kitchen with a connecting family room, verandas, terraces, fountains, swimming pool, and 240 feet of waterfront property. The home is also listed for sale without the adjoining property for $7.9 million.

Nicknamed "Palacio del Eden," the five bedroom, eight bathroom home was built in 2007. The impressive interior includes a chef's kitchen, wine cellar, fresco ceilings, marble archways and columns, an inner courtyard, a stained glass dome, four-car garage and more. Outside, there is more than 100 feet of waterfront land with a private dock and boat lift. For fun days outside, the infinity pool has underwater seating.

Built in 1983, this home on Sunset Island I has an impressive five-car garage. Also, six bedrooms, nine bathrooms, a den, media room, recreation room, cooking island, wood and marble flooring, bay front property and a beautiful swimming pool.

Former Miami Heat player Zydrunas Ilgauskas called this place home before putting it on the market in August. Built in 1952, the five-bedroom, eight-bathroom home has a large master suite with an office, morning kitchen, walk-in closets, gym house, large kitchen, mini bar, marble and hardwood floors, a large yard, dock, courtyard, and other unique attributes.

This 1955 home on Sunset Island II has six bedrooms, seven bathrooms, a below-ground pool with a child safety gate, two-car garage, fireplace, a private dock with a boat lift, volume ceilings, media room, and more.

This 1937 home on Sunset Island I was completely renovated into a Mediterranean oasis. With four bedrooms and five bathrooms, there are plans to turn it into a seven bedroom space. The home has a guest house, den, staff living quarters, marble floors, a water fountain at the front entrance, Italian impact windows and doors, LED lighting, a fireplace, wine cellar, infinity lap pool, and a summer kitchen.

This waterfront property on Sunset Island IV was built in 1941, but renovated into a more contemporary living space with Mediterranean influences. The home has eight bedrooms and bathrooms, and open kitchen with breakfast area, large master suite with sitting space, marble and hardwood floors, house staff or guest quarters, and a Whirlpool spa. Almost all the rooms have a view of the below-ground pool outside.

A Mediterranean-style home built in 1936, the interior has a large collection of wood fixtures. Inside, there are six bedrooms, seven bathrooms, picture windows, walk-in closets, marble and hardwood flooring, formal dining room, and a two-car garage. Guests can be entertained at the below-ground swimming pool with a view of the water.

This home built in 1940 is located on Sunset Island II and faces the south. The property boasts 150 feet of waterfront property, including a dock, with access to both Biscayne Bay and the Atlantic Ocean. Beyond the six bedrooms and eight bathrooms, the home also has a built-in barbecue, walk-in closets, wood flooring, a fireplace, living space for house employees, and a two-car garage. Surrounding the property is a pool, large yard and a pond. However, realtors say the home "needs TLC."