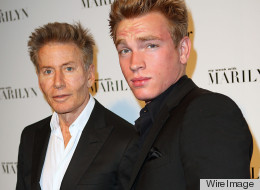 It's been a tumultuous year for Nick Gruber, the 22-year-old former porn star and famous ex of Calvin Klein. Not only did he split with his fashion designer beau, but he got arrested for cocaine possession and shipped off to rehab, moved from New York to Los Angeles and then was spotted making out with someone unexpected.
Does Gruber need some time for rest and quiet relaxation (well, after he finishes his tell-all book)? No, he needs a reality show! Duh.
"The show is basically about me being in a relationship with Calvin," Gruber told the New York Post last week of the show that he's set to start filming in January. "It's also me trying to figure out who I am as a process of coming from his lifestyle from New York to LA [where he now lives], at the same time being the straight boy and still [liking] men and women."
Gruber, who's moved on to a new life on the West Coast and a fresh romance with new beau John Luciano, says he wants to work in "education" someday -- maybe his new show will feature Gruber life lessons set to "Schoolhouse Rock" tunes?
Either way, will we be watching? Uh... does Calvin like clean, minimal lines? YES.
See some designer relationships that fared a little better than Nick & Calvin:
Want more? Be sure to check out HuffPost Style on Twitter, Facebook, Tumblr and Pinterest.