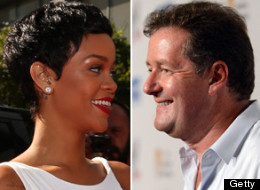 Rihanna and Piers Morgan got into a unique sort of argument on Sunday night -- one that played out, unsurprisingly, on Twitter.
Things started when Morgan, watching the pop star's performance at the closing ceremony of the Paralympic Games in London, tweeted that she needed to "grow her hair." Rihanna took note of this:
Morgan then seized his opportunity:
@piersmorgan

Piers Morgan
This a good time to ask for an interview? RT
@rihanna
@piersmorgan
I think
@Rihanna
needs to grow her hair back. Fast." grow a dick.. FAST!!
Rihanna responded positively:
@rihanna

Rihanna
@piersmorgan
haaaa! Only if it's not about cosmetics! But phuck yea lets do it!!!!!!!!!
Could an interview actually be forthcoming? We'll just have to wait and see.