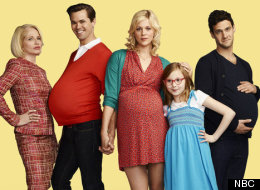 What is "The New Normal" (premiere airs Mon., Sept. 10 at 10 p.m. ET; new episodes premiere Tues., Sept. 11 at 9:30 p.m. ET on NBC)? There are a million definitions for what passes as "normal" these days, and Ryan Murphy and Ali Adler's new comedy hopes to explore as many of those relationships as possible.
From a gay couple David and Bryan (Justin Bartha and Andrew Rannells) looking to start a family to the single mom Goldie (Georgia King) and her young daughter Shania (Bebe Wood) looking to start over, "The New Normal" follows their paths colliding, with comedic help from a feisty assistant Rocky (NeNe Leakes) and an even feistier grandma Jane (Ellen Barkin) with a lot of opinions.
HuffPost TV caught up with the "New Normal" cast to talk about overcoming the show's early detractors, dream guest stars, keeping the show current and how there are many more versions of "normal" left for the show to explore. Keep reading for more …
On co-creator Ryan Murphy
Andrew Rannells: "If something moves Ryan or something happens in the news, his plan for all of his shows is very fluid to account for that. 'Glee' was a good example of that earlier this year when Whitney Houston died, that was immediately incorporated into the story in a way that felt very organic. So I'm looking forward to working with him in that respect … particularly with it being an election year, I feel like this show has the opportunity to stay extremely topical, which is really exciting."
Justin Bartha: "There's a strong, singular point of view, and that's all you want in a television show is someone who has a point of view and sticks to that point of view."
NeNe Leakes: "The thing he did to me with 'Glee' is the same thing he did to me with 'The New Normal.' He basically said, 'I love the job you did on "Glee" and I want you to play a character named Rocky on "The New Normal."' He didn't even really ask me -- he just kind of told me, 'This is your job.' [Laughs.] I got the script and thought, 'Oh my god, this is so not me -- it's written for a white woman!' So I called him up and said, 'Ryan, this is not a six-foot tall black woman.' And he said, 'Oh we're gonna change it for you.' And he did and it's fabulous."
On Ellen Barkin's character
Georgia King: "Ellen Barkin … what an amazing character for her. It's so funny because if you follow her on Twitter, she's so liberal, so this is a wonderful extreme she's playing. It's honestly eye-watering, some of the stuff we've done together, and it's hard to keep a straight face at times."
NeNe Leakes: "She's not a big fan of Rocky's, and Rocky is not a big fan of her because she's prejudice and she is against the gays, and I love my gays. This is my boss she's talking about, and I don't take too kindly to people talking about my boss, because I use his credit card and buy shoes and jewels. [Laughs.]"
Andrew Rannells: "I do love that Ryan is making Ellen Barkin's character part of the One Million Moms. It's genius -- just incredible."
Justin Bartha: "She's a great example of the fact that we cover a wide variety -- every viewpoint is addressed in the pilot."
On the pre-premiere show backlash
Georgia King: "It was surprising for me, purely because the show hasn't even come out yet. A small amount of people with such strong opinions, and they don't really know what it's about. It is a comedy, and there are gay people in it, but it's so much more about family and unity. There's so many different interesting storylines."
More about their characters
Georgia King: "Bebe and I get to play a single mother struggling with her daughter, and we're teaching each other. It's a very interesting dynamic. We have this great respect for each other, and an understanding -- Shania is literally Goldie's light and her drive and she gives her the courage she needs to fight for both of them and provide them with a better life."
Bebe Wood: "Yeah, I really like our relationship. And Shania and David, played by Justin Bartha, have a pretty good relationship too, but she still needs to get to know Bryan, played by Andrew Rannells. Bryan is not so fond of Shania … yet."
Justin Bartha: "The main thing to know is they are real -- they're grounded in reality. We are always conscious of portraying a homosexual couple in a real way. To show them having real conversations, showing them in the bedroom, having real affection, not being any type of punchline of a joke or caricatures of anything."
Andrew Rannells: "Justin and I sort of get to play a little bit of an odd couple in that my character is slightly more flamboyant and dramatic, and Justin plays it more contained and controlled, but neurotic. It's a lot of fun to get to play with."
Justin Bartha: "Because in real life I'm very flamboyant … and you're super straight. [Laughs.]"
Andrew Rannells: "I mean, I'm wearing a suit for Christ sakes!"
Justin Bartha: "And I'm wearing Spanx."
Andrew Rannells & Justin Bartha, in unison: "Full. Body. Spanx."
On researching playing a gay couple trying to start a family
Justin Bartha: "I didn't seek out any gay couples looking at adoption and surrogacy, it just so happens that I know a couple of people that are going through the exact same thing. What's great is how accurate it's portrayed in the show, capturing those emotions of what they're going through. And I talked to straight couples too who went through the process -- it's all really fascinating, and you see the whole process in the show. It's so interesting."
Andrew Rannells: "It's fun to get to show that and how expensive, emotional and time-consuming it is. As a homosexual in real life, I didn't really do a lot of research. The fun part is, coming from the theater, the story here is unfolding as we go."
Justin Bartha: "It's more akin to real life -- I don't know what's going to happen to me next. No one does."
On their dream guest stars
Andrew Rannells: "There's a long list … I really want to work with Kathy Bates. And I'd really love to work with Laurie Metcalf -- I love Laurie Metcalf a lot. Judith Light … she's a friend, but I've never worked with her. I'd love for her to come on."
Justin Bartha: "I did a play with Tony Shalhoub, and I'd love for him to come on. He's the best. He'd be great as my dad. My mom would be someone like Rhea Pearlman. [Laughs.]"
Georgia King: "My dad is a wonderful actor, Jonathan Hyde, and he's very good at comedy. That would be kind of fun to have my dad on. But he couldn't play my dad on the show. [Laughs.] ... My TV dad would be a little bit younger, bless my dad's heart."
On their own versions of the new normal
NeNe Leakes: "Everybody keeps asking what's up with me and [ex-husband] Gregg since he's here with me. You know, I've known Gregg for 17 years? A year ago, Gregg and I couldn't even speak to each other. He's a big part of my life -- we have a 13 year old -- and I think now we've gotten to a place where we can at least co-parent, talk to each other and figure out where we're trying to go. We don't live together. I kind of like living by myself! When we first split up, I was so worried, I hadn't lived by myself since college. Now, all of a sudden, I'm living by myself and I was very scared. But as time went on, I got used to it -- I like my space. Gregg can come over, he can even stay over at night, then he can get his ass back home. [Laughs.] Goodbye! This is our new normal. The new normal is something that is not traditional, but it has become very traditional."
"The New Normal" premiere episode airs Mon., Sept. 10 at 10 p.m. ET; new episodes premiere Tues., Sept. 11, 9:30 p.m. ET on NBC.
After a hilarious stint on HBO's "Girls" (which he'll also return to for Season 2), we're thrilled that Rannells ended his Tony-nominated run starring in "The Book of Mormon" on Broadway to play one-half of Ryan Murphy's new comedic leading gay couple on "The New Normal." His scene-stealing skills are still very much intact -- he goes head-to-head with co-stars NeNe Leakes and Ellen Barkin and still manages to get the last laugh.

Yes, "Nashville's" big draw is the rivalry between Connie Britton's one-time queen of country music and Hayden Panettiere's up-and-coming starlet; but the real gem here is Bowen's Scarlett O'Connor, a sweet girl with an even sweeter singing voice. This Australian native might not be a big name in the States just yet, but it's only a matter of time.

British actor Weeks plays Jeremy Reed, the devilish doctor who tempts Mindy Kaling's title character to the dark side on "The Mindy Project." This is his first US TV role, and we're already expecting great things.

We only caught a glimpse of katana-wielding Michonne in the "Walking Dead" Season 2 finale, but it was enough to get fans excited for more. As our survivors seek shelter in the prison and meet The Governor (David Morrissey), they're gonna need someone who knows how to wrangle up zombies right, and Michonne's their girl.

Now that Puck (Mark Salling) has graduated from McKinley, there's a new generation of Puckerman in town -- Artist is signed on to play Jake, Noah Puckerman's half-brother, in Season 4. If he's even half as talented, sweet and prone to causing trouble, we'll happily have a slushie or two waiting in the wings with his name on it.

Benanti was a bright spot in NBC's drama flop "The Playboy Club" last season, but while the Broadway vet got to sing and shake her tail feather (literally), we didn't get to see her show off her comedy chops there or on her "Law & Order: SVU" stint. Now playing opposite Matthew Perry, there's great comedic potential and some sexual tension to mine.

Evans, a male model (and current Mr. Tyra Banks), is stepping into some pretty big shoes to judge "ANTM" this season, and we have high hopes that he can pull it off. He's got the looks to keep us watching and the pedigree to critique this cycle's contestants ... we'll still miss Nigel Barker, Jay Manuel and J. Alexander, but this is a nice refresh.

Montgomery made the final season reboot of Fox's "Human Target" bearable, popped up on "Entourage" and even danced around the company in "Black Swan," but this starring role is her true US TV breakout, and her convincing Jersey accent and go-get-'em attitude will make you forget she's actually a Brit.

There aren't many Oscar winners that could come to TV without fanfare ... but that's the case with Faxon, who brings all his funny sidekick experience up a notch to take on one of the lead roles (he's Ben) in this quirky family comedy. He's been around for a while, is a Groundlings member and, yes, even took home an Academy Award for Best Adapted Screenplay for George Clooney's "The Descendants" last year, which he co-wrote with director Alexander Payne and his writing partner Jim Rash, a.k.a. "Community's" Dean Pelton. TV is lucky to have him.

Spiridakos has done TV guest spots here and there (including a stint on Syfy's "Being Human" last season), but this is the show that should make her a star. "Revolution" has its issues, for sure, but even surrounded by more established stars, Spiridakos shines playing an emotional and gun-toting badass.

Camilla Luddington is on call at Seattle Grace Mercy West hospital. The "Californication" and "True Blood" alum will don scrubs on "Grey's Anatomy" this fall to play a (sexy) new doc, with the option to sign on as a series regular next season. Start placing bets now about who she'll hook up with first!

Amell's most memorable TV role to date might be as Jason, the rival male prostitute on the last season of HBO's "Hung," but his new superpowers really suit him. As Oliver Queen, aka The Green Arrow, Amell has some big leather hoodies to slip into ... but we guarantee no one will complain about the way he fills them out.

Swedish-born Masöhn was a bright spot on Fox's ill-fated "Bones" spinoff "The Finder" -- and she's got quite the sense of humor -- but we're loving her in this darker role as one of the residents of a very haunted building. Cast alongside Terry O'Quinn, Vanessa Williams, Dave Annable and Rachael Taylor, she still manages to stand out as a Park Ave. resident to watch.