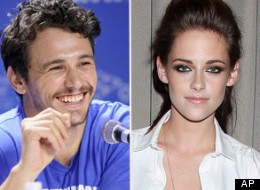 Could James Franco be the right guy for Kristen Stewart?
When we think about it, they somehow seem perfectly matched. Between Stewart's distaste for fame and Franco's fascination with the concept, they could balance each other out -- and it seems like we aren't alone in our theory.
The pair ran into each other at the Intercontinental Hotel during the Toronto International Film Festival last week, and according to RadarOnline, to say that Franco, 34, is "enamored" with Stewart would be an understatement.
"There was a lot of flirting and Kristen was overjoyed by the attention she was getting from James, who was gushing over her, saying what a great actress he thinks she is and was full of praise for her latest movie, 'On The Road'," a source revealed to the website.
The two stars reportedly chatted for 20 minutes and by the end of the conversation, the "Spring Breakers" actor was "smitten" with the 22-year-old actress and even tried to set up a dinner date, but she reportedly turned him down.
We can't say we're too surprised that Franco was rebuffed, as Stewart is coming off a very public cheating scandal, and it's still unclear if she and Robert Pattinson have officially called it quits.
Though he was turned down, a source told the website that Franco was undeterred, and continued to try to convince Stewart to go out with him once they both returned to Los Angeles.
Sources told RadarOnline that Stewart appeared to be at ease while talking to Franco, who even managed to make her smile. Stewart initially turned Franco down, but an insider says she's considering his offer.
Again, no word if Stewart and her boyfriend of four years have officially ended their relationship, but she recently placated everyone's fears that the pair would be in for some awkward encounters come November, when they have to promote "Breaking Dawn - Part 2," telling the Associated Press, "We're going to be fine. We're totally fine."

At this point, it looks like reconciliation probably won't happen for the young couple, but Stewart is said to be struggling to let go of the relationship. The "On The Road" star was again spotted wearing Pattinson's baseball cap as well as one of his T-shirts, which according to sources means she's desperately clinging to what they once shared.
More fantasy celebrity couples:
A train wreck waiting to happen, or would they keep each other on the right track? Britney and Lindsay have tons in common, both child/teen stars who were overwhelmed by Hollywood. They've both said their partying days are behind them and maybe playing stepmom to Britney's kids would help Lindsay grow up a little bit.

We love these two as a couple, first because their couple name would be "LoLo" and that's just too much fun. And with Jennifer as a judge on "American Idol" and Cee Lo as a coach on "The Voice," gossip magazines would have a field day reporting on whether higher ratings for one meant trouble in paradise.

Introducing RiRy, one of our dream couples. Think about it -- he's a modern-day superhero and she's a giant mess. She's big on Twitter, he's big on Tumblr. They have the potential to be the most mismatched couple in Hollywood, but we kind of like it.

First, ewwwww. Yes, it would be totally gross if Ashton Kutcher started dating the daughter of his soon-to-be ex-wife, Demi Moore. For the record, we DO NOT SUPPORT this could-be couple, but it's not as if we'd be the first to suggest they get together. Ashton is only 11 years older than Rumer, while her mom, Demi, is 15 years older than Ashton. It's not like it hasn't happened before: Just ask Woody Allen and his adopted daughter and now wife, Soon-Yi.

Lady Gaga already looks like a character straight out of a Tim Burton film, so why bother hiring a stylist when she could just date the director himself?

Their personalities may not be right for each other, but gossip magazines would lose their sh*t if two of Hollywood's highest paid stars started dating. Aniston would go from having a cover speculate if she's pregnant once a month, to every single week.

Jennifer Lawrence and Jesse Eisenberg are both so self-deprecating that just the idea of the two of them in a relationship together cracks us up.

Not much to say, other than they would each appreciate the other's love of skeaze and dirt.

Kate Winslet and Leonardo DiCaprio do not have a good track record when it comes to playing a couple (spoiler alert: someone always dies). Kate has been divorced twice and we think it's time that Leo grows up and stops dating young models. Even if their characters in "Titanic" and "Revolutionary Road" couldn't make it work, we think Kate and Leo can.

Katy Perry and Fall Out Boy bassist Pete Wentz are both young, divorced musicians who love attention. Dating Katy would definitely help Pete get his career back on track, and the fact that he's good friends with her ex-boyfriend Travie McCoy would make for great gossip!

Courtney Stodden is obviously planning on being a Playboy centerfold the moment she turns 18, so why not hook her up with the original playboy himself? Hugh Hefner loves younger women and once Courtney is no longer jailbait they'll be a match made in heaven. We don't think she'd have any problems ditching her current husband, 51-year-old actor Doug Hutchison, for Hef.

Come on, admit it. You wish George and Brad were a couple. We know you do.

If Justin Bieber and "Twilight" star Kristen Stewart started dating, their fans would lose their minds. Although many of their fans -- the "Twihards" and "Beliebers," respectively -- already overlap, if the two groups merged, they would surely take over the Internet and then maybe even the world.

Courtney Love and Charlie Sheen as a couple would either drive themselves to an early grave, or they could keep each other on a sober path. Imagine if they had a joint Twitter account? Think of all the crazy that would come out of that union.

Miley and Drake have more in common than you might think. They are both musicians who got their start on children's television and we think they might really understand each other because of that.

OK, Taylor Swift and Zac Efron already denied that they're a couple, but we think they should go for it. They are just too cute together. Taylor, Zac, if you're reading this, we know better than you. So make it happen!

Everyone is dying for Joseph Gordon-Levitt to get together with Zooey Deschanel, but we think he's a better match for Emma Stone. They look adorable together and frankly Emma doesn't get on our nerves the way Zooey does.

If Bradley Cooper and Ryan Gosling were a couple, there would be no argument about who is the sexiest man alive. We could just dub them the sexiest couple alive and call it a day.