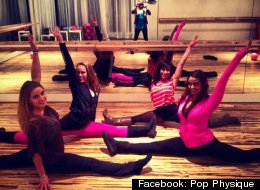 Officials have admitted they can't scare us into staying home for Carmageddon II, but the truth is that they don't need to anymore.
Angelenos loved the car-free weekend, which by many accounts was spent grilling outdoors, visiting museums and meeting the neighbors for the first time.
We know the drill by now, and this list of hundreds of Carmageddon-related discounts and freebies are making the decision to stick close to home from Sept. 29 -30 that much sweeter.
Check out Metro LA's interactive map to see all the deals by neighborhood or browse the complete list of businesses [PDF] to see what's up for grabs.
We've highlighted our favorite discounts and freebies in the slideshow below. Check out our picks and get some tips on how to treat yourself come Carmageddon II!
Deal: Free barre workout class for new students and 20 percent off on all classes and packages for existing clients at Pop Physique Santa Monica. Location: 1335 4th Street, Santa Monica CA 90401 Why: You probably won't be doing the splits at the end of one class, but you might be hooked on a fun way to tone and strengthen. Take advantage of the freebie to see if you have what it takes to plie!

Deal: Enjoy a complimentary healthy skin consultation and facial from Kiehl's Since 1851 at Manhattan Village. Plus, receive a travel ready deluxe sample with any purchase above $50. Location: 3200 Sepulveda Avenue, Manhattan Beach, CA 90266 Why: A free facial will get you on the road to healing after a summer of sunbathing. Plus, did we mention it was free?

Deal: 20% off your scoop, sundae or ice cream sandwich at Beachy Cream Location: 1209 Wilshire Blvd., Santa Monica CA 90403 Why: It's a sweet goodbye to the end of summer. Indulge so you can fill in those big winter sweaters.

Deal: Save 40.5 percent on Adult/Child Admission* (Online Promo Code 4050) at Madame Tussauds Location: Madame Tussauds Hollywood 6933 Hollywood Boulevard, LA, CA 90028 Why: It's something only tourists do, but admit it -- you've always wanted to see those creepy wax figures up close!

Deal: Ten percent off horseback rides under the world famous Hollywood sign at Sunset Ranch Hollywood Location: 3400 Beachwood Drive, LA CA 90068 Why: Because there's a better way to experience the Hollywood Sign than taking photos of it from Hollywood & Highland.

Deal: Save $4 on the East LA Food Tour. Location: Mariachi Plaza / Boyle Heights Station, Los Angeles CA 90033 Why: Think of your car-free weekend as a way to eat your way around your neighborhood. On this tour you'll sample salsa and guacamole dips, Mexican chocolate, pupusas and goat.

Deal: Save $5 on adult tour tickets for the Old Pasadena Food Tasting Tour. Location: Raymond Ave. & Holly St., Pasadena CA 91103 Why: Chow down on tortas and sample chocolate and olive oil on this history-infused walking tour.

Deal: Get a $20 full body massage at the Southern California Health Institute. Location: 5200 Lankershim Boulevard, LA CA 91601 Why: Twenty dollars?! Those are bargain basement prices for a little bit of relief.