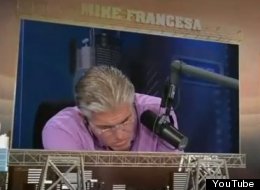 By Matt Yoder, Awful Announcing
Sometimes I think it must not be easy to host a several hour long daily sports talk show. You have to deal with obnoxious callers offering stupid fake trade proposals, be sharp in interviews, and sustain energy to entertain listeners through multiple hours of you talking into a microphone.
Observe as the daily grind gets the best of Mike Francesa here during an interview with venerable WFAN Yankees reporter Sweeny Murti. His frightened face when he wakes up at the :55 second mark is worth its weight in radio simulcast gold.
Someone get this man a Diet Coke!