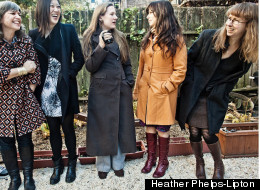 13P's motto, "We don't develop plays. (We do them.)" lays bare their mission in just seven words.
Tired of workshopping plays and holding readings without the promise of a full scale productions, playwrights Rob Handel (P#3), Madeleine George (P#10), and Anne Washburn (P#1) rallied a group of like-minded wordsmiths to put on plays. The format would be as follows: each of the 13 playwrights would produce a full scale production of one play they've written. When all 13 plays were produced, 13P would implode.
The end result? A varied group of plays, ranging from one about a melancholy woman whose love interests turn into almonds, another with a Hitler youth who keeps appearing on a contemporary subway train, and another with a cameo by Monica Lewinsky. This innovative "13P model" has offered a viable means for bringing theater works out of the workshop and into the world. There is a digital archive to chronicle and document the full 10 years of the project, complete with a detailed history of the collective, an interactive timetable, specific budget sheets, and various tools to launch a 13P-esqe collective of one's own. It's revolutionary -- a theater model for anyone and everyone who is interested in participating.
Joe's Pub recently hosted 13P's "Implosion Party," which was a celebratory affair. The event was hosted by playwright Lisa Kron who milked the implosion metaphor for all that it was worth. Another treat was a performance from Anne Washburn's (P#1) play The Internationalist featuring, Jeremy Shamos, Wallace Shawn and Ken Rus Schmoll. To see Wallace Shawn up on that stage sold the evening for many. Todd Almond, Erik Lochtefeld, David Greenspan, April Matthis, and Amy Warren sang a few (hysterical!) selections from Sarah Ruhl's (P#13) Melancholy Play (A New Chamber Piece). And then, Young Jean Lee and her band Future Wife sang from Lee's rocking We're Gonna Die.
HuffPost Arts & Culture caught up over the phone with playwrights Madeleine George (P#10), Rob Handel (P#3), and Young Jean Lee (P#11) to discuss the implosion, the beauty of theater, and why they'd recommend a similar model to other playwrights. Check out the slideshow below for pictures.
The playwrights. L-R: Julia Jarcho, Kate E. Ryan, Gary Winter, Madeleine George, Lucy Thurber, Winter Miller, Rob Handel, Erin Courtney, Young Jean Lee, Sarah Ruhl, Sheila Callaghan, and Anne Washburn

Members of 13P, a playwrights collective. L-R: Lucy Thurber (partial), Erin Courtney, Young Jean Lee, Sarah Ruhl, Sheila Callaghan, and Anne Washburn.

L-R: Winter Miller and Rob Handel

L-R: Julia Jarcho, Kate E. Ryan, Gary Winter, Madeleine George, and Lucy Thurber

Madeleine George (P#10)

Rob Handel (P#3)

Young Jean Lee (P#11)

The Internationalist by Anne Washburn (P#1) Directed by Ken Rus Schmoll 45 Bleecker Theatre April - May, 2004. "An American goes to a foreign country. He gets off the plane and a beautiful woman is waiting there for him and he thinks he's fallen into one of those great American movies where you go places and people are exotic and there is romance and challenge and your sense of what is possible is expanded and you gain experience and wisdom and it's really fun and it makes a great memory, afterwards, it makes you into someone, it is an experience that determines you: Lowell, man of the world, business trip, Business Class, gorgeous sudden affair, feats of corporate derring do in a remote office. He's exhausted, but it all seems to be going well. The next day he goes into the office and discovers that he isn't in that kind of movie at all, he's in a different one, one of those foreign ones, with no clear hero or moral, a movie in which experience does not necessarily redeem you. And, most importantly, no subtitles."

The Penetration Play by Winter Miller (P#2) Directed by Josh Hecht Mint Space November - December, 2004. "It's the last weekend of summer on the Jersey shore. Rain wants nothing more than her best friend, Ashley, to want her. Ashley's mother, Maggie, is determined she marry Rich, a brilliant lawyer. Desire should have stopped there. THE PENETRATION PLAY is a comedy about things that aren't funny and the one person who should've been off-limits."

Aphrodisiac by Rob Handel Directed by Ken Rus Schmoll Performance Space 122 January, 2005 "Congressman Dan Ferris is being questioned about the disappearance of intern Ilona Waxman. Sound awkward? Imagine if he was your dad..."

At Said by Gary Winter (P#4) Directed by Tim Farrell Performance Space 122 May - June, 2006. "Darra's world spirals into nightmare as her mother types out her horrors, her boyfriend plays Baby Doc in the tenement hallways, and the super carries Jesus in his back pocket."

Mark Smith by Kate E. Ryan (P#5) Directed by Ken Rus Schmoll Walkerspace June, 2006. "A small-town music teacher makes his own instruments and performs secret concerts. An old man reminiscences about his childhood 'inventions' that involved broken machines and hay. An unseen documentarian attempts to tell a story about a famous person who is not very interesting. MARK SMITH is about distractions, awkward exposures, and trying to tell a story that doesn't quite fit the reality."

Have You Seen Steve Steven by Ann Marie Healy Directed by Anne Kauffman 14th Street Theatre September - October, 2007 "Lost in a labyrinth of Midwestern McMansions, teenager Kathleen Clarkson senses that something is very wrong with her world but nothing prepares her for the arrival of Hank Mountain. This friendly neighbor and his elusive partner-in-crime, Vera, stop over to bring brownie bars and chat about the property taxes. What her parents don't realize is that they've also come as harbingers of annihilation. When an all-knowing exchange student pops in from afar to join these two neighbors from "just down the way," a fairy tale of make-believe dissolves into a nightmare--both hilarious and terrifying-- that reveals the instability at the core of everything Kathleen knows. HAVE YOU SEEN STEVE STEVEN is a disconcerting comic drama that teases our sense of reality and safety and questions the places that we call home."

Crawl, Fade to White by Sheila Callaghan Directed by Paul Willis Ideal Glass Gallery October - November, 2008 "Mysteries buried within a sleepy suburban block are unearthed when April returns from college unannounced with a burning question: "What's in your briefcase, Louise?" A story about family secrets, yard sales, strange rain, and exactly what the neighbors really do know"

Monstrosity by Lucy Thurber (P#8) Directed by Lear DeBessonet "A dark, epic tale of singing teenage fascists, magic, war, commerce, and love -- a disturbing retelling of the hero's tale with a girl as the hero and an unheroic ending. Don't miss 13P's most ambitious production to date..."

American Treasure by Julia Jarcho Directed by Julia Jarcho "Playwright-director Julia Jarcho returns to New York with a new play about scouring the landscape and looking for the missing pieces. One night, a Real History Detective meets a gumptious young vagabond with a harrowing past. Together, they'll follow a paper trail of blood and tears that goes all the way back to this nation's beginning. Or somewhere else."

The Zero Hour by Madeleine George (P#10) directed by Adam Greenfield "Rebecca and her chronically unemployed butch girlfriend, O, have created a happy nest in their run-down Queens walk-up. But domestic bliss starts slipping as their daily lives are overtaken by charming Nazis, family ghosts, and the secrets they keep. The two women fight for, and against, each other in this sharp, moving almost-love story."

We're Gonna Die written and performed by Young Jean Lee music by Future Wife music directed by Tim Simmonds choreography by Faye Driscoll directed by Paul Lazar Joe's Pub April 2011 "With her band Future Wife, playwright Young Jean Lee takes the stage in a life-affirming show about the one thing everyone has in common: We're gonna die. You may be miserable, but you won't be alone."

A Map of Virtue by Erin Courtney directed by Ken Rus Schmoll 4th Street Theatre February, 2012 "Did you see what you think you saw? In this middle-of-the-night horror, a shared obsession leaves a group of friends stranded in the woods. A bird statue serves as your guide through this symmetrical story about the limits of our virtues and what we leave behind."

Melancholy Play (a new chamber piece) by Sarah Ruhl music by Todd Almond directed by Davis McCallum The Invisible Dog July, 2012 "Tilly is beautiful and melancholy. Everyone she meets falls in love with her. Then one day...she is suddenly happy. And things get very strange."

Image from 13P's "Implosion Party." Host Lisa Kron onstage. September 10th, 2012.

From 13P's "Implosion Party" at Joe's Pub. A selection from Sarah Ruhl's Melancholy Play. September 10th, 2012.

From 13P's "Implosion Party" at Joe's Pub. Young Jean Lee performing from We're Gonna Die. September 10, 2012.

From 13P's "Implosion Party" at Joe's Pub. Jeremy Shamos and Wallace Shawn in Anne Washburn's The Internationalist. September 10, 2012.

From 13P's "Implosion Party." The giant collection of 13 plays by 13Ps.
Huffington Post: Why did you join 13P? Where did the need for this kind of collective come from?
Madeleine George: Rob and I met at the O'Neill Playwrights Conference, which is the mothership of play development. We were both having a career breakthrough by being here but at the same time it was sort of ironic for us because we were playwrights at this point in our careers where we were having a lot of development and not a lot of productions.
And Rob had a very practical approach to it, I think he was ready to stop bitching and start doing something. And it was his idea, "What can we do that would be a corrective instead of complaining?"
Young Jean Lee: When I joined I had only written one play. So I was barely a playwright when they invited me. I may have even been the least experienced playwright on the list. So it was a no-brainer to join.
HP: Are you sad about the implosion?
Rob Handel: I'm delighted really. It's partly because one of the reasons that the 13P model was able to exist was because it didn't really pay people. It was showpiece template. We ran this company by meeting at Starbucks at 830 am every Thursday morning for three years. And then going to our regular jobs.
The only way to make it a sustaining model would be to relaunch it as an institution that paid salaries and had an office and things like that. That's not something we want to do.
Young Jean Lee: No, I think it's great. I think that the implosion is the reason why we were able to do this. You know, there is one really awesome thing about the model, which was that it was one of the most pure artistic experiences I've ever had. I have my own organization and the fact [is] that I have to worry about the sustainability of continuing to pay my employees and keeping a busines going. I don't have this pure artistic experience where I can do whatever I want. It just doesn't work that way. If you want to keep going, you can't do whatever you want. You're going to get shut down. [At] 13P we never had to worry about sustaining the organization into the future...and there was a purity to that that I had not experienced and will probably not experience ever again.
HP: How did you each respectively decide what play to produce?
Young Jean Lee: [We're Gonna Die] was a co-production between 13P and my company. And they told me to do the craziest thing I could think of and my artistic mission in general is to do the craziest thing I can think of. The idea of putting myself in a one person show with singing and dancing when I couldn't really do one of those things...the idea was horrifying to me -- that was the craziest idea I could think of. And I never would have done that with my own company in a million years. I wouldn't have done that without 13P.
Madeleine George: I just felt like [The Zero Hour] hadn't been completely finished. Because it had never been produced. I really wanted to live through it in time and space and it was delightful for me to feel like I could do whatever I wanted with the slot. If I wanted to go back...and do a play that was no longer the most current piece of work that I had but still was a piece of unfinished business, I could choose to do that. And for me it was very satisfying.
HP: What do you think the role of a playwright is in contemporary theater? What it should be? What do you hope will evolve?
Young Jean Lee: I wish that playwrights could work more closely with directors in developing more art. That's what I wish for theater. My whole idea about theater and the way that I work is around the idea that theater is collaborative.
I feel like that's how theater should be made, I always see directors fiddling with problem scripts and I always think "how crazy is that?" Why not just have the playwright there? There's this weird antagonistic relationship between directors and playwrights and that's unnecessary.
Rob Handel: It's still true that I go into a room for a meeting with an artistic director, a literary manager, and I'm usually the only person in the room who doesn't have health insurance. I still don't have a job there, when my play's over I have to leave.
HP: What advice would you give to a young playwright?
Madeleine George: Write plays recklessly with no regard to what you think will be produced. That's the only way to write something brilliant that will be produced. I'm very pro-looking to your left and looking to your right and seeing who your peers are. Who you admire and just getting near them as much as possible. Writers can be so isolated, and I think that banding together with other writers is one of the greatest decisions I ever made. Not only because they're your family to you as a writer and they know your life more intimately than people who are not writers, but also you can pool resources and trade directors and if you want, put together some kind of project-based plan for seeing your work on its feet.
Young Jean Lee: I would say get to know as many people as possible and a really good way to do that is by doing a lot of volunteering. Working for a lot of people for free. That's pretty much the only reason why I have my own company and am writing plays. It's all about the people I've met when I first moved to New York. Because theater is so much about networks of people...you can't do it alone. You need a lot of help. And the more people you know, the more help you're gonna get.
Find more information about 13P here.