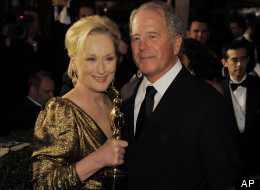 The health benefits of marriage have been being demonstrated in scientific studies, but there might be another positive side effect of saying "I do:" fame.
Though their meteoric rises in popularity can't be tied strictly to their marriages, these five celebrities did see their careers take flight after they tied the knot. Click through the slideshow to see which stars became famous after marriage and let us know in the comments: was it a change in marital status that affected these stars' careers?
Stars Whose Careers Skyrocketed After Marriage
Before actress Kyra Sedgwick married husband Kevin Bacon in 1988, she'd had a quite a few minor roles in TV shows and movies. But after tying the knot, she landed bigger roles, like playing Tom Cruise's character's girlfriend in "Born on the Fourth of July" in 1989. She really hit the big time in 2005 when she scored the lead role in the TV series "The Closer," which aired its final episode this year.

Funnyman Jay Leno saw his career take off in the mid 1980s after marrying wife Mavis Nicholson (now Leno) in 1980. His first appearance on "The Tonight Show" was in 1977, but he mostly worked as a writer for the TV show "Good Times." After his "I dos," Leno hosted his first TV special and secured a deal as a regular host on "The Tonight Show," which lead to his take over as the main host of the program when Johnny Carson retired from the position in 1992.

Meryl Streep's acting career started on the Broadway stage in the 1960s but transitioned to movies with her significant role as Anne Marie in 1977's "Julia." But her real success came after marrying Don Gummer in 1978 -- she starred in "The Deer Hunter" with acting greats Robert De Niro and Christopher Walken and grabbed her first Oscar nom. The year after her marriage, she picked up her first golden statue for Best Supporting Actress in "Kramer vs. Kramer," and just a few years later, in 1982, she won her second Oscar -- this time for Best Actress -- in the World War II drama "Sophie's Choice."

Sarah Jessica Parker definitely had her fair share of success before saying "I do" to hubby Matthew Broderick in 1997. She had a supporting role in the classic film "Footloose," and in the 90s she acted alongside Steve Martin in "L.A. Story" and Johnny Depp in Tim Burton's "Ed Wood". But it wasn't until a year after her wedding that she got the role that would define her career: sex columnist Carrie Bradshaw on HBO's "Sex and the City."

Kate Hudson landed her first big role just before marrying her now ex-husband Chris Robinson in 2000. She snagged the female lead in Cameron Crowe's "Almost Famous" and starred alongside a stellar cast, including Billy Crudup, Philip Seymore Hoffman, Frances McDormand and Zooey Deschanel. She married Robinson when she was just 21 in December of that year, and though her marriage didn't last, her career has. She's had numerous big-budget roles since, including "How To Lose A Guy In 10 Days," "Bride Wars," and "Something Borrowed."
Keep in touch! Check out HuffPost Weddings on Facebook, Twitter and Pinterest.