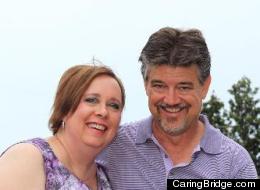 A rich Texas businessman's failed murder-for-hire scheme to kill his wife involved a complex web of co-conspirators and tens of thousands of dollars, prosecutors say.
John Franklin "Frank" Howard was arrested last month for allegedly orchestrating the elaborate plot to kill his wife of 29 years. He now faces additional charges that he cheated his employer out of millions of dollars, ABC News reported.
Nancy Howard survived getting shot in the face outside her Carrollton home on Aug. 18. Soon after, police arrested her husband, saying he hired the 19-year-old triggerman.
PHOTOS: (Story Continues Below)
John Franklin "Frank" Howard is accused of hiring a teenaged hitman to kill his wife Nancy. She survived the Aug. 18 shooting outside her Carrollton, Tex. home, but lost her left eye.

Nancy and Frank Howard on their wedding day in 1983.

Nancy's daughter Ashley Faus began writing on CaringBridge.com about her mother's recovery soon after the shooting. After her father's arrest, she posted: "From our family: Things are not as they appear. Do not believe everything you read, and a healthy dose of skepticism is warranted. In this country, you are innocent until proven guilty in a court of law, where all sides of the story are heard, and all facts are presented."

Police say that Frank Howard hired 19-year-old Hiroms to kill his wife. The teenager has been charged with aggravated robbery and allegedly admitted that he was in cahoots with Howard but denied to police that he was the shooter.
Days after the ambush, which cost Nancy her left eye, she told investigators that her husband had admitted to a three-year romance with a California woman. He allegedly provided his mistress with a home, a condo in Lake Tahoe, and half a million dollars for her daughter's education.
The huge outlays to the other woman were perhaps paid for by money he supposedly skimmed from his former employer, a defense contractor, That company has accused Howard, 52, of siphoning away funds from Middle East contracts, ABC said.
Howard's attorney denied the latest round of charges against his client, the network reported.
Investigators piecing together the shooting came to believe that Howard built a network of at least nine other associates to pull off the murder, Pegasus News said.
After getting shot in the face, Nancy managed to call 911 to report that a man in his 20s fired at her and fled on foot. According to various reports, she was in a coma for days. However, her daughter Ashley Faus, who's been chronicling her mother's recovery in an online diary, says she was never comatose.
A week after the shooting, police locked up the suspected gunman Dustin Hirom. The charges lodged against Hirom have shifted. He was first booked on aggravated robbery. The Denton County jail now says he's accused of murder.
On Aug. 28, Frank Howard was nabbed. The groundwork for the botched assassination goes back years, according to police.
The would-be assassins were supposedly instructed by Howard to make his wife's death look like an accident, a CBS Dallas-Fort Worth affiliate reported . He also allegedly told hired killers to use a knife or a bat, instead of a gun.
Weeks before the shooting, Carrollton police were clued in about a murder-for-hire plot. They pulled over Hirom on July 13 for a traffic violation and he allegedly gave conflicting accounts about why he traveled to town from his home in Van, 87 miles southeast of the Dallas suburb.
He eventually told police that he was a hitman paid by a man named "John," according to Denton County affidavits cited by media. Hirom even pointed out the house where the eventual shooting would take place about a month later, according to KHOU.
Two days later, police in Van passed on a tip from Jason Rendine, who was Hirom's passenger during the traffic stop in Carrollton. Rendine alleged to cops that Hirom had been chattering that he'd been paid $30,000 for an upcoming murder.
Rendine and his wife Stephanie Delacerda were arrested in Louisiana on Aug. 22 -- after Nancy had been shot -- for alleged drug crimes. Delacerda allegedly confessed to police that Frank Howard had paid her $35,000 for sex.
Hirom's stepfather and mother have also been implicated in the plot. Billie Johnson, Hirom's incarcerated stepfather, contacted police from behind bars after the shooting to say that Howard had began planning the hit with him and other family members three years ago
The burgeoning circle of conspirators grew to include Michael Alan Speck, Johnson's nephew, and Derrick Johnson, his son, who was allegedly paid $85,000 by Howard in 2010. Billie Johnson claims that Speck was the shooter -- not Hirom.
Hirom allegedly corroborated several of the details Billie Johnson told police. His mother Stacey Serenko also provided information to the FBI that the family had been paid by Howard to kill Nancy.