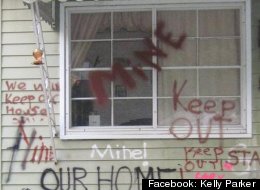 A single Detroit mother fighting cancer is also fighting to keep her home from foreclosure.
In an act of desperation Kelly Parker, 37, has vandalized her own home with graffitti in order to discourage potential buyers. The graffiti includes phrases like "This is our home" and "We will not be moved."
"Three weeks ago, I was diagnosed with brain and lung cancer and it's to the point where they want to do brain surgery tomorrow, and I just found all this out. So them trying to evict me out of my house and sell my house, I'm not going anywhere," Kelly Parker told WJBK.
Parker, the mother of two children, bought her home in 2005, but got behind on her payments after her mortgage doubled and now owes about $12,000 in back taxes, according to WJBK.
"What we are trying to do now is stop the sale of the home at auction so that we have the opportunity to buy it from the city free of the mortgage company," she said in in a statement on her facebook page. "I am now fighting for my life, my home and my children."
Her case is far from the only example of Detroiters fighting back against foreclosure.
Detroiter Jennifer Britt recently halted an eviction effort by holding a vigil in front of her home with a coalition of local supporters. Her actions drew the attention of U.S. Rep. Hansen Clarke and pressured the government-sponsored loan agency Fannie Mae to re-open negotiations with her over the house.
In January, William and Bertha Garrett kept their home by working with Occupy Detroit and a group called Moratorium Now to block a dumpster that would have been used to remove of their belongings from their house.
Foreclosure photo exhibit
Tracy Munch collects her belongings after an eviction crew cleared furniture from her foreclosed home on Feb. 2, 2009, in Colorado's Adams County. Although she paid her rent, her landlord stopped paying his mortgage. Munch managed to borrow funds to rent another place but not soon enough to avoid this.

Chase Milam, age 1, watches from a crib as a sheriff's deputy and an eviction staffer empty his aunt's home in Milliken, Colo. Brandie Barbiere, whose child care business had declined by more than half, stopped making mortgage payments.

Children sprawl on the living room floor as an eviction crew removes furniture during an Oct. 5, 2011, foreclosure in Milliken, Colo. Eleven months earlier, Brandie Barbiere had stopped paying her mortgage. The bank took possession of the property after receiving a court order.

Squatters may have hunkered down at Atlanta's 964 Sims St. SW, photographed by Brian Shumway in May 2009. At the time, Georgia ranked seventh in foreclosures nationwide. By the end of 2011, Georgia ranked fourth.

Outside her mother's house in Atlanta's Pittsburgh neighborhood, Katrina Scott holds her daughter. This predominantly poor, black neighborhood was hard hit by foreclosures in 2009.

"By the time we got to the house parts of the roof had fallen in and there was water damage all throughout the house," T.J. Proechel writes. "West St. Paul is a working class neighborhood that used to be adjacent to the large stockyards in St. Paul, which have all but disappeared."

Elsewhere in a home previously owned by a Mexican family who had moved to Minnesota, T.J. Proechel saw something unique: "The father of the family was a tiler and although it was a really simple stripped down house there was elaborate tile work all throughout it," he writes.

When T.J. Proechel worked as a contractor, fixing up and maintaining foreclosed properties, he would also try to photograph the homes involved. His boss was Michael, shown here.

"I don't know if that lone person ... was leaving or coming in," says Guillaume Zuili. "I drove for miles and miles into ghost towns, emptied gated communities, deserted malls for sale, half-built cities, roads ending in nothing ... everything had stopped." Filming or even talking to people wasn't easy.

In Fort Myers, Fla., Bruce Gilden discovered Christine Baker living in a van in 2008. The bank had foreclosed on her house.

A swimming pool lies adjacent to a foreclosed house near Fresno, Calif., in 2010.

Outside Fresno, Calif., in 2010, Bruce Gilden found this housing development unfinished.

John Peters' images focus on what's left behind "to convey the weight of the crisis at large as well as the energy/emotion I felt within each individual home," he writes. He'd spend time "quietly engaging the environment and attempted to visually bridge the physical and emotional space within."

"These environmental details are fading hints from more complicated individual stories and they exist neither here nor there," John Peters writes. This "allows the viewer to engage the images in a unique way, where they may apply personal experience or creatively identify with the foreclosure crisis."

Lauren Greenfield tried to capture "the surburban dream and the suburban nightmare in one image," says her husband, Frank Evers. The house for sale on the right presents a stark contrast to its neighbor in the Rosetta Canyon development in Lake Elsinore, Calif.