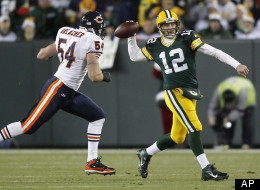 The NFL on Thursday? Yes, please. Opening up the "Thursday Night Football" schedule is a marquee matchup between the Green Bay Packers and the Chicago Bears that should bring some December intensity to this school night in September.
Even after nearly 200 meetings, the NFL's longest rivalry seems to never get stale. With the Packers having lost at Lambeau in Week 1 while the Bears dismantled Andrew Luck's Indianapolis Colts at Soldier Field, this Week 2 showdown even seems like it could loom large in determining who represents the NFC North in the postseason.
For the Bears, quarterback Jay Cutler looked like he's enjoying having his former teammate Brandon Marshall back in his huddle, as he connected with the three-time Pro Bowl receiver nine times for 119 yards and a touchdown in Week 1. With running back Matt Forte healthy, the Bears aim to open up an eary two-game lead in the standings en route dethroning Green Bay in the NFC North.
Of course, the Packers' offense is led by Super Bowl XLV MVP Aaron Rodgers, who still has several capable receivers to choose from. They'll look to break out after being held largely in check by the San Francisco 49ers. In a game featuring potent offenses, the deciding factor could very well be one of the units who work without the ball. Which defense will step up? The Packers let up 30 in their opener while the Bears let the Colts offense score a pair of touchdowns and Luck rack up more than 300 yards despite all those turnovers.
Will Chicago go into Lambeau Field and send Green Bay to an 0-2 record (while improving to 2-0)? Or will the Packers bounce back and give the cheese-heads something to cheer about?
PACKERS BEAT THE BEARS 23-10. GREEN BAY IMPROVES TO 1-1 AND CHICAGO FALLS TO 1-1.