Sears often offers a multitude of deals for customers, but free snakes with the purchase of a dishwasher is definitely a novel idea.
Sears customer Jessica Hasson said she got a surprise when her dishwasher was delivered with a live snake taped to the machine. Hasson tweeted a photo of the reptile:
SCROLL FOR LARGE PHOTO
@JessicaHasson

Jessica Hasson
"Luckily, my boyfriend saw it first," Hasson, who resides in California, told Business Insider. "I was on the phone with the Sears at the time because they forgot to deliver the panels and handles with the dishwasher. I refused to go near it."
She ordered the dishwasher, a double drawer Kenmore Elite, from SearsOutlet.com. It was shipped from Tampa, Fla.
Although Sears has apologized to Hasson and picked up the dishwasher along with the snake, "they're confused about how to get me a replacement delivered and installed," she told Business Insider.
She tweeted about her Sears customer service woes, writing, "15 people, 4 hours later. Dishwasher is coming next Wednesday, but I am still out 500.00+ for cost diff. #searsfail #snakesonadeliverytruck."
But sometimes mix-ups happen.
Earlier this year, Seth Horvitz from Washington, D.C., ordered a flat-panel television and got a high-powered assault rifle instead, WTTG-FOX 5 reported at the time. He ordered the television from a third-party seller on Amazon.com. When he saw he had received a semi-automatic SIG716 rifle, he called the police.
"[The police] were a little confused at first, they've never seen anything quite like it," Horvitz told Fox 5.
PHOTO: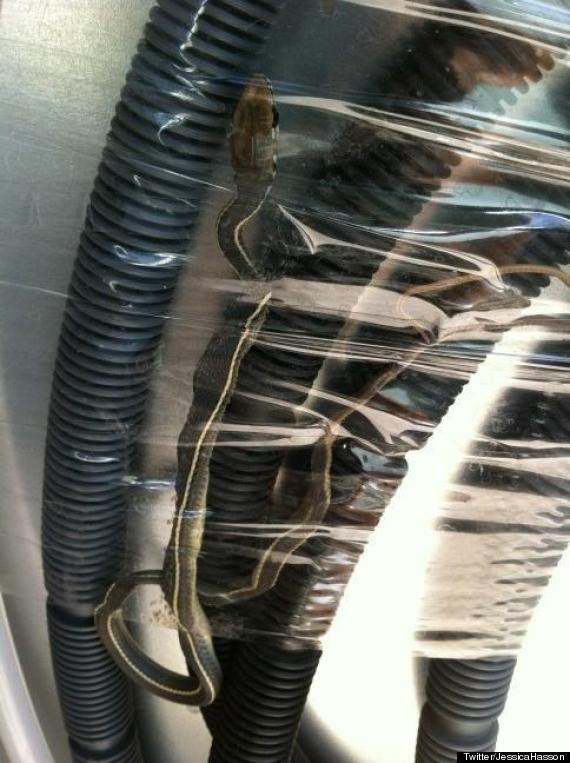 Loading Slideshow
Dr. Evil and Lloyd Blankfein

Dr. Evil from <em>Austin Powers</em>, played by Mike Meyers, and Goldman Sachs CEO Lloyd Blankfein.

Alistair Hennessey and Vikram Pandit

Alistair Hennessey from <em>The Life Aquatic with Steve Zissou</em>, played by Jeff Goldblum, and former Citigroup CEO Vikram Pandit.

Emperor Palpatine and Rupert Murdoch

Emperor Palpatine from <em>Star Wars</em>, played by Ian McDiarmid, and News Corp. CEO Rupert Murdoch.

Nurse Ratched and Meg Whitman

Nurse Ratched from <em>One Flew Over The Cuckoo's Nest</em>, played by Louise Fletcher, and Hewlett Packard CEO Meg Whitman.

Ashley Schaeffer and Richard Branson

Ashley Schaeffer from HBO's <em>Eastbound and Down</em>, played by Will Ferrell, and Virgin CEO Richard Branson.

Lex Luther and Jeff Bezos

Lex Luthor from <em>Superman Returns</em>, played by Kevin Spacey, and Amazon CEO Jeff Bezos.

Regina George and Marissa Mayer

Regina George from <em>Mean Girls</em>, played by Rachel McAdams, and Yahoo CEO Marissa Mayer.

White Witch and Abigail Johnson

The White Witch from <em>The Chronicles of Narnia</em>, played by Tilda Swinton, and Fidelity Investments CEO Abigail Johnson.

Ty Moncrief and Mike Jeffries

Ty Moncrief from <em>Drop Zone</em>, played by Gary Busey, and Abercrombie and Fitch CEO Mike Jeffries.

Emperor Commodus and Larry Page

Emperor Commodus from <em>Gladiator</em>, played by Joaquin Phoenix, and Google CEO Larry Page.

Goldfinger and Jeff Immelt

James Bond villain Goldfinger from <em>Goldfinger</em>, played by Gert Fröbe, and General Electric CEO Jeffrey Immelt.

Daniel Plainview and Reed Hastings

Daniel Plainview from <em>There Will Be Blood</em>, played by Daniel Day-Lewis, and Netflix CEO Reed Hastings.

Boris Badenov and Carlos Slim

Boris Badenov from <em>Rocky and Bulwinkle</em>, voiced by Paul Frees for much of the show's run, and Telmex CEO Carlos Slim.

Stuntman Mike and Brian Moynihan

Stuntman Mike from <em>Deathproof</em>, played by Kurt Russell, and Bank of America CEO Brian Moynihan.

Count Rugen and Larry Ellison

Count Rugen from <em>The Princess Bride</em>, played by Christopher Guest, and Oracle CEO Larry Ellison.

The Boss and Kenneth Chennault

The Boss from <em>Lucky Number Slevin</em>, played by Morgan Freeman, and American Express CEO Kenneth Chennault

Henry Evans and Mark Zuckerberg

Henry Evans from <em>The Good Son</em>, played by Macaulay Culkin, and Facebook CEO Mark Zuckerberg.

The Donald and Donald Trump

Chairman of the Trump Organization Donald Trump and Donald Trump from <em>The Apprentice</em>.