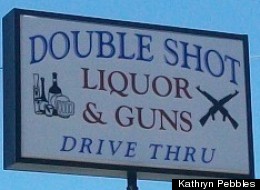 Oh, hello there. Are you looking for some groceries? Maybe some liquor? How about a shotgun? It's free with a qualifying purchase.
That's how we imagine stepping into one of the fine establishments below might go. As it turns out, there are a bevy of places that casually sell guns along with other wares. They sell wedding dresses, tanning memberships, and guns. They sell donuts and guns. You know, the usual stuff.
We found ourselves baffled by the odd retail combinations in the 17 pictures below. Be sure to vote for the strangest one.
Places That Also Sell Guns
Hopefully both are far away from the day school.

We're not sure what's weirder: the fact that there's a drive-thru or that liquor/gun gift baskets exist.

Because nothing says "I love you" more than this.

So THAT'S why RadioShack is still in business.

For all your shotgun wedding needs.

Sadly, the asterisk next to Free Handgun* doesn't lead to a message at the bottom that says, "Just kidding."

A dozen roses can only say so much.

Which of these things is not like the others?

Because nothing goes together like whiffle ball, two-by-fours and guns.

Dont' forget your free tickets to the magic show!

In a rustic barn setting no less.

Sorry, if you need your liquor and guns BEFORE 10:00 a.m., you're out of luck.

If you want a gun with a terrible history, this is your place.

They used to have a lot more guitars, but they had to sell them for more guns.

He was going to go with "Semi-Automatic Supermarket" but it didn't fit on the sign.

Now you can put all your dangerous impulses to good use in one place.

Yeah, but do they have a gun made out of gold though?