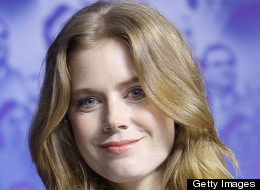 Amy Adams has received some of the best reviews of her career for playing Peggy Dodd in "The Master." Which is confusing for those who thought her name was something else.
Over the last few months, Adams' character in Paul Thomas Anderson's latest film, which was partially inspired by Scientology founder L. Ron Hubbard, has often been referred to as Mary Sue Dodd. In April, the New York Times noted that both Hubbard and Philip Seymour Hoffman's character in the film, Lancaster Dodd, had wives named Mary Sue. After Anderson screened "The Master" for Tom Cruise in May (something the director later confirmed), HuffPost Entertainment wrote a post calling Adams by that name as well. Early reviews of "The Master" posted by The Hollywood Reporter and Movie City News also referred to Adams' character as Mary Sue, as did Reuters coverage of a press conference for the film held at the Venice Film Festival earlier this month.
However with "The Master" out on Friday, numerous critics are calling Adams' character by the name Peggy -- including A.O. Scott in the New York Times.
Meanwhile, both Rotten Tomatoes and Wikipedia list Adams' character as Mary Sue and Peggy. (IMDb has her listed as just Peggy, as do production notes for "The Master.")
Why is there such confusion about the name of Adams' character? It could trace back to a script review of "The Master" posted by The Playlist in 2010. The site noted that Lancaster's wife was called Mary Sue in the original Anderson screenplay, though how much of that script wound up being used in the version of "The Master" in theaters now is unclear.
HuffPost Entertainment reached out to The Weinstein Company to confirm the name of Adams' character. Per the studio, it is Peggy Dodd.
On reflection, and despite these cavils, we should bow to The Master, because it gives us so much to revere, starting with the image that opens the film and recurs right up to the end.

It's a film of breathtaking cinematic romanticism and near-complete denial of conventional catharsis. You might wish it gave you more in terms of comfort food pleasure, but that's not Anderson's problem.

Gorgeous to look at and an absolute feast of strong and interesting acting.

The Master is Paul Thomas Anderson with the edges sanded off, the best bits shorn down to nubs.

It's a feisty, contentious, deliberately misshapen film, designed to challenge and frustrate audiences looking for a clean resolution. Just because it's over doesn't mean it's settled.

The Master is unforgettable, but like the mercurial men at its center, the harder you try to read into it, the more it slips away into the distance.

In his first film since the 2010 performance-art stunt of "I'm Still Here," Phoenix once again digs deep to mine his character's inner torment and comes up with a mix of haunting quirks and tics.

It's a sharply written, unforgettably directed character study with brilliant performances by Joaquin Phoenix, Philip Seymour Hoffman and Amy Adams...

I believe in the church of Paul Thomas Anderson. Fierce and ferociously funny, The Master is a great movie, the best of the year so far, and a new American classic.

Anderson is a romantic who has earned his nihilism. He clarifies nothing, but leaves us brooding on our own confusion.