While conventional wisdom leads to believe us that it's the "bleeding-heart liberals" who have nature's back, nature does not appear to be returning the favor. At least, not as far as the bear kingdom is concerned. UPS driver and wildlife photographer Duane Cross has taken some shocking photos that prove bears are not only Republican, they are fiercely anti-Obama and take down his signs whenever they get a chance.
At least they don't vote... yet. h/t BuzzFeed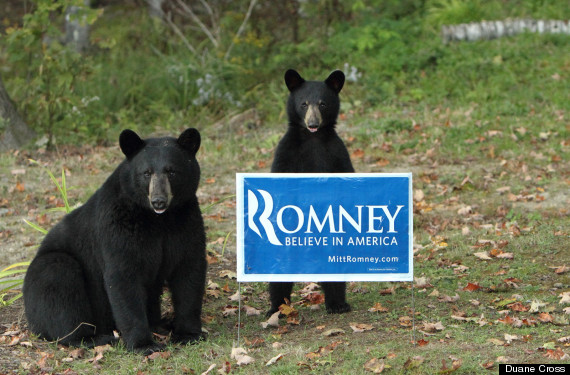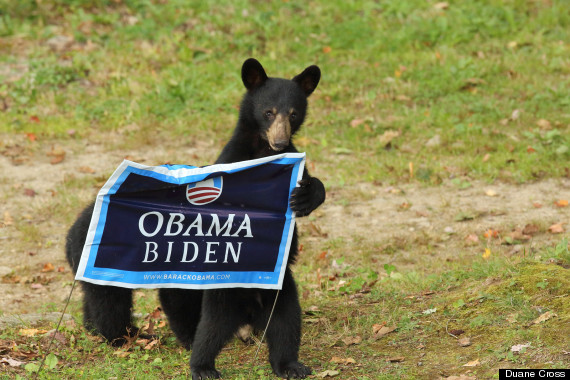 Also on HuffPost:
Loading Slideshow
Satchel 2012?

Move over Obama and Romney: Satchel the dog is also running for President this year as part of the Bully Party. He already has a Facebook page <a href="http://www.facebook.com/pages/Satchel-for-President-2012/186140311437567" target="_hplink">with over 1,000 likes</a>. Sure, he's no <a href="http://www.facebook.com/Boo" target="_hplink">Boo</a>, but that's still pretty impressive for a dog.

Hank The Cat For Senate

Hank the cat is currently <a href="http://www.huffingtonpost.com/2012/04/26/hank-the-cat-senate-virginia-2016_n_1452934.html" target="_hplink">running for senator</a> in Virginia. <a href="http://hankforsenate.com/AboutHank.aspx" target="_hplink">According to his website</a> Hank was born to a single mother living on the streets. Before running for Senate, Hank, his mother, and his siblings were taken to an animal shelter where they sat on death row. Now that's an inspiring political story!

Rabbit Hash, KY: Border Collie Mayor

Rabbit Hash, Kentucky's current mayor (as of 2008) is Lucy Lou, a Border Collie. They've even had two previous dog mayors: Junior Conchran and Goofy. However, you can take solace in the fact that the town seems to be in on the joke. <a href="http://www.rabbithashusa.com/notions.php" target="_hplink">According to their website</a>, "An estimated 215% of local registered and unregistered voters swarmed the polls here in Rabbit Hash, Kentucky for the 2008 Mayoral election."

Morris The Cat For President

You might know Morris as the spokescat for <a href="http://www.9lives.com/about/morristhecat" target="_hplink">9Lives</a>, but he also ran for President twice, once in 1988 and once in 1992. He ran -- wait for it -- for the <a href="http://www.kittens-lair.net/history-and-famous-cats/morris-the-cat.html" target="_hplink">Finicky Party</a>. Go figure.

Lajitas, Texas: Three Goat Mayors

The people of Texas border town Lajitas have had three generations of goat mayors: Clay Henry I, II and III. If that wasn't weird enough, the goats were of the beer-drinking variety and became a treasured institution in the county. Not everyone was a fan, however. The third Clay Henry was tragically <a href="http://www.nytimes.com/2002/08/05/us/no-one-shot-the-sheriff-but-someone-cut-the-mayor-a-goat-got-it.html" target="_hplink">castrated</a> by a prankster in the night.

Milton, Washington: Mule Committeeman?

A mule named Boston Curtis was <a href="http://www.time.com/time/magazine/article/0,9171,788780,00.html" target="_hplink">was elected</a> as Precinct Committeeman (Republican Precinct Committeeman) in Milton, Washington in 1938. The mayor, Kenneth Simmons, had set up the paperwork for Curtis to run as an elaborate joke. He was aiming to prove that people didn't know who they voted for and unfortunately, he was right.

Sao Paulo, Brazil: Rhinoceros For City Council

In 1959, residents of Sao Paulo, Brazil voted for Cacareco, a rhinoceros, for city council. Rhinos may not make effective leaders, but the people of Sao Paulo elected him as <a href="http://books.google.com/books?id=JVUEAAAAMBAJ&pg=PA54&lpg=PA54&dq=cacareco+brazil+rhino&source=bl&ots=siOCW1E6ch&sig=9MI5_5YtX5S_ND2bvL99ZURjb1o&hl=en&sa=X&ei=aMA_UJf3Ncfk0QGwq4CgDA&ved=0CDQQuwUwAA#v=onepage&q=cacareco brazil rhino&f=false" target="_hplink">a form of protest</a>. Imagine losing to a rhino?

Talkeetna, AK: Cat Mayor

Stubbs the cat has been "<a href="http://articles.nydailynews.com/2012-07-17/news/32717871_1_honorary-mayor-alaska-town-mayoral-election" target="_hplink">honorary mayor</a>" of Talkeetna, Alaska for 15 years. You can even follow Mayor Stubbs <a href="https://twitter.com/MayorStubbs" target="_hplink">on Twitter</a>!

Pigasus For President

The pig on the left has never ran for President, but back in 1968, one pig actually did. His name was Pigasus, and he was nominated for President at the 1968 Democratic National Convention as a stunt by the Youth International Party. <a href="http://rober79.blogspot.com/2009/02/fotografos-david-fenton.html" target="_hplink">Click here</a> to see a real photo of Pigasus in action.

New Orleans, LA: Labrador For Mayor

Wille Bean Roscoe P. Coltrane, a Labrador Retriever, ran for mayor of New Orleans in 2010 as a self-proclaimed "<a href="http://blog.williebeanformayor.com/" target="_hplink">Political Watchdog</a>." How could you not vote for that face?

Incitatus

You could say that Incitatus is the horse who started it all. Crazy-but-always-fun Caligula is said to <a href="http://www.artbycrane.com/caligula_incinatus.html" target="_hplink">have wanted his horse</a> to be a <a href="http://en.wikipedia.org/wiki/Roman_consul" target="_hplink">Consul</a>, but he apparently died before he could go through with the appointment.

Sunol, CA: Dog Mayor

Bosco Ramos the dog was elected <a href="http://www.roadsideamerica.com/story/19948" target="_hplink">honorary mayor </a>of Sunol, California and served until his death in 1994. The election was all a joke, but even today Sunol commemorates Bosco at <a href="http://www.boscosbonesandbrew.com/index.html" target="_hplink">Bosco's Bones and Brew Restaurant</a> with a statue of the dog.

New Zealand's Goat, Poodle Presidents

A goat named Billy Gumboot became President of Whangamomona, New Zealand in 1999 after a regional dispute among the area residents. After Gumboot's term, a poodle named Tai took over until 2004. One <a href="http://www.businesspundit.com/8-animals-that-ran-for-government/" target="_hplink">website states</a> that Tai was "known as a great ambassador, frequently sniffing the behinds of other dogs and making them feel welcome in Whangomomona." (photo to the left is not of the real Tai).