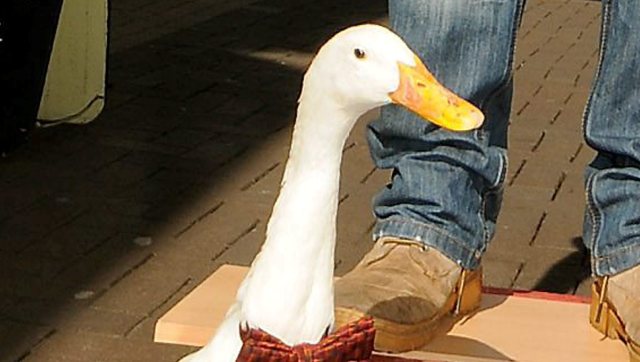 The owner of a duck that wears a bowtie is getting a dressing-down from the charity where he volunteers.
Hayman and his dapper duck recently raised more than $10,000 for a children's hospice, but they also ruffled the feathers of various local councils, who told him that his stylish sidekick could be deemed "irritating," according to the Daily Mail.
Apparently, the irritation could be overcome if Hayman is willing to pay for a permit, but the rules require him to apply 28 days in advance for a single day's permission.
"If I was putting into my own pocket, I could understand it, but everything goes to the sick children," he told The Sun.
"If a permit covered me for a year and I was able to visit a different town each day, that would be fine, but on this basis I don't think I can carry on."
"Our policy is to allow one charity collection per day per parish, so that the streets aren't full of people collecting for charity, which is irritating to the public," the official told The Metro.
But locals like deli owner Sally Shephard think the council officials are having a cow over nothing, and want the bowtie-wearing duck to continue its fashion-forward fundraising.
"We all feel very upset because it's such an amazing charity. Everyone's in an uproar," she told The Metro.
GALLERY: ANIMALS IN THE NEWS
SUBSCRIBE AND FOLLOW
Get top stories and blog posts emailed to me each day. Newsletters may offer personalized content or advertisements.
Learn more